« previous post | next post »
From Geoff Dawson: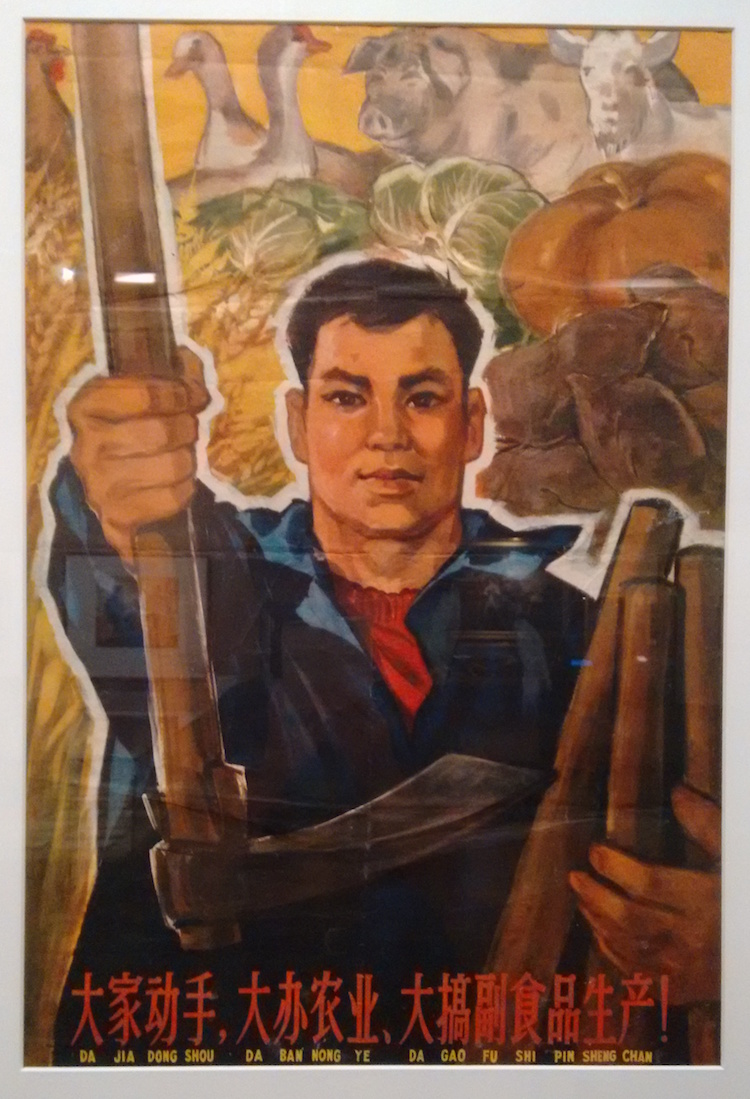 On display in a current exhibition at the National Library of Australia.
The wording at the bottom reads as follows, in characters and in Pinyin:
Dàjiā dòngshǒu, dà bàn nóngyè, dà gǎo fù shípǐn shēngchǎn!
大家动手,大办农业,大搞副食品生产!
Here's the English translation on the label accompanying the poster: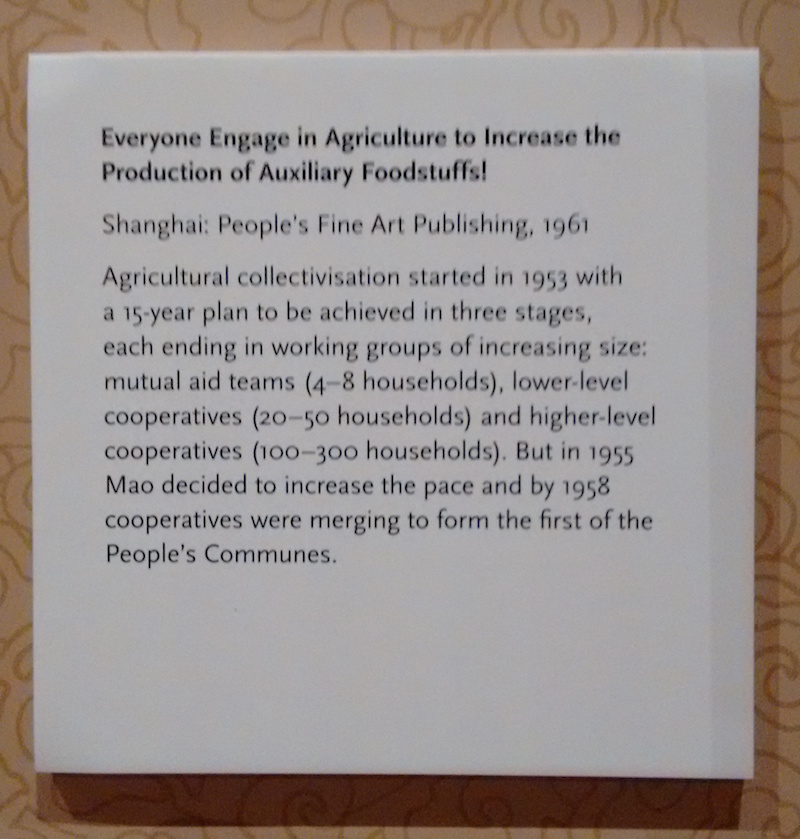 While the translation is not entirely faithful to the Chinese original, it is adequate, so I won't provide an alternative version.
What merits pointing out about the Pinyin are mainly two things:
it lacks tones
it does not follow the orthographic rules for parsing into words, nor does it include punctuation
It is not surprising that the slogan is just written out syllable by syllable, with a space between each syllable, since the official rules for Hànyǔ pīnyīn zhèngcífǎ 汉语拼音正词法 ("Hanyu Pinyin Orthography") were only drafted in 1982 and promulgated in October of 1984.  This was a very heady time for my friends at the Wénzì gǎigé wěiyuánhuì 文字改革委员会 ("Script Reform Committee"), since they believed that, with these rules, China was taking a giant step forward toward Hanyu Pinyin as an alternative to Chinese characters (Hànzì 汉字) in a functional digraphia.
But this was not to be.  For the reasons why, see:
"Words in Mandarin: twin kle twin kle lit tle star" (8/14/12) — especially in the comments.

Here's the latest version (2012) of the orthographic rules.  An English translation (by John Rohsenow) of the previous edition (1996) of the orthographic rules is printed at the back of all ABC Chinese-English dictionaries from the University of Hawai'i Press.
Of course, In the previous century and more of experimentation with romanization, various schemes for indicating the joining of syllables into words were put forward, both in China and abroad.  But Hànyǔ pīnyīn zhèng cífǎ 汉语拼音正词法 ("Hanyu Pinyin Orthography") was the first official set of rules for writing Mandarin with the alphabet promulgated by a Chinese government.  Indeed, it still is, and it is entirely possible that — with new blood in applied linguistics circles — it may once again offer the possibility of providing the second leg of a two script system for China.
---