« previous post | next post »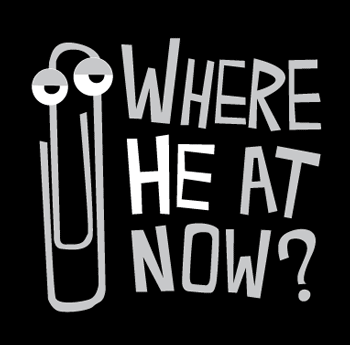 That's the question on a t-shirt designed by John Allison,  the author of the Bad Machinëry comic series:
Remember that dude? Always poppin' up in the corner? Wonder what he doin' now? Where he at now?
For those who are too young (or too old, or too fortunate in some other way) to have encountered the Microsoft's Office Assistant "Clippit", nicknamed "Clippy", the Wikipedia page may be helpful.
The idea of using natural language processing and artificial intelligence to create an automated assistant is a very old one. Perhaps our well-informed readers will be able to trace this theme to its specific fictional roots in some white-collar spin-off of the golem stories, Frankenstein's monster, R.U.R., etc.; or to determine which AI researcher (in the 1960s?) first suggested such applications — including intelligent tutoring systems — as a realistic goal.
In any case, like Clippy and his call-center relatives, most fielded applications in this space have so far gotten a rather negative response from the public.
But getting back to the question on  John Allison's t-shirt, I happen to know the answer: Clippy had a sex-change operation, got a job at SRI, signed on for some re-training in DARPA's CALO project, and changed his name to Siri.
And this time, the public response has been largely, even overwhelmingly, positive.
There are several possible factors in SIRI's apparent success, in addition to maturity of the various speech, NLP, and AI technologies involved: integration into lots of user- and usage-specific information, and into many everyday applications, in a setting that encourages voice I/O; an interface that depends on user initiative and makes it easy to start and end interactions; a well-designed and elaborately implemented "happy secretary" personality, which benefits from the Eliza effect; general Apple fannishness.
As long as the last factor is not the dominant one, we can expect to see many other  "cognitive assistant" applications that are similarly successful. If so, the next question will be, what lies ahead on Clippy/Siri's career path? Must (s)he remain an "assistant" forever — now praised and appreciated, rather than despised and rejected — or will the silicon ceiling be broken?
---