« previous post | next post »
Lucy Jones, "Ralph Fiennes blames Twitter for 'eroding' language", The Telegraph 10/28/2011:
Speaking at the BFI London Film Festival awards in Old Street, London, the actor said that modern language "is being eroded" and blamed "a world of truncated sentences, soundbites and Twitter."
"Our expressiveness and our ease with some words is being diluted so that the sentence with more than one clause is a problem for us, and the word of more than two syllables is a problem for us," he said.
This sort of thing always makes me suspect that it's really our veracity and our ease with facts that is being diluted.
But  the Telegraph's reporter found an expert to join Mr. Fiennes in Viewing  With Alarm:
Fiennes, who does not use Twitter, is not alone in his theory. JP Davidson, the author of Planet Word and a linguistic expert, talked this week about longer words dying out in favour of shortened text message-style terms.
He said: "You only have to look on Twitter to see evidence of the fact that a lot of English words that are used say in Shakespeare's plays or PG Wodehouse novels — both of them avid inventors of new words — are so little used that people don't even know what they mean now.
"This could be viewed as regrettable, as there are some great descriptive words that are being lost and these words would make our everyday language much more colourful and fun if we were to use them.
"But it's only natural that with people trying to fit as much information in 140 characters that words are getting shortened and are even becoming redundant as a result."
Since I'm the old-fashioned sort of person who clings to the belief that words, whatever their length, ought to mean something, I thought I'd check whether it's really true that "words are getting shortened" by the constraints of the Twitterverse.
So I grabbed the text of Hamlet, the text of a number of P.G. Wodehouse stories (Leave it to Jeeves, Jeeves and the Unbidden Guest, Jeeves and the Hard-Boiled Egg, Absent Treatment, Helping Freddie, Rallying Round Old George, Doing Clarence a Bit of Good, and The Aunt and the Sluggard), and the 100 most recent tweets from the Daily Pennsylvanian, Penn's independent student newspaper. I figured that the DP ought to count as a good representative of the Kids Today who are responsible for the alleged word-shortening trend.
I wrote a little program to adjust these texts in appropriate ways (removing the character attributions and stage directions from Hamlet, removing the Gutenberg boilerplate from P.G. Wodehouse, removing the @'s and #'s and URLs from the DP tweets, etc.), and then to count the letters in each word.
The result? The mean word length in Hamlet (in modern spelling) was 3.99 characters; in P. G. Wodehouse's Jeeves stories, the mean word length was 4.05 characters; in the DP's tweets, the mean word length was 4.80 characters.
Here's a boxplot showing the median (horizontal line), the 25th and 75th percentiles (top and bottom of the box), and the "range" (defined by the R boxplot program's default as "the most extreme data point which is no more than 1.5 times the interquartile range from the box"):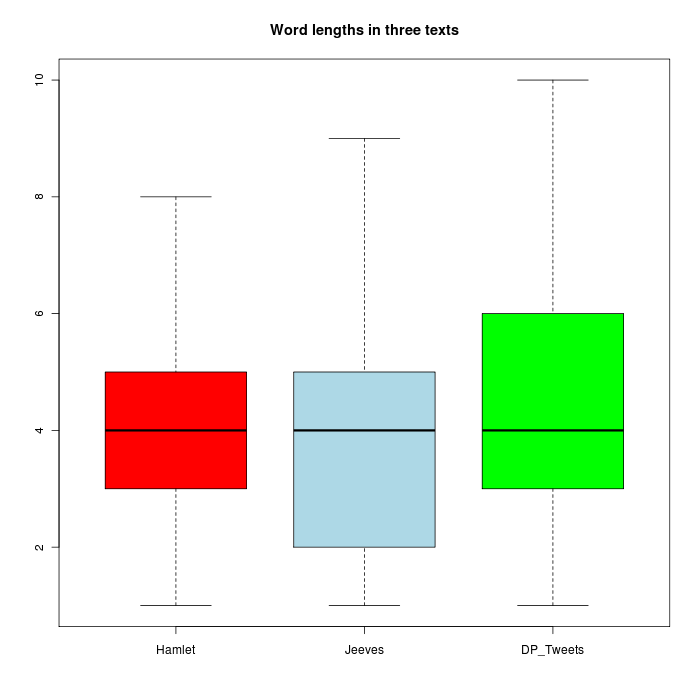 The business about word lengths is the easiest to check of the article's assertions about linguistic decay, and it's  false. Trivially and transparently so, as such plaints usually are.
I don't have the time this evening to train up language models to check the claim that "words … are even becoming redundant as a result", but I'm willing to wager a substantial sum that the DP's tweets have significantly higher average per-word entropy than the novels of P. G. Wodehouse.
This would be logical, in fact, since "people trying to fit as much information in 140 characters" ought to lead to higher information density, and therefore less per-word redundancy. Dr. Davidson's argument on this point is so obviously  inverted, from a logical point of view, that I'm inclined to wonder whether The Telegraph's reporter might have misquoted him.
Similarly, I'm confident that the distribution of syllable-counts in the Twitterverse tends to be higher than in Wodehouse or Shakespeare, since the constraint on message lengths favors semi-telegraphic modes of expression.
As for the notion that "the sentence with more than one clause is a problem for us", it's certainly true that average depth of embedding has trended downward since the 18th century (though not monotonically so). But Shakespeare and Wodehouse are not especially good examples of hypotaxis — I suspect that investigation would show that the DP's articles exhibit a somewhat higher average depth of clausal embedding than either of them.
The Telegraph article also asserts that Mr. Fiennes's full name is Ralph Nathaniel Twisleton-Wykeham-Fiennes, which I consider implausible but too good to check. If this is true, in any case, it would certainly give him a personal interest in the matter at hand. Dr. Davidson has no such excuse, though a decade spent working for the BBC might be taken to constitute extenuating circumstances.
Update — for those who like to worry about how journalism is being eroded, some uptake: "The short and tweet of it: literacy at risk, Ralph Fiennes says", Montreal Gazette; "Twitter killing English, says actor", Melbourne Herald Sun; "Actor Ralph Fiennes blames Twitter for dumbing down the English language", Daily Mail; "Ralph Fiennes Blames Twitter for 'Eroding' English", International Business Times; "Ralph Fiennes: 'Twitter is eroding our language'", Houston Chronicle; "Ralph Fiennes: We're in a world of dumbed-down English thanks to Twitter", London Evening Standard; "Est-ce que Twitter tue notre langue?", La Presse; "Verfall: Verstümmelte Sätze – Ralph Fiennes beklagt heutige Sprache", Berliner Morgenpost; "Ralph Fiennes culpa a Twitter de destrozar el inglés", El Pais; …
A contrarian view from Gawker ("Ralph Fiennes Says Twitter is Destroying English … #whatever #shutupvoldemort"):
You know what will never be flattened or truncated? An actor's ability to plug his next movie, which in this case would be a contemporary version of Shakespeare's Coriolanus, which Fiennes stars in and directed and is due in theaters this January. Don't get Ralph started on his sententious exegesis on establishmentarian perturbation! He'll gnaw your ear off for hours.
---