« previous post | next post »
Article by Sarah Cascone in Artnet (October 16, 2017):
This Artist Gathered 2,000 Words for Women—and Now, She Wants You to Walk All Over Them:  Lin Tianmiao's installation at Galerie Lelong puts contemporary language on top of antique carpets."
Here's an example of Lin's work: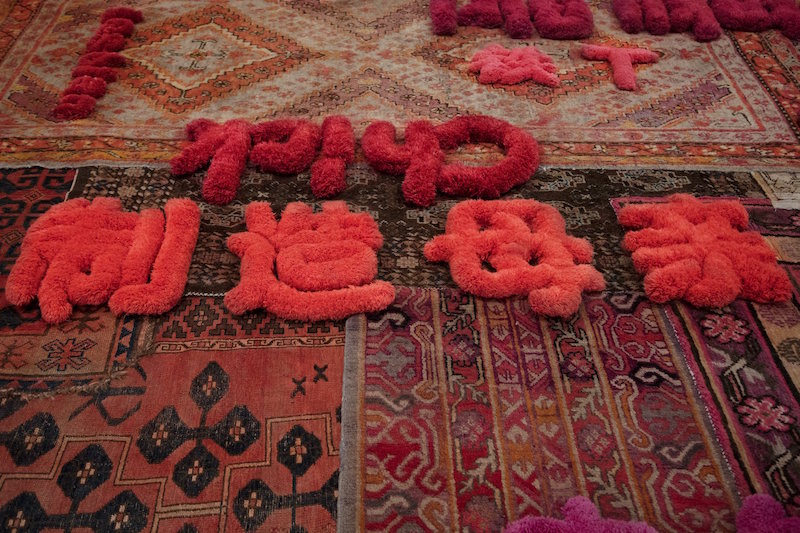 The puffy Chinese characters in the center read:
zhìzào mǔqīn 制造母亲 ("manufacturing mother[hood]")
Above that, inverted, is the English word "Chick".
I showed just this photograph, but not the article, to a female Chinese friend.  Here is her reaction:
I think it means "to manufacture a mother." There is, however, no such a phrase in Chinese. We never say "zhìzào mǔqīn 制造母亲", but "zhìzào chǎnpǐn 制造产品", to manufacture a product. Does it mean women are required and even forced to become mothers by the society and the culture?* I notice there are other words on this artwork, such as tiěT 铁T ("iron T") and lesbian. Maybe it is about the social status of women. All these words are on a carpet. Does it mean they are something that people trample on? They are all in pink, a feminine color, and made of a comfortable material, maybe a metaphor for their fragility?
In traditional societies, such as China, there is discrimination against unmarried women and those who do not have children. Japanese society is an interesting example. I happened to see a Japanese documentary film about single mothers living in poverty. Japanese girls are trained to be a good wife and good mother since childhood. Many of them resign after marriage. Therefore, they can hardly find a job once they get divorced. Ironically, Japan is experiencing very low birth rate, and their young people even do not want to get married.
[*VHM:  Or is it a reference to the commodification of motherhood?]
From another Chinese woman:
I have no clue about what "zhìzào mǔqīn 制造母亲" means. I tried to google and Baidu it, but nothing comes up.
It just doesn't make sense to me. Is this some kind of art display or what? I also see other words and a phrase such as "chick" and "tiěT 铁T (a term that refers to an absolute tomboy-lesbian; people use this term in China)" on the rug. If I think of these terms altogether, they all refer to female, don't they? Both chick and 铁T can manufacture motherhood if we think "motherhood" as something that could be manufactured.
From a Chinese man:
I would guess that "manufacturing mother" refers to the activities of people comparing the homeland, the nation, or the party as his / their mother.
From the article by Sarah Cascone:
The Chinese artist has created a gallery-filling installation made entirely of antique carpets. Stitched together, they are embroidered with dozens of words about women in Chinese, English, French, and other tongues—a selection of some 2,000 phrases the artist has collected over more than five years.
"The negative words are obviously more pronounced," Lin admits to artnet News of the often-sexist lexicon, which ranges from obscure sexual slang ("hamburger") to terms of endearment ("goddess").
Seeing Lin Tianmiao's "Protruding Patterns", I cannot help but think of Nancy Sinatra's epochal "These Boots Are Made for Walkin'".
These boots are made for walkin', and that's just what they'll do
One of these days these boots are gonna walk all over you.
References
[h.t. Ben Zimmer; thanks to Jing Wen and Jinyi Cai]
---