« previous post | next post »
A tweet by Alex Gabuev:
"Patriarch's residence" is "Male chauvinist village." This translation is obviously a part of joint effort to subvert international order pic.twitter.com/A5DFS5pz6d

— Alexander Gabuev (@AlexGabuev) September 13, 2017
The first translation on the panel (Northern Landscapes) seems all right, but both the Chinese and the English of the second are laughably off the mark.
The word "патриаршее" means "something that belongs to the Patriarch (of the Russian Orthodox Church)". The original meaning of "подворье" is "inn", "guest house".  However, in this context it means "residence" (the temporary residence) rather than a "farmstead".  Together, the phrase "патриаршее подворье" may be rendered as "Patriarch's residence".
For the Chinese, "zhòngnán qīngnǚ de nóngzhuāng 重男轻女的农庄" is a direct translation of the English, but taking the wrong meaning ("androcentric") of the mistranslated English word "patriarchal".  A better translation of "патриаршее" (from Greek Πατριάρχης) would be zōng zhǔjiào 宗主教 (Patriarch).
[h.t. Don Clarke; thanks to Nikita Kuzmin]
Update: It looks like they've given on trying to translate from Russian to Chinese. First we had "Red intestines" (9/13/17), and now this photo taken on 9/19/17 in the same park as the one above: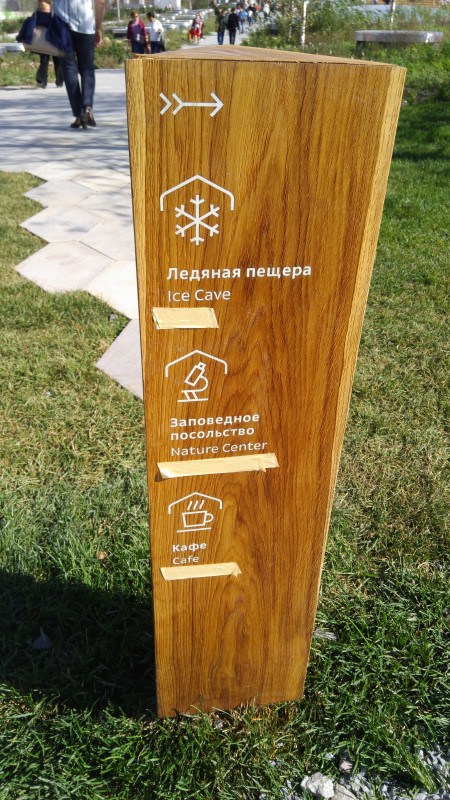 [Thanks to Nikita Kuzmin]
---