« previous post | next post »
Photograph taken by a Russian friend of Nikita Kuzmin at a Starbucks in Shenyang, northeast China: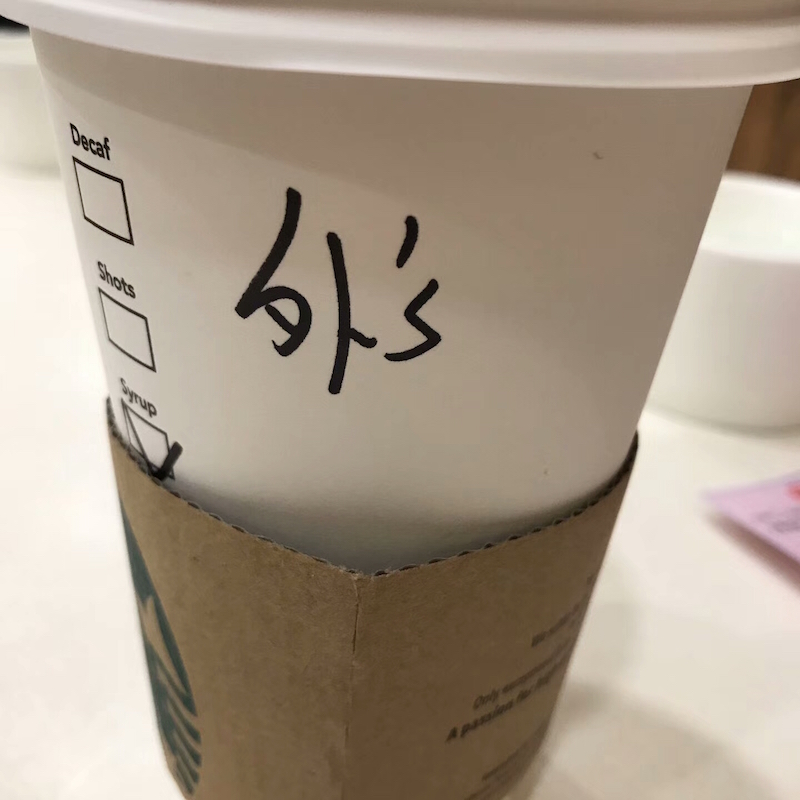 The handwriting on the side says simply:
wài's 外's ("foreigner's"), where the wài 外 is short for:
wàiguórén 外国人 ("foreigner")
lǎowài 老外 ("[old] furriner"), which we studied extensively in this post:
"Laowai: the old furriner" (4/9/14)
One might well ask why the barista didn't write "de 的", the Mandarin possessive particle equivalent to English "'s".  I submit that they felt the two strokes of "'s" were easier and simpler than the eight strokes of "de 的".  Not only that, using "'s" after the designation for a person at a Starbucks in Shenyang (Manchu name Mukden) shows that the English morpheme is thoroughly assimilated in Chinese and that it felt natural for the barista to do so.  We observed this already years ago in this post on the adoption of the English agentive suffix -er in Mandarin:
For digraphia, biscriptalism, and multiscriptalism, see — among others — the many posts listed here, and especially this intriguing early post:
A final observation is that I've never seen a Starbucks barista write "[so-and-so]'s" on a cup in any English-speaking country where I've been (they just write the name of the person without "'s"), so the barista in Shenyang was not emulating an English usage when they added "'s" to wài 外 ("outside[er]; foreigner").  Their "wài's 外's" ("foreigner's") is a thoroughly indigenous creation.
---