« previous post | next post »
Jonathan Benda posted this on Facebook recently:
Reading [Jan Blommaert's] _Language and Superdiversity_ in preparation for my Writing in Global Contexts course in the fall. Does anyone else think the following conclusions about this sign are somewhat wrongheaded?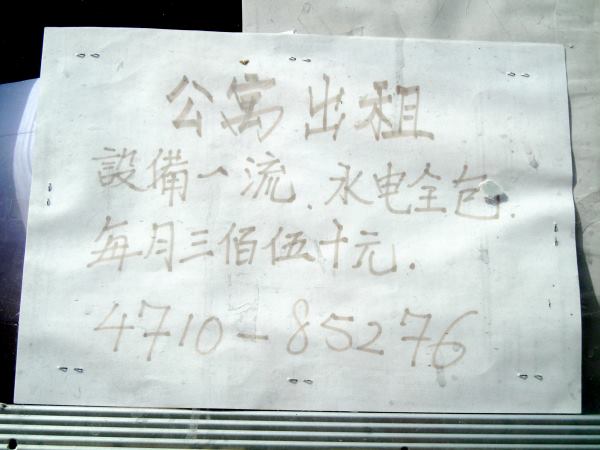 Written with a calligraphic flair, the notice says:
gōngyù chūzū
shèbèi yīliú
shuǐdiàn quán bāo
měi yuè sānbǎi wǔshí yuán
公寓出租
設備一流
水电全包
每月三佰伍十元
apartment for rent
first-class furnishings
water and electricity included
350 Euros per month
Michael (Taffy) Cannings' response:
Wow, that's very thin evidence for a conclusion like that. The simplified diàn 電/电 is common in handwriting in Taiwan, and presumably among the diaspora too. Yuán 元 as a unit of currency is not unique to the PRC either, and the simplified form used here is really common in traditional characters (i.e., instead of 圓). Both handwriting simplifications predate the PRC character changes and indeed were probably the basis for those changes. The author may be right that the intended audience is made up of younger PRChinese, but that's simply an extrapolation of demographics rather than something implicit in the sign.
Mark Swofford provides an older example of this sort of confusion in this post:
"Mystery of old simplified Chinese characters?" (10/7/05)
I haven't lived in Taiwan continuously for a long period of time since 1970-72, but I still go back occasionally.  I can attest that almost no one except an obsessive compulsive like myself writes 臺灣 for Taiwan.  Nearly everybody writes 台灣 or 台湾.  It really doesn't matter, because the name does not mean "Terrace Bay" as the characters seem to indicate.  They are simply being used to transcribe the sounds of a non-Sinitic term, as I explained here:
"How to Forget Your Mother Tongue and Remember Your National Language"
…
The very name "Taiwan" is perhaps the best example to begin with. Superficially (according to the surface signification of the two characters with which the name is customarily written), "Taiwan" means "Terrace Bay." That sounds nice, even poetic, but it is an inauthentic etymology and has nothing whatsoever to do with the actual origins of the name. (This is a typical instance of the common fallacy of wàngwénshēngyì 望文生義, whereby the semantic qualities of Chinese characters interfere with the real meanings of the terms that they are being used to transcribe phonetically.) The true derivation of the name "Taiwan" is actually from the ethnonym of a tribe in the southwest part of the island in the area around Ping'an.4 As early as 1636, a Dutch missionary referred to this group as Taiouwang. From the name of the tribe, the Portuguese called the area around Ping'an as Tayowan, Taiyowan, Tyovon, Teijoan, Toyouan, and so forth. Indeed, already in his ship's log of 1622, the Dutchman Comelis Reijersen referred to the area as Teijoan and Taiyowan. Ming and later visitors to the island employed a plethora of sinographic transcriptions to refer to the area (superficially meaning "Terrace Nest Bay" [Taiwowan 臺窝灣], "Big Bay" [Dawan 大灣], "Terrace Officer" [Taiyuan 臺員], "Big Officer" [Dayuan 大員], "Big Circle" [Dayuan 大圓], "Ladder Nest Bay" [Tiwowan 梯窝灣], and so forth). Some of these transcriptions are clever, others are fantastic, but none of them should be taken seriously for their meanings.
…
As my Mom used to say when she couldn't get things through our thick skulls, "I can tell you till I'm blue in the face, but you just won't listen":  the sounds of Chinese words are more important than the characters used to write them, since the latter are comparatively adventitious and secondary, whereas the former are absolutely essential.
---