« previous post | next post »
No, these are not plums consisting of preserved wives, nor are they plums made by preserved wives, nor are they anything else you are likely to think of based on the English name.
Why am I even talking about this?  How did this bizarre subject come up?
In a comment to "Vegetable students" (7/11/17), David Morris asked about the name of a Chinese snack called "Preserved Wife Plum" that a colleague offered to him.  He said that "three Chinese speaking ESL or translating teachers couldn't explain" the name.  I made some preliminary attempts to describe what this snack was like, but David and John Swindle repeated the request for an explanation of the name.
I was snared.
So I looked into "preserved wife plum" a bit more, and now I see that it is all over the internet (362,000 ghits).  Here's one description, by gentlemanfarmer, on the LiveJournal website:
Preserved Wife Plum
On the way home from work yesterday, I stopped in at an Asian grocery.  I needed a sack of rice, and I wanted to get some noodles and dumplings.  Asians are big on convenience foods, so I like to try some once in a while (dried squid, wasabi peas, etc).  I picked up a bag of rice crackers and also a package with the eye-catching name "Preserved Wife Plum."  What are these?  Well I bought them, and it is an adventure to read the package.  Lots of lost in translation stuff:  "Keep it at the cool and dry place, away from the direct sunlight," and "Protect environment – Main ourself pride."  These are from the Guangdong Farmer's Grange Food Industry Co., Ltd. and they are actually pretty tasty.  Dried and salty and sweet and a little plummy, still with the pit.  On the front of the package a green square with Chinese script and I guess the English translation, "Green Ecology Limitless Magnificence."  Also a red square with the words:  "Additional Support:  We like the new taste. We need the quality and we need the best food. Here you will find what you want. Cool fashion need Cool taste. You are the new man. How delicious can not forget special taste. Return the pure flavor.  Give you the minerable feeling."What does "minerable" mean, I wonder?They have "sodium saccharin" in the ingredient list!
Here, on the Yummy 99 website, you can buy "Farmer's Grange Preserved Wife Plum (108g)" for $1.99.  Sounds like a real bargain.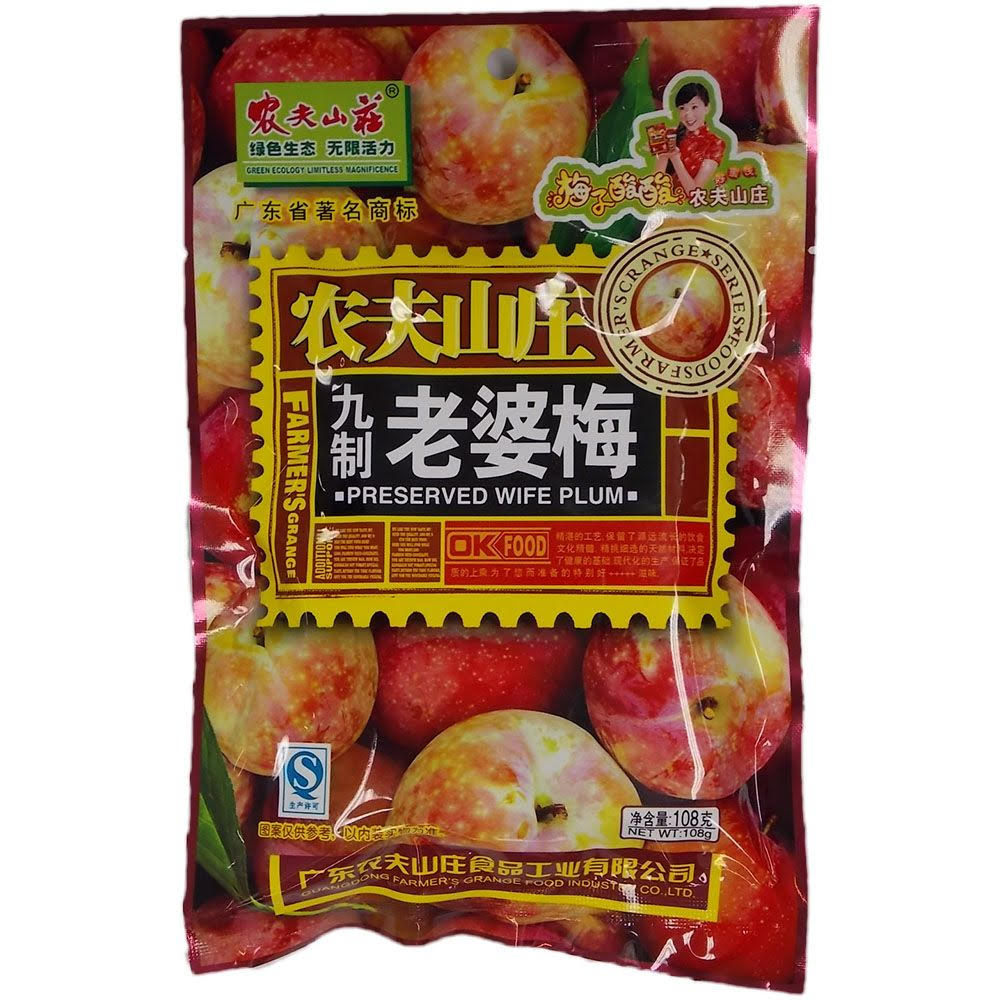 On the top left of the front of the package, it says:
"GREEN ECOLOGY LIMITLESS MAGNIFICENCE" for lǜsè shēngtài  wúxiàn huólì 绿色生态 无限活力 ("green ecology  unlimited vitality").
Top right:
méizi suānsuān 梅子酸酸 ("really sour plums")
We also learn that good ol' Farmer's Grange Preserved Wife Plum is a famous brand from Guangdong Province.  They seem to be very fond of their brand name, "Farmer's Grange" (Nóngfū shānzhuāng 农夫山庄), and have plastered it over the front of the package in English and in Chinese characters set in various fonts.
Nóngfū 农夫 straightforwardly means "farmer" (we used to sometimes translate it as "peasant", but, for ideological reasons, that rendering has fallen into disfavor during the last few decades).
Shānzhuāng 山庄 could mean "hill station; country villa; mountain lodge", but I think "grange", in the British sense of "a farm, especially the residence and outbuildings of a gentleman farmer", rather than the American sense of "an association of farmers founded in the United States in 1867", sounds appropriate in this instance.
Parts of the label are almost as overly informative as the homilies one finds on a bottle of Dr. Bronner's Castile soap.
The main thing the label tells us, though, is that the product inside is lǎopó méi 老婆梅.  The first word, lǎopó 老婆, can mean "old woman", "woman", or it can serve as a folksy, casual reference for "wife", something like "missus" or "old lady" (in the sense of "wife").  The second word is just méi 梅 ("plum").  Together, they make lǎopó méi 老婆梅 ("missus plum").
The jiǔzhì 九制 before the name lǎopó méi 老婆梅 ("missus plum") means "ninefold processed" and signifies that this product is supposedly highly refined.
I think that the key to grasping the nuances of lǎopó méi 老婆梅 ("missus plum") may be found at this website, which is dedicated to answering tough questions.  Here it is contrasted with another type of preserved plum, the qíngrén méi 情人梅 ("mistress plum").  The former, preserved lǎopó méi 老婆梅 ("missus plum"), may be characterized as tart and smart, the latter, preserved qíngrén méi 情人梅 ("mistress plum"), is described as sweet and juicy.  While the names of these two types of preserved plums are clever marketing ploys, they are indicative of the different ways in which they are prepared.  The qíngrén méi 情人梅 ("mistress plum") is soaked in a sugar solution, whereas the lǎopó méi 老婆梅 ("missus plum") is preserved with table salt, white sugar, and licorice (other flavorings may be added as well).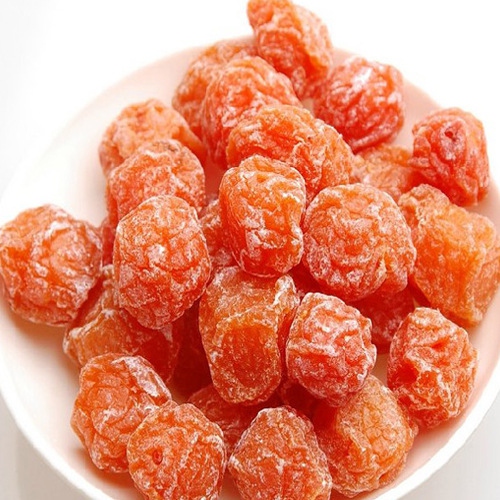 Due to the different techniques for preservation, the lǎopó méi 老婆梅 ("missus plum") is darker, salty, and wrinkled, whereas the qíngrén méi 情人梅 ("mistress plum") is succulent and ruddily orangish (see the comments for a discussion of "orange") with a white, powdery, cosmetic efflorescence on the more rounded, softer, nubile surface.
I hope that I have done justice to those who were eager to know, "why 'wife plum'".
[Thanks to T K Mair and Jeroen Wiedenhof]
---