« previous post | next post »
Tony Lin, "End of the Line for Subway Ad Against Sexual Harassment:  One year later, Guangzhou feminist group still hasn't succeeded in putting up anti-harassment billboards" (Sixth Tone, 4/28/17) is about a group of Chinese women who have — unsuccessfully so far — tried to place a series of public service notices in the Guangzhou subway, alerting passengers to the need to oppose groping. It contains pictures of the would-be ads, including this one: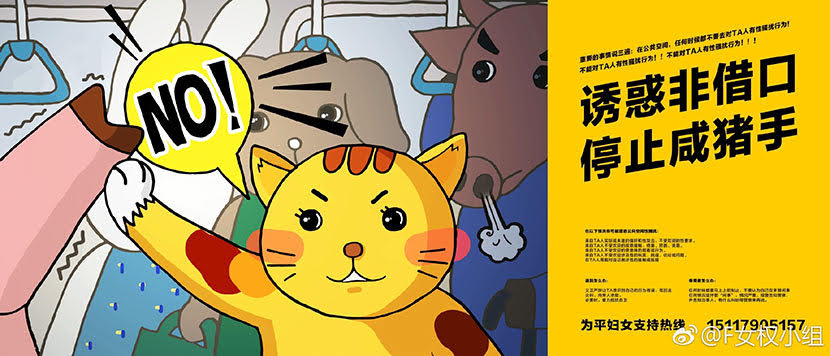 The large characters say:
yòuhuò fēi jièkǒu
tíngzhǐ xián zhūshǒu
诱惑非借口
停止咸猪手
temptation / enticement / allure / seduction / attraction is no excuse
stop groping
The key term, xián zhūshǒu 咸猪手 ("groper") is actually a borrowing from Cantonese haam4 zyu1 sau2 咸猪手 (lit., "salty pig's hand"; "sexual pervert [esp. one who gropes women in public]")
See "Grilled sexual harassment" (5/5/13) for extensive treatment of the orthography, etymology, and meaning of this odd term.
[h.t. Bruce Humes]
---