« previous post | next post »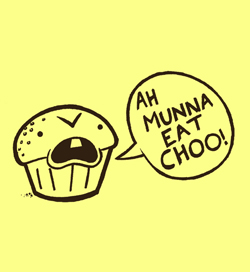 Reader SL asks for intervention in an disagreement about whether newspapers should use "gonna" in quotations:
I got in an argument with a colleague, who used to be a journalist, even, about this. She said there is nothing wrong with transcribing what someone says accurately. My point is that this is a clear case of diglossia in English; everyone always says "gonna" but it should always be written as "going to". She disagreed, and I said, "Well, I'm going to write to Language Log about that." Actually, I said "I'm gonna", but I wouldn't write that.
The first problem, as discussed here, here, and here, is that there are not just two possibilities. Among other reduced variants in the context "I'm going to VERB" — and ignoring the quality and extent of diphthongization in the pronunciation of "I'm" —  we might find
| | | |
| --- | --- | --- |
| | IPA | Eye dialect |
| 1 | aɪm.gɔɪnə | ? |
| 2 | aɪm.gʌnə | I'm gonna |
| 3 | aɪŋ.gənə | ? |
| 4 | aɪŋənə | ? |
| 5 | aɪmənə | I'munna, I munna |
| 6 | aɪmə | Ima, Imma, I'ma, I'm'a |
There's also the whole set of [gʌnu]-like variants. In other contexts, the range of phonetic possibilities would expand still further. And in individual cases, there would often be legitimate disagreement about what the right transcription is.
So "transcribing accurately what someone says" is not straightforward, even using a well-defined phonetic transcription method. Using the resources of standard English orthography, it's even tougher. As a result, the transcription guidelines for corpora of conversational speech — including those that I've been responsible for —  typically mandate using the full "going to" form, no matter what the transcriber thinks the speaker might have said. The phonetic details can then be sorted out later.
But in journalistic quotations, the fact that finer phonetic distinctions exist isn't in itself a very strong argument for banning coarser ones.
And it's reasonable to argue that this has become a morphological or lexical matter, not just a phonetic one. Gonna has become a quasi-standard form, the commonest version of aspectual "going to" for most speakers in all but the most formal or emphatic contexts, just as "can't" is the commonest negated form of "can".
(The fact that gonna-type reduction is not available for the verb of motion has long been cited as evidence for the lexicalization  — and maybe grammaticalization — of the aspectual use of "going to".)
On this view, quoting Dean Skelos as saying "We're not going to work under time constraints", when what he (probably) said was "We're not gonna work under time constraints", is like quoting Anthony Weiner as saying  "I cannot say with certitude"  when what he said was "I can't say with certitude".
A stronger counter-argument is that readers no longer see contractions as culpably informal, as they might have 150 years ago, whereas the written form "gonna" is still stigmatized, even though it's what almost everyone says almost all the time.  So if a publication decides to allow both "going to" and "gonna" in quotations, there ought to be some guidelines to ensure that it's used somewhat accurately, and not simply as a way to depict some speakers as being uneducated or ethnically marked.
Links to past discussions: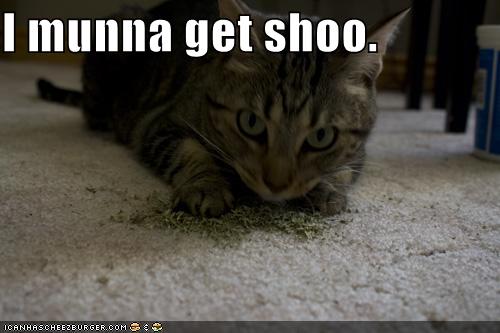 "The internet pilgrim's guide to g-dropping", 5/10/2004
"Empathetic -in'", 10/18/2008
"Palin's tactical g-lessness", 10/18/2008
"Pickin' up on those features also", 22/29/2008
"Pawlenty's linguistic 'southern strategy'?", 3/17/2011
"Symbols and signals in g-dropping", 3/23/2011
"Automatic classification of g-dropping", 6/12/2011
Update — in a comment, Ben Hemmens writes:
In the will not and won't case, certainly that we still pronounce both and write both in sentences depending on rhythm and emphasis. Same goes for can not and can't, I am and I'm. There's a use for both forms.
But I don't see any such duality with going to / gonna […] as far as I can tell, I simply do not have the "going to" pronunciation.
I can't speak for Ben's speech, but in English usage overall, this is surely false. As part of a collection effort for a corpus of political speeches, I've been gathering the weekly radio addresses of the past few presidents. The first of Obama's addresses where I found instance of "going to" (using egrep and thus in filename collating order, 010910_WeeklyAddress) has three examples in its closing paragraph, two of which are unreduced:
Audio clip: Adobe Flash Player (version 9 or above) is required to play this audio clip. Download the latest version here. You also need to have JavaScript enabled in your browser.
We enter a new decade, now, with new perils – but we're going to meet them. It's also a time of tremendous promise – and we're going to seize it. We will rebuild the American Dream for our middle class and put the American economy on a stronger footing for the future. And this year, I am as hopeful and as confident as ever that we're going to rise to this moment the same way that generations of Americans always have: as one nation, and one people. Thanks for listening.
Here's George W. Bush, from his weekly radio address on 1/11/2008, where an aspectual "going to" is unreduced (including a full vowel in the "to"):
Audio clip: Adobe Flash Player (version 9 or above) is required to play this audio clip. Download the latest version here. You also need to have JavaScript enabled in your browser.
We have faced difficult tests in the past. The American people have always risen to meet them. And that is exactly what we're going to do again.
I've also been making a collection of campaign speeches, and again, the first "going to" that I found in this collection was a pair of examples in John McCain's 2008 RNC acceptance speech, where the second one is reduced but the first one isn't. It seems plausible that the lack of reduction in the first case is for emphasis:
Audio clip: Adobe Flash Player (version 9 or above) is required to play this audio clip. Download the latest version here. You also need to have JavaScript enabled in your browser.
But let there be no doubt, my friends, we're going to win this election. And after we've won, we're going to reach out our hand to any willing patriot, make this government start working for you again, and get this country back on the road to prosperity and peace.
(N.B. I've edited out some of the long period of recorded cheering.)
I have no systematic evidence about what the distribution of various more or less reduced forms of aspectual "going to" in various sorts of American speech is really like. However, it's quite clear that we still see exactly the sort of variation here that Ben Hemmens claims not to have in his own usage.
---