« previous post | next post »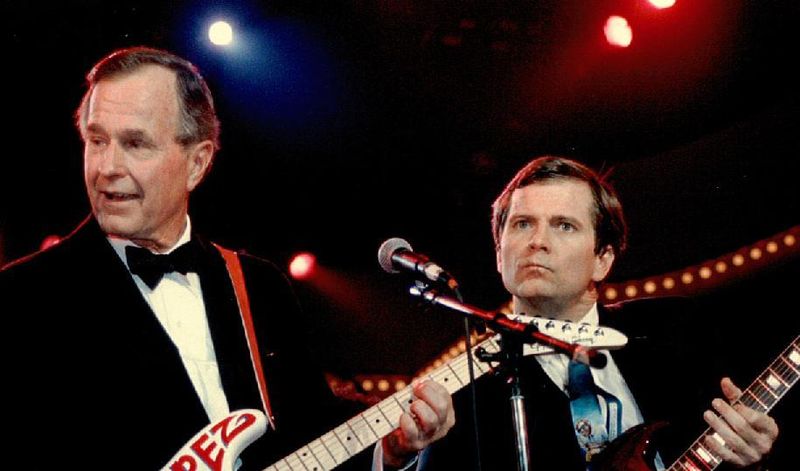 I'm in Minneapolis for a meeting of the LSA executive committee, and yesterday afternoon, on the plane from Philadelphia, I listened all the way through to Lee Atwater's extraordinary 1990 album, "Red, Hot and Blue". At the time these tracks were recorded, Atwater was chairman of the Republican National Committee, fresh from his successful role managing George H.W. Bush's 1988 presidential campaign. And as you can hear if you listen to the guitar and vocal stylings on his signature tune Bad Boy, Atwater was also a pretty fair R&B musician:
Audio clip: Adobe Flash Player (version 9 or above) is required to play this audio clip. Download the latest version here. You also need to have JavaScript enabled in your browser.
But as I listened, primed by DeWall et al. on narcissism in pop culture, my reaction was "Gee, there sure are a lot of first-person singular pronouns here":
Well I'm bad,
You know I'm bad as I can be …
So for this morning's Breakfast Experiment™, I transcribed some lyrics and did some counts. So far, the champion is I Take What I Want, where roughly one word in five (20.8%, by my count) is some kind of first-person singular pronoun:
Audio clip: Adobe Flash Player (version 9 or above) is required to play this audio clip. Download the latest version here. You also need to have JavaScript enabled in your browser.
Actually, it's possible that Tee-Ni-Nee-Ni-Nu beats it, depending on how many "words" you count in things like  "be my hootchie-cootchie-coo — if you take the various four- and five-syllable nonsense strings to be single words, then Tee-Ni-Nee-Ni-Nu weighs in at 21.6% first-singular pronouns:
Audio clip: Adobe Flash Player (version 9 or above) is required to play this audio clip. Download the latest version here. You also need to have JavaScript enabled in your browser.
Bad Boy, in contrast, is only 14.9% first-person singular  pronouns (in part because of the escalating repetitions of "bad" as the song progresses, which reaches "Well I'm a bad bad bad bad boy" by the end).
But the thing is, even 14.9% is well above the peak of the yearly first-singular pronoun counts recorded in Dewall et al., which we can bring back in the conveninent graphical form provided by Cosma Shalizi: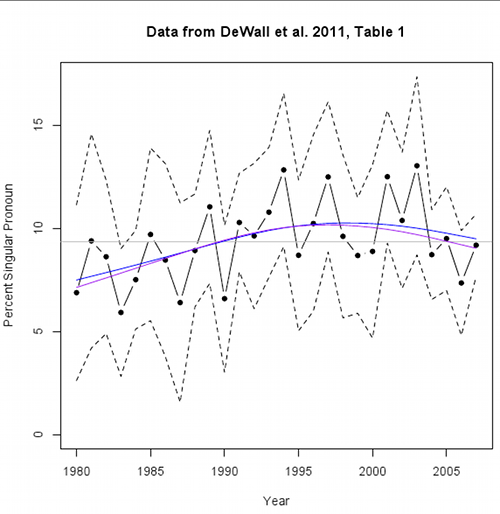 So I can now echo John Tierney's description of DeWall et al.'s research: I found what I was looking for.
But how to integrate my results with theirs? Atwater and friends (the musicians included B.B. King, Isaac Hayes, Carla Thomas, and other greats) made their recording in 1990, when (according to Table 1 in DeWall et al.) the mean percentage of first-singular pronouns in song lyrics was 6.59%, and the upper bound of the 95% confidence interval was 10.15%. But all the songs that Atwater et al. recorded were R&B classics from the 1950s and 1960s. I take what I want was a hit for Sam & Dave in 1965, for example.
And Bad Boy was on Eric Clapton's solo album in 1969.
So maybe the 1960s were even more self-involved and sociopathic than the 1990s and 2000s? And these attitudes were revived and promoted in American culture, not by hip hop, but by the Republican Party?
In my opinion, those are preposterous ideas, though they're not much worse than the way that DeWall et al.'s research has been promoted in the popular press.
Describing one of Lee Atwater's last political hit jobs, according to Wikipedia, Bob Dole once said on the Senate floor "This is not politics. This is garbage." It's hard to beat that as a negative evaluation.
By the way, did anyone in the 1960s ever comment on how strange and kind of creepy the lyrics of I take what I want are? For example,
Gonna pick you up now,
Carry you away.
So you better pack up
Cause you leaving today.
Here I come.
I'm a big bad man.
When I walk away baby,
You be holding my hand.
I take what I want,
I'm a bad go-getter, yeah.
Yes I am.
I'm never a loser,
And I'm never a quitter, no. Oh no.
Cause I take what I want,
((and)) baby, I want you. Yes, you.
I'm gonna take your heart.
I'm gonna take your mind.
I'm gonna take your soul.
…
And speaking of such things, don't miss Lee Atwater's 1981 interview with Alexander Lamis, quoted in his Wikipedia entry. as reprinted in the NYT in 2005.
---