« previous post | next post »
I've blogged about this before, most recently in "Pragmatics as comedy", 1/28/2010 — I cited four examples, and commenters noted eight or ten others.
What is "this"? Well, that's exactly my question.
First, here's another example — Multiplex for 5/21/2007: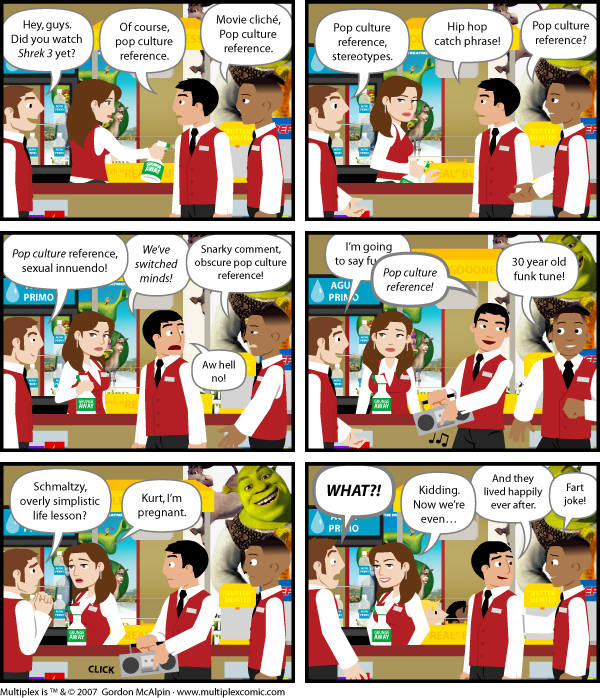 What we're talking about here is a sort of self-conscious meta-conversation or meta-text, in which individual phrasal elements consist of implicitly self-referential descriptions, as stand-ins for the actual content or the intended discourse function or interactional effect of the conversational turn or the prose-passage sentence. Sometimes these descriptions take the form of indefinite noun phrases ("elaborate defensive excuse", "half-hearted agreement"). In other cases, the descriptions make up a sequence of self-referential sentences ("This sentence contains a provocative statement that attracts the readers' attention, but really only has very little to do with the topic of the blog post. This sentence claims to follow logically from the first sentence, though the connection is actually rather tenuous.").
These things seem to be pretty common — I keep running across more examples. But I don't know what to call them. All the names I can think of are pretty lame: "schematic meta-text"? Nah.
So feel free to exercise your terminological ingenuity in the comments. The best suggestion — if it's good enough — will win a lifetime subscription to Language Log.
---