« previous post | next post »
Time for some pop-music phonology! Erin McKean directs our attention to a video for "Saskia Hamilton," a song by Ben Folds and Nick Hornby from their 2010 album Lonely Avenue. The video is performed by Charlie McDonnell, known on YouTube as "charlieissocoollike."
This ode to the poet Saskia Hamilton, from the perspective of a young lit nerd, has a number of suitably nerdy jokes in it, such as "My teacher just told me that she's dactylic!" (Pronounced as "SAS-ki-a HAM-il-ton," the name is a double dactyl.) The phonological bit comes in the line, "She's got two sibilants, no bilabial plosives." For the charlieissocoollike video, Erin observes, they use entries for these terms from the Mac OS X version of the New Oxford American Dictionary. (Erin was editor of the 2nd edition of NOAD.)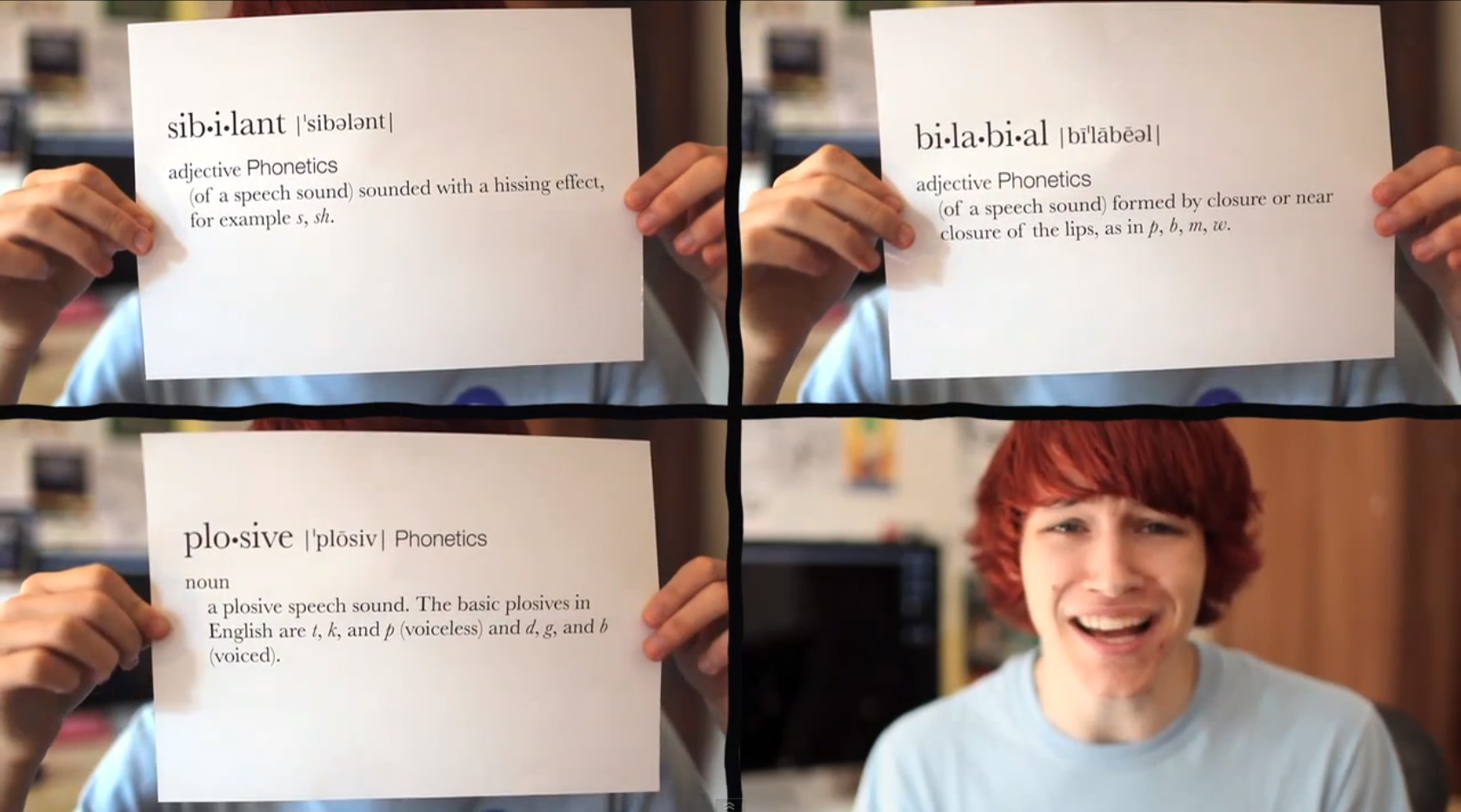 When I first encountered the song, I was under the impression that the line was "She's got two sibilant bilabial plosives," since I had consulted a faulty online transcription of the lyrics. That wouldn't make any sense, because a plosive is a stop consonant, in which airflow is completely closed before its release (e.g., /k/, /t/, /p/, /g/, /d/, /b/), while a sibilant is a fricative consonant in which airflow continues through a constricted passage (e.g., /s/, /z/, /ʃ/, /ʒ/). Fortunately, the lyricist Hornby (better known for such novels as High Fidelity and About a Boy) did his homework, and the actual line is correct: there are two sibilant /s/ sounds in "Saskia (Hamilton)," and no bilabial plosives (e.g., /p/ or /b/). (The /m/ in "Hamilton" is a bilabial nasal, with the airflow released through the nose.)
So, with the lyrics transcribed correctly, the song is a better guide to phonological terminology than Vivian Stanshall's 1970 single "Labio-Dental Fricative," mentioned by Arnold Zwicky in a Language Log post last year discussing linguistics-related pop songs. As commenter Chas Belov noted at the time, the lyrics for the song, co-written by Stanshall with his Bonzo Dog Band colleague Neil Innes, don't have much in the way of labiodental fricatives (e.g., /f/ or /v/), instead involving alliteration with other consonants (e.g., "Cannibal chiefs chew Camembert cheese 'cause chewing makes them cheeky"). And I see on YouTube that the group Portable Jesus has a song called "Voiceless Labiodental Fricative," but it's an instrumental.
Moving away from phoneme-rock to phonologically minded songs more generally, a commenter on Erin's Dictionary Evangelist blog mentions "What's Your English?", a rap song commissioned by Macmillan Dictionary, pitting Baba Brinkman of Canada against Professor Elemental of the UK:
You can follow the lyrics here. A sample:
Professor: Oh, what a mistake to give our language to the colonies.
Baba: What are you saying?
Professor: You're not using it properly!
It's simply not cricket, your slang is unclear!
The R is intrusive, you have no idear.
Nice to have some musical recognition of intrusive /r/ (though, to get technical, the non-rhotic Professor Elemental would more likely have the intrusive /r/ than the rhotic Baba Brinkman). Still, for my money, the best treatment of the rhotic/non-rhotic dialectal divide in a pop song is The Proclaimers' "Throw the 'R' Away" (1987), in which the Reid brothers sing about anxieties over their Scottish rhoticity:
I've been so sad
Since you said my accent was bad
He's worn a frown
This Caledonian clown

I'm just going to have to learn to hesitate
To make sure my words on your Saxon ears don't grate
But I wouldn't know a single word to say
If I flattened all the vowels and I threw the 'R' away
Here's an acoustic performance from 2007:
---