« previous post | next post »
Graeme Orr asks:
This relates to US-Australian relations, thrown into mirth if not disarray by a now infamous phone call.
Afterwards, Mr Spicer mistook our PM's surname twice in a press conference.
Australian social media heard Spicer as calling our PM Turnbull 'Trumble'. But I distinctly hear it as 'Trunbull', a simple transposition error of a name Spicer probably only has seen not heard. 'Turnbull' is Anglo/Saxon, 'Trumble' is Scottish and there have been several famous Australian 'Trumbles', so Australians would be primed to hear the misspeaking that way.
Can your software parse the mispronunciation?
Already local journalists are stirring the PM by calling him 'Trumble' to his face.
Which is more than a tease. E.g. that 60 Minutes interviewer is the doyen of our press gallery and believes the Trump phone insults should be a trigger for Australia to free itself from our role as 'Deputy US Sheriff' in the Pacific.
P.S. We are used to this in a way – Jimmy Carter once stood beside PM Malcolm Fraser and welcomed him as 'My good friend John Fraser'. John was merely Fraser's formal first birth name.
Here are the two instances of the prime minister's name, from Mr. Spicer's press-conference responses:
And here's just the "Trumble" part from the first occurrence of the name in Spicer's response:
It sounds like "Trumble" to me. The sounds quality is not very good, but here's a spectrogram with formant tracks, which doesn't show any indication of the rising F2 that would be expected if the first syllable were [tɹʌn] rather than [tɹʌm]: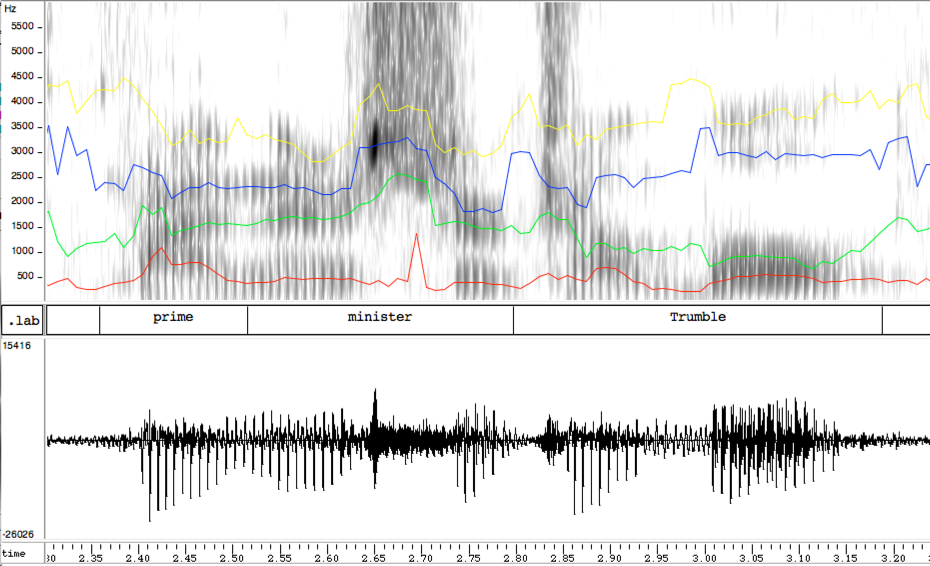 I'm referring to the green line in the region circled below: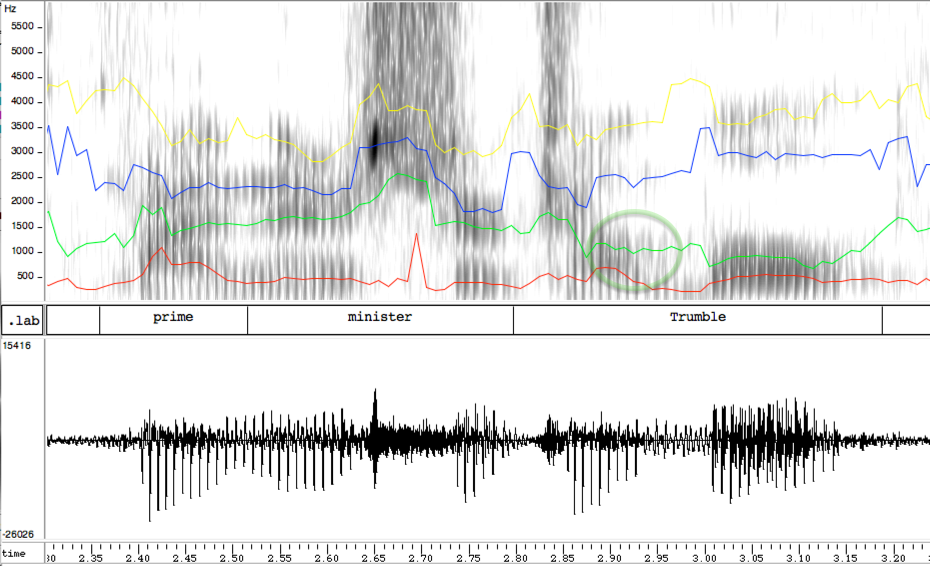 For completeness, here's the whole segment that I took the audio clips from:
---
And for lagniappe, since we've been discussing lenition processes in ling521, I note that Mr. Spicer pronounces "minister" with just two syllables, phonetically [ˈmɪ̃n.stɹ̩] or maybe [ˈmɪ̃.stɹ̩]. Here's the word:
And just the first (phonetic) syllable:
This is not a criticism of Mr. Spicer, who has been getting a certain amount of it lately — I would pronounce "minister" the same way myself in fluent speech.
---