« previous post | next post »
In the Wall Street Journal article "Supreme Court Nominee Takes Legal Writing to Next Level," Joe Palazzolo writes that Judge Neil Gorsuch, Donald Trump's nominee for the Supreme Court, has elevated legal opinions to "a form of wry nonfiction." Not only that, "his affinity for language reveals itself in other ways. Poorly drafted laws tend to summon his inner grammarian."
"We're all guilty of venial syntactical sins. And our federal government can claim no exception," Judge Gorsuch wrote in a 2012 dissent, which went on to critique a provision of federal sentencing guidelines "only a grammar teacher could love," with its "jumble of prepositional phrases."

In a 2015 opinion, Judge Gorsuch hacked through another "bramble of prepositional phrases" to figure out how to apply a criminal law that heightens penalties for using a gun in the commission of a crime. In what might have been a first, he diagramed the sentence containing the provision in question and illustrated his opinion with it.
Gorsuch's focus on linguistic particularities has earned him comparisons to the late Antonin Scalia, whose vacancy on the bench he would be filling. But Scalia never went as far as including a sentence diagram in an opinion, as far as I know. Here's a longer excerpt from the 2015 case that excited his inner grammarian, United States v. Rentz:
Few statutes have proven as enigmatic as 18 U.S.C. § 924(c). Everyone knows that, generally speaking, the statute imposes heightened penalties on those who use guns to commit violent crimes or drug offenses. But the details are full of devils.
Originally passed in 1968, today the statute says that "any person who, during and in relation to any crime of violence or drug trafficking crime … uses or carries a firearm, or who, in furtherance of any such crime, possesses a firearm, shall, in addition to the punishment provided for such crime … be sentenced to a term of imprisonment of not less than 5 years." 18 U.S.C. § 924(c)(1)(A).
That bramble of prepositional phrases may excite the grammar teacher but it's certainly kept the federal courts busy. What does it mean to "use" a gun "during and in relation to" a drug trafficking offense? The question rattled around for years until Bailey v. United States, 516 U.S. 137, 116 S.Ct. 501, 133 L.Ed.2d 472 (1995), and even now isn't fully resolved. What does and doesn't qualify as a "crime of violence"? The better part of five decades after the statute's enactment and courts are still struggling to say. Cf. United States v. Castleman, — U.S. —, 134 S.Ct. 1405, 188 L.Ed.2d 426 (2014); United States v. Serafin, 562 F.3d 1105, 1110-14 (10th Cir. 2009).
And then there's the question posed by this case: What is the statute's proper unit of prosecution? The parties before us agree that Philbert Rentz "used" a gun only once but did so "during and in relation to" two separate "crimes of violence"—by firing a single shot that hit and injured one victim but then managed to strike and kill another. In circumstances like these, does the statute permit the government to charge one violation or two?
Here is the Reed-Kellogg-style sentence diagram that Gorsuch includes later in the opinion: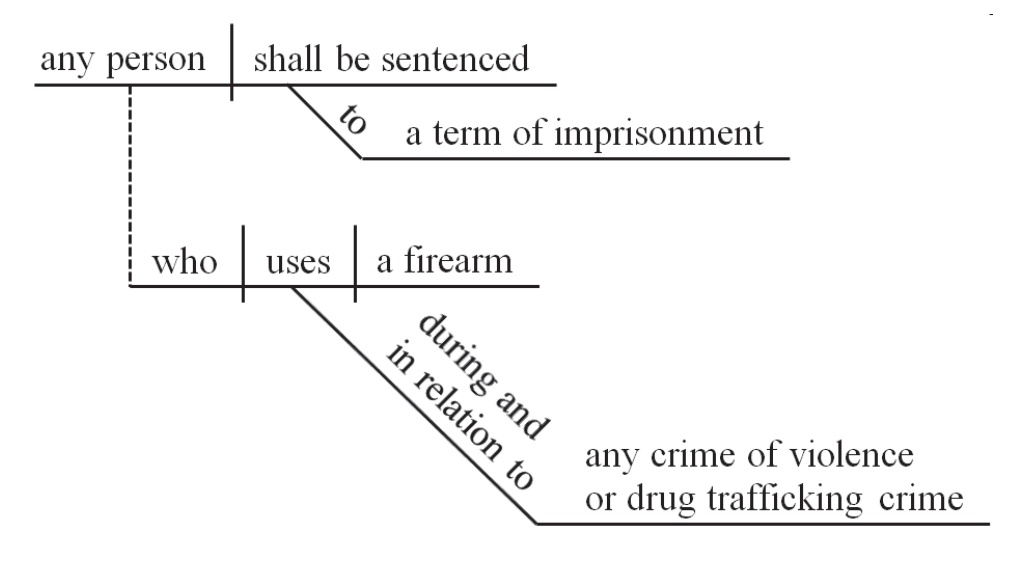 I'll leave the evaluation of his syntactic argument to others — you can read the whole opinion here. I'll just note that, as Mark Liberman observed in 2013, "the Reed-Kellogg method of 'diagramming' sentences has been intellectually obsolete for a hundred years."
The other opinion mentioned in the Wall Street Journal article, his 2012 dissent in U.S. v. Rosales-Garcia, can be found here. An excerpt follows below.
Of course, we're all guilty of venial syntactical sins. And our federal government can claim no exception. Which takes us to USSG § 2L1.2(b)(1) and this jumble of prepositional phrases—
If the defendant previously was deported, or unlawfully remained in the United States, after—(A) a conviction for a felony that is (i) a drug trafficking offense for which the sentence imposed exceeded thirteen months … [add a sentencing enhancement].
This has to be a sentence only a grammar teacher could love. We have here our old nemesis the passive voice, followed by a scraggly expression of time ("previously … after"), then a train of prepositional phrases linked one after another and themselves rudely interrupted by a pair of parenthetical punctuations.
Happily, our role isn't to grade the grammar, only discern the meaning. And often a speaker's meaning can be clear even when his grammar isn't. We know from context what the child means when talking about the telescope (because background knowledge tells us, say, that the child has a telescope and the man and hill do not). Context likewise explains what the newspaper is getting at (because, for example, the first sentence of the article makes clear the brothers hadn't seen each other in years). Even when the grammar's gnarled, meaning often can be straightforward enough.
And that well describes this case. At first blush, one might wonder whether only a conviction for a drug trafficking felony must precede a defendant's deportation—or whether the conviction and the imposition of a full 13 month sentence must both predate the deportation. The grammar and language of the guideline provision before us supply ample support for each of these competing readings. But, as with much in life, when we bother to consult the directions (the relevant context in this case), what at first appears confusing proves disarmingly simple.
Regardless of his judicial reasoning, I can appreciate why this dissent was a 2012 Exemplary Legal Writing honoree from The Green Bag (the "Entertaining Journal of Law").
Update, Feb. 5: I spoke briefly about Gorsuch's sentence diagram on NPR's Weekend Edition.
---