« previous post | next post »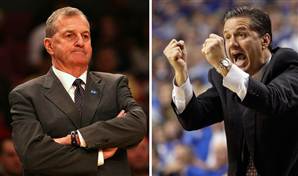 Last night, Connecticut beat Kentucky 56-55 and advanced to the NCAA title game in men's basketball.  As a hoops fan who grew up near UConn's campus, I was paying attention.  And I already knew that the two coaches, UConn's Jim Calhoun and Kentucky's John Calipari, had a long-standing personal rivalry. What I didn't know, until I read about in during the run-up to the game, was that the rivalry has a linguistic dimension.  According to Greg Bishop, "Coaches Calhoun and Calipari share a genuine dislike", NYT 4/1/2011:
The contentious relationship between Connecticut's Jim Calhoun and Kentucky's John Calipari is perhaps the longest and most entertaining coaching feud in college basketball. It started so long ago that Calipari has held five jobs since. […]
[T]heir first major act of competition […] went to Calipari, then a young, brash hotshot at the University of Massachusetts who in 1993 went to Calhoun's state and plucked a high school center from Hartford named Marcus Camby. […]
Calhoun considered Calipari an outsider with no background to talk about basketball in New England. He mocked Calipari, calling him Johnny Clam Chowder — pronounced with an "er" at the end, not an "ah" — and not behind his back.
At this point, many readers will need some background on chowders and rhoticity.
The Wikipedia article on clam chowder tells us that
New England clam chowder is a milk- or cream-based chowder, traditionally made with potatoes, onion, bacon or salt pork, flour or hardtack, and clams. Adding tomatoes to clam chowder was shunned, to the point that a 1939 bill making tomatoes in clam chowder illegal was introduced in the Maine legislature. […]
Manhattan clam chowder has clear broth, plus tomato for red color and flavor. In the 1890s, this chowder was called "New York clam chowder" and "Fulton Fish Market clam chowder." […]
The addition of tomatoes in place of milk was initially the work of Portuguese immigrants in Rhode Island, as tomato-based stews were already a traditional part of Portuguese cuisine. Scornful New Englanders called this modified version "Manhattan-style" clam chowder because, in their view, calling someone a New Yorker was an insult.
This culinary divide is reinforced by a linguistic one. Speakers in eastern New England share the loss of syllable-final /r/ that took place in southeastern England during the 18th century. The approximate boundary of the r-less region in the northeastern U.S. is indicated by a green line in this map: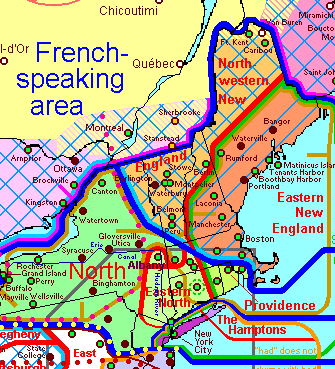 The r-less region includes eastern Massachusetts, with the boundary comfortably to the west of  Framingham, Massachusetts, where Jim Calhoun was born and raised. The r-less region doesn't come close to including Moon Township, Pennsylvania — in western Pennsylvania near Pittsburgh — where John Calipari was born.
But neither does the r-less region extend as  far west as Storrs, where the main UConn campus is located. And Calhoun recruits his players from all over the world — among the contributors to last night's win were Kemba Walker from New York City, Jeremy Lamb from Georgia, and Charles Okwandu from Nigeria. (And  rhoticity among African-Americans has a different geography…)  So why would Calhoun tease Calipari about his pronunciation of chowder?
We can find a more elaborated version of the story in "The John Calipari vs. Jim Calhoun Clam Chowder Feud", Lost Lettermen 3/29/2011:

There are plenty of reasons Calhoun still holds a grudge against Calipari dating back to Coach Cal's days at UMass from 1988 to 1996: his sideline theatrics, snagging recruit Marcus Camby from Calhoun's backyard of Hartford, CT, and preening for the cameras, just to name a few.
But there's no bigger reason Calhoun can't stand Calipari than the goading Calipari did when UConn refused to play UMass in a yearly series once the Minutemen landed Camby.
It didn't matter who was around, Calipari always took an opportunity to call out Calhoun for ending the series. When Calipari came up with the season slogan "Refuse To Lose," another batch of t-shirts in Connecticut colors read "Refuse To Play." Students wore shirts that said "UScared."
Calipari took to the airwaves whenever he got a chance to publicly beg Calhoun to play. But Coach Cal crossed the line in Calhoun's book when he claimed a Connecticut-Massachusetts series "would be good for New England basketball."
A big mistake for someone originally from Pittsburgh. To Calhoun, a Braintree, Mass. native, Calipari had no idea what was good for New England. The Massachusetts coach was an outsider who wore expensive suits and his neatly combed hair.
When the press brought up Calipari's crusade to help New England basketball, Calhoun would quip: "Yeah, Johnny Clam Chowder. Telling us all about New England basketball."
Johnny Clam Chowder? Yes, you heard Calhoun right.
To a guy from South Boston, there was nothing worse than a fake and that's what Calhoun thought of Calipari and his forced Boston accent now that he was in nearby Amherst.
Said Calhoun in a sarcastic tone: "He sounded just like a New Englander to me. You could see that clam chowder just dripping off his lips. He never said cah [car] in his life. He used to have an R. I don't have any R's at all. That proves I belong here."
This is a nice illustration of the scale from indicator to marker to stereotype discussed by Bill Labov, e.g. in Sociolinguistic Patterns, 1972.  A linguistic change "first appears as a characteristic feature of a specific subgroup", and therefore is objectively an indicator of group identity whether or not anyone pays attention to it. Then "as the original change acquires greater complexity, scope, and range, it comes to acquire more systematic social value" and becomes a marker, which locals recognize at least unconsciously. "Eventually, it may be labeled as a stereotype, discussed and remarked by everyone", including college basketball coaches.
A more complex theory of the same process can found in Michael Silverstein, "Indexical order and the dialectics of sociolinguistic life", Language and Communication 23(3-4): 193-229, 2003.  On Silverstein's theory, if I understand it (as I probably don't), r-lessness has reached at least third-order indexicality in this case.
[I haven't found any independent evidence for the accusation that Calipari accommodated to r-lessness during his time at UMass. And this would have been a bit surprising, I think, since Amherst is in western Massachusetts and (as far as I know) to the west of the relevant isogloss. Does anyone know anything more about this?]
Update — as SteveT points out in the comics below, the chowder-pronunciation issue (like most other aspects of linguistics) has been explored by The Simpsons:
---