« previous post | next post »
Jonathan Smith sent me this photograph of a man holding a bilingual sign during the protests in Egypt: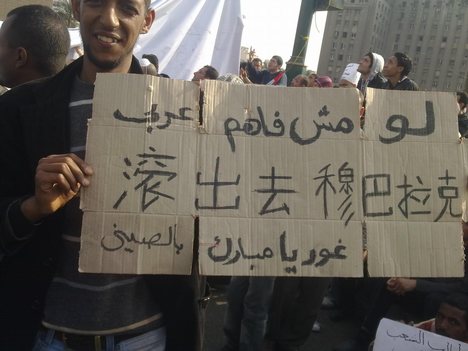 The Chinese says:
Gǔn chūqù Mùbālākè 滚出去穆巴拉克 ("Get out, Mubarak!")
The writing of the first character is odd. Otherwise, the characters are written neatly and correctly, but almost certainly not by a Chinese person.
The verb gǔn 滚 is interesting in that it literally means "roll" and is clearly intended as an insult. The verbal complements chūqù 出 去 respectively mean "go / come out" and "go away / to". The writer could easily have been more insulting if he had replaced the verbal complements with the word for "egg", thus gǔndàn 滾蛋 ("roll out of here like an egg"). As to the semantics of the opprobrious usage of dàn 蛋 ("egg"), they are so complex that I need to write a separate post on that subject.
The Arabic lines say:
law mish fāhim 'arabī
gūr yā mubārak bi`l-ṣīnī
If you can't understand Arabic,
that's "Scram, Mubarak, in Chinese".
This is the third in a series of Language Log posts about Chinese signs in the context of the Middle East Jasmine Revolutions. The previous two were "Chinese sign in Benghazi" and "Maybe Mubarak understands Chinese".
[A tip of the hat to Joseph Lowry for help with the Arabic]
---