« previous post | next post »
From Donald Clarke: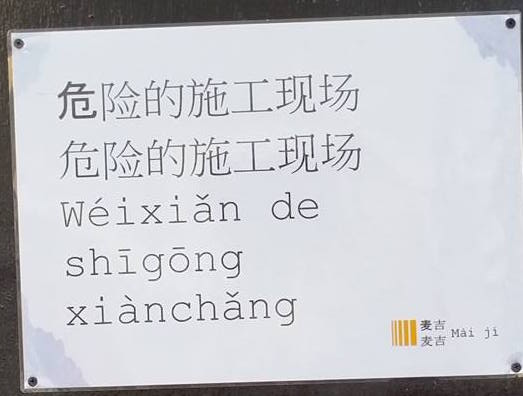 The sign seems straightforwardly to be a warning that this is a "dangerous construction site".  The more you look at it, however, the more questions arise.

Why is the Chinese repeated?
Did they mean to present it in traditional characters too?  危險的施工現場
Why is the first character in bold?
This treatment of the Chinese recurs in the signature at the bottom right:  repeated in simplified characters with the first character in bold. Mak6 Gat1 (I'm guessing that it's a Cantonese name, since 麦 / 麥 is a common surname among Cantonese speakers.)
To whom is the sign addressed?
Why did they include the careful (with tones and word spacing) Pinyin?
People who are only familiar with Mainland MSM will think that the second tone of the first character (危) is wrong, because the standard for Putonghua in the PRC is first tone, but the standard for Guoyu on Taiwan is second tone, and that is how I learned it half a century ago.
So, upon closer examination, the superficial simplicity of the sign soon breaks down.
The puzzles multiply when the printed sign is viewed in its context next to an inscrutable painting affixed to the left of the sign on the wall: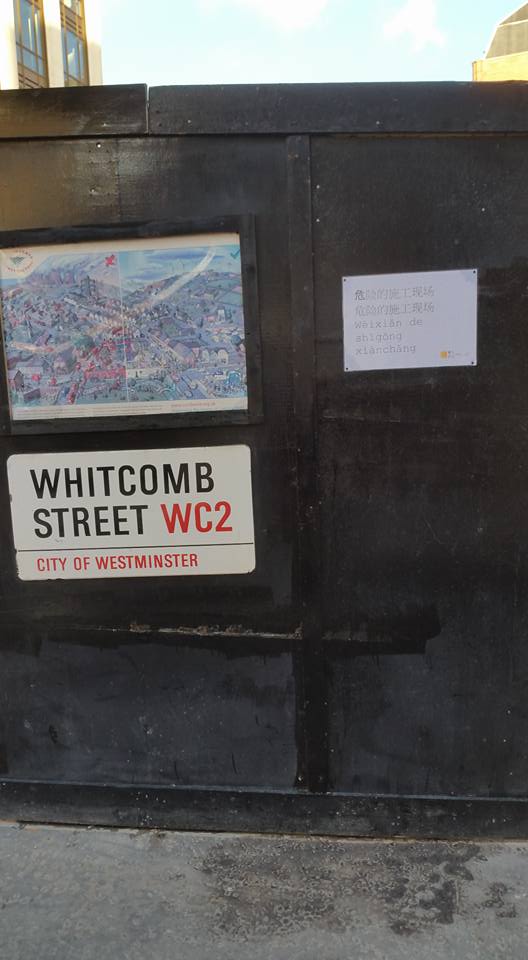 Are the sign and the painting in dialog with each other?
Is there some sort of deeper message being conveyed here?  A cultural or political protest?
Perhaps someone across the pond could pop over to Whitcomb Street WC2 in the City of Westminster and take a peek around, maybe even ask some questions of the locals, to find out more about what's going on.
---