« previous post | next post »
Things native English speakers know, but don't know we know: pic.twitter.com/Ex0Ui9oBSL

— Matthew Anderson (@MattAndersonBBC) September 3, 2016
This is a quote from Mark Forsyth's book The Elements of Eloquence: Secrets of the Perfect Turn of Phrase. And Nicholas Feinberg asks
This claim seems iffy to me, but it's interesting – have you heard of this before? Do you know of anything related that I could read, or anyone else I should ask?
Mark Forsyth's book starts its discussion of this topic with an odd claim about the English language, and an interesting anecdote about Tolkien:
Hyperbaton is when you put words in an odd order, which is very, very difficult to do in English. Given that almost everything else in the English language is slapdash, happy-go-lucky, care-may-the-Devil, word order is surprisingly strict. John Ronald Reuel Tolkien wrote his first story aged seven. It was about a "green great dragon." He showed it to his mother who told him that you absolutely couldn't have a green great dragon, and that it had to be a great green one instead. Tolkien was so disheartened that he never wrote another story for years.
The reason for Tolkien's mistake, since you ask, is that adjectives in English absolutely have to be in this order: opinion-size-age-shape-colour-origin-material-purpose Noun. So you can have a lovely little old rectangular green French silver whittling knife. But if you mess with that word order in the slightest you'll sound like a maniac. It's an odd thing that every English speaker uses that list, but almost none of us could write it out. And as size comes before colour, green great dragons can't exist.
The bit about green great dragons is correct, I think, and it's also correct that there are often strong preferences for prenominal modifier order. But it's not so easy to characterize the preferences — "big bad wolf" is right and "bad big wolf" isn't, but that seems to be size-opinion rather than opinion-size.
And many cases work both ways — COCA has:
1+2
2+1
1=big
2=beautiful
43 (73%)
16 (27%)
1=little
2=beautiful
9 (3%)
345 (97%)
1=big
2=ugly
69 (95%)
4 (5%)
1=little
2=ugly
25 (18%)
116 (82%)
According to Forsyth (I think), those all should be opinion-size, i.e. 2+1 as in the second column — but all of them are mixed, and some go pretty strongly the other way.
Furthermore, there are some strong modifier-order preferences about which Forsyth's scale says nothing:
1+2
2+1
1=long
2=tall
18 (90%)
2 (10%)
1=big
2=huge
54 (73%)
20 (27%)
1=big
2=enormous
2 (25%)
6 (75%)
And some of these seem to have changed over time: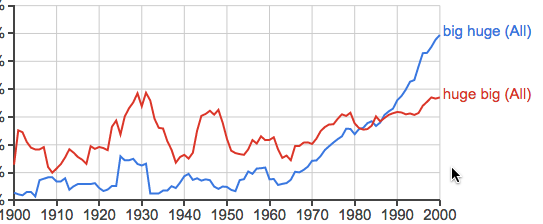 There's certainly a literature on such things — you could take a look at Richard Sproat and Chi-lin Shih, "The Cross-Linguistic Distribution of Adjective Ordering Restrictions", except for the fact that Springer wants to charge you a bit more than a dollar a page to read it. More cheaply, you could look through some of the 264 works that cite that chapter, including e.g. Alexandra Teodorescu's  "Adjective Ordering Restrictions Revisited".
Another interesting place to look would be Stefanie Wulff, "A multifactorial corpus analysis of adjective order in English", International Journal of Corpus Linguistics, 2003:
This paper is concerned with the question of which factors govern prenominal adjective order (AO) in English. In particular, the analysis aims to overcome shortfalls of previous analyses by, firstly, adopting a multifactorial approach integrating all variables postulated in the literature, thereby doing justice to the well-established fact that cognitive and psychological processes are multivariate and complex. Secondly, the phenomenon is investigated on the basis of a large corpus, rendering the results obtained more representative and valid of naturally occurring language than those of previous studies. To this end, corpus-linguistic operationalizations of phonological, syntactic, semantic and pragmatic determinants of AO are devised and entered into a Linear Discriminant Analysis, which determines the relative influence of all variables (semantic variables being most important) and yields a classification accuracy of 78%. Moreover, by means of the operationalizations developed in this analysis, the ordering of yet unanalyzed adjective strings can be predicted with about equal accuracy (73.5%).
The fact that her algorithm was only able to predict the ordering of two adjectives 73.5% of the time — where chance would be 50% — suggests that all of the relevant factors are not yet accounted for. Presumably Forsyth's template would do quite a bit worse, though of course people like that don't actually check their predictions.
On a similar topic, you might take a look at Cooper and Ross, "World Order" (1975):
We, began the present study by asking, as some linguists have asked before us, why the ordering of certain conjoined elements is fixed. A few examples from English appear below:
(1) bigger and better/ *better and bigger
(2) fore and aft / *aft and fore
(3) kit and caboodle / *caboodle and kit
In each of these cases, and in numerous others, the ordering of the two conjuncts is rigidly fixed in normal speech. We will refer to such cases as "freezes". Abraham (1950) and Malkiel (1959) have treated various aspects of this phenomenon. Our own study in this area has focused on two related problems: (1) the problem of trying to specify the types of linguistic environments in which freezes are apt to occur; and (2) the problem of specifying the rules that determine the linear order of two or more fixed conjuncts in particular frozen environments. Although our goal of solving these problems seemed manageable enough at first glance, we have been continually smitten since our initial attempts to tackle these questions by the enormity of the freezing phenomenon itself. Currently, we believe that the study of freezing touches rather directly on matters that extend to a variety of both linguistic and ' psychological issues. We report below our' preliminary progress on this seemingly endless journey. which we hope will eventually culminate in a fairly explicit theory of freezing and its relation to the variety of mental factors we explore here.
They consider a wide range of cases like "cat and mouse", "then and now", "here and there", "long and short", "ham and eggs", "meat and potatoes", etc.  You could also take a look at some of the 378 works that cite "World Order".
---