« previous post | next post »
Radio Free Asia has published an article about a wheelchair ridden human rights activist named Li Biyun:
"Rights Activist 'Takes Refuge' in U.S. Embassy in Beijing: Relatives" (9/1/16)
The article is accompanied by this extraordinary photograph: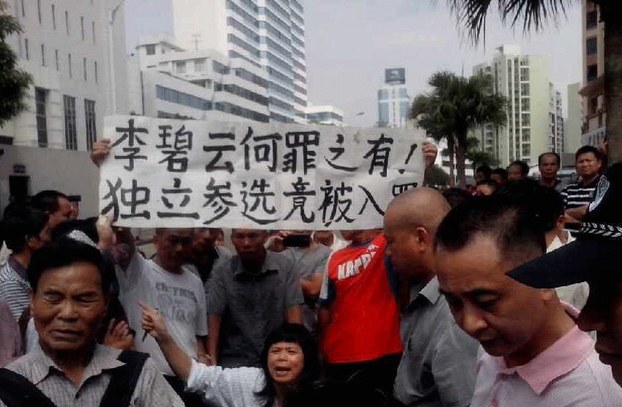 The photograph was taken on September 6, 2013 in Foshan city, Guangdong province.  Of course, it is remarkable that so many people would openly gather on the street outside a courthouse in the People's Republic of China in support of election rights.  For me as a Sinologist, however, what is most striking is the grammar on the banner that is being held aloft above Li Biyun in her wheelchair.
Abbreviations
LS Literary Sinitic / Classical Chinese
MSM Modern Standard Mandarin
Here's what's written on the banner:
Lǐ Bìyún hé zuì zhī yǒu!
dúlì cānxuǎn jìng bèi rù zuì
李碧云何罪之有!
独立参选竟被入罪
What is Li Biyun's crime?
Unexpectedly incriminated for being an independent candidate.
Because the grammar is a mixture of literary and vernacular, with perhaps a dash of local flavor, the nuances are difficult to convey in concise compass, so the translation should be considered only as a rough guide to the general meaning.
The most difficult part of the wording on the banner are the last four characters of the first line, hé zuì zhī yǒu 何罪之有.  Although this LS construction is familiar to many educated Chinese, and has even been fairly widely adopted as a fixed phrase in written vernacular, I suspect that less than 1% of Chinese, even those who might use this construction in their writing, would be able to parse it correctly.  Note that substitutions may be made in the second position, thus hé X zhī yǒu 何X之有 ("what X is there [to speak of]").
hé 何 ("what")
X = variable noun
zhī 之 (this particle / verb can have many different meanings and functions; although it is simple, basic, and frequent in LS, the multiplicity of its potential roles and meanings is what makes this four character expression devilishly difficult to analyze and interpret:  "him / her / it; this / that / these / those; subordinative particle; possessive / genitive particle; expletive; until; go to; leave for; arrive at (this is by no means a complete listing of possible meanings and functions of zhī 之)
yǒu 有 ("there is / are; have; exist")
hé X zhī yǒu 何X之有 is a special literary construction that I cover at great length in my First-year Classical Chinese course.  It is not even the most common, basic way to express the idea of "what crime is there" in LS, which would be yǒu hé zuì 有何罪.  The locution hé zuì zhī yǒu 何罪之有 adds a subtle shade to the signification of the essential sememes "what crime exists", thus, "what crime is there [to speak of]?"  Although that is the essential meaning of hé zuì zhī yǒu 何罪之有, it does not explain the grammatical function of zhī 之.
Grammarians of Chinese have argued endlessly over the exact function of zhī 之 in the expression hé X zhī yǒu 何X之有.  Rather than spell out my own interpretation or list those of others, I'd like first to invite Language Log readers who know LS to offer their explanation of the grammar of hé zuì zhī yǒu 何罪之有 in a comment, focusing on the function of zhī 之.  If you are not trained in LS, please don't even try.
Since most people who use constructions such as hé zuì zhī yǒu 何罪之有 employ them like set phrases (chéngyǔ 成语), they do not attempt to parse the individual components of which the whole consists.  In other words, such constructions in MSM are not being used compositionally, i.e., they are not putting the phrase together ad hoc according to LS grammar.  Another example would be qǐyǒucǐlǐ 岂有此理 ("ridiculous; outrageous; absurd"), which grammatically is much less challenging than hé zuì zhī yǒu 何罪之有, but still no one would stop to think "how [could] there be this principle / reason?" when they shout out qǐyǒucǐlǐ 岂有此理 ("ridiculous; outrageous; absurd") at someone.
People who are literate in MSM understand the general meaning of hé X zhī yǒu 何X之有 unitarily, but they don't "understand the grammar" in the sense of understanding the historical relationships between the constituents.  If forced to give a grammatical explanation, most people would probably suppose this to be genitive zhī 之, when historically it is more likely something altogether different.
Until the comments come in, we're done with hé zuì zhī yǒu 何罪之有, which is pure LS (and an esoteric form of it at that), for now.
The first three characters of the first line, Lǐ Bìyún 李碧云, are just a person's name, so they could be either LS or MSM.
In the second line:
dúlì 独立 ("independent") and cānxuǎn 参选 ("candidate") are MSM
jìng 竟 ("at last; in the end; finally") is more on the LS side, though it could be used in MSM, but jìngrán 竟然 ("actually; after all; unexpectedly; to one's surprise") would be more likely
bèi 被, though it has many other meanings, can serve as the passive signifier in both LS and MSM
rùzuì 入罪 (lit., "enter crime", i.e., "incriminate"), especially after the passive signifier, sounds odd to me and to most of the native informants whom I consulted; by itself rùzuì 入罪 is most likely a neologism to match English "incriminate"
So what we have on the banner is a mishmash of LS and MSM.  I asked a number of native speakers how they would express the same sentiments in pure vernacular (báihuà 白话).  Here are several of their proposals (since they are all trying to say the same thing [already indicated above], I won't translate each of them into English):
Lǐ Bìyún yǒu shéme zuì? 李碧云有什么罪?
Dúlì cānxuǎn jìngrán bèi dìngzuì! 独立参选竟然被定罪!
Lǐ Bìyún yǒu shéme zuì? 李碧云有什么罪?
Dúlì cānjiā jìngxuǎn jìngrán bèi pàn yǒuzuì! 独立参加竞选竟然被判有罪!
Lǐ Bìyún yǒu shéme zuì? 李碧云有什么罪?
Dúlìde cānjiā xuǎnjǔ jìngrán bèi rùzuì! 独立地参加选举竟然被入罪!
Lǐ Bìyún nǎli yǒuzuì? 李碧云哪里有罪?
dúlì jìngxuǎn jìngrán bèi pànzuì!
[Thanks to Neil Kubler, Jonathan Smith, Matt Anderson, Maiheng Dietrich, Fangyi Cheng, Jing Wen, Yixue Yang, and Xiuyuan Mi]
---