« previous post | next post »
We've mentioned that special brand of Singaporean English on Language Log from time to time, most recently just a few days ago:
"New Singaporean and Hong Kong terms in the OED" (5/12/16)
So what is it, really?

Singlish is the English-based creole or patois spoken colloquially in Singapore. Although English is the lexifier language, Singlish has its unique slang and syntax, which are more pronounced in informal speech.
From "Singlish vocabulary" on Wikipedia; see also "Singlish":
While English is one of Singapore's official languages, Singlish (a particular dialect with its unique intonations and grammar) is commonly regarded as having low prestige. The Singaporean government and some Singaporeans alike heavily discourage the use of Singlish in favour of Standard English and Standard Mandarin. The government has created an annual Speak Good English Movement to emphasise the point. Singlish is also heavily discouraged in the mass media and in schools. However, such official discouragement and routine censorship is actually countered by other presentations in mainstream media, including routine usage by ordinary people in street interviews broadcast on TV and radio on a daily basis, as well as occasional usage in newspapers.
Gwee Li Sui, in "Do You Speak Singlish?" (NYT, 5/13/16) writes:
Singlish is a patchwork patois of Singapore's state languages — English, Malay, Mandarin and Tamil — as well as Hokkien, Cantonese, Bengali and a few other tongues. Its syntax is drawn partly from Chinese, partly from South Asian languages.
Gwee offers these gems of Singlish speech:
"Steady poon pee pee," from the Hokkien, means to be so poised as to deserve an admiring whistle. A snooty person is "yaya papaya": with yaya perhaps originating from yang-yang (god of gods in ancient Malay) or jâjâ (father in old Javanese), and the "papaya" thrown in for the derisive rhyme. "Blur like sotong" means to be clueless: Sotong is Malay for squid.
The announcement by OED that its latest edition had included 19 new Singaporean expressions (see first link above) has led to a surge of discussion by speakers of Singlish.  Here I want to highlight an amazing aspect of Singlish that was brought out in one of the articles that is part of the current talk about the linguistic pride / shame of Singapore, namely "how are there[,] like, FIVE languages in one sentence?"  I draw this illustration from Renae Cheng's article in TheSmartLocal (5/11/16) titled "10 Bizarre Things Singaporeans Do That The Rest Of The World Won't Understand":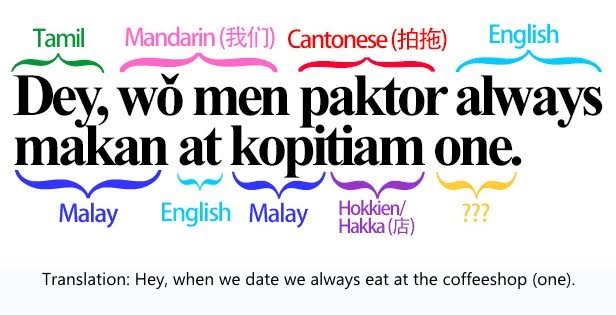 Sinitic topolect notes:
Mandarin wǒmen 我们 ("we")
Cantonese paak3to1 拍拖 ("courting; to go out on a date")
Hakka (Pha̍k-fa-sṳ): tiam; Minnan (Hokkien, POJ): tiàm 店 ("shop")
You should be able to figure out the other words by yourself — except the last one, "one", which appropriately comes with three question marks, because, even though it is ubiquitous as a sentence final particle in Singlish, there is no consensus with regard to its derivation, meaning, and function in this position.
Here's your first lesson on how to use "one" as a sentence final particle in Singlish:
Can any other language match that colorful one quoted above for profusion of code switching within one relatively short sentence?
BTW, although "Chinese helicopter" was included among the 19 new Singlish terms in the OED with the supposed meaning "a Singaporean whose schooling was conducted in Mandarin Chinese and who has limited knowledge of English" , none of my Singaporean friends has ever heard it used that way (see here).  However, since the OED provides quotations from 1981, 1985, 1997, and 2008, perhaps it has simply already gone out of common use.
[h.t. Leander Seah]
---