« previous post | next post »
Molly Worthen, "Stop Saying 'I Feel Like'", NYT 4/30/2016:
In American politics, few forces are more powerful than a voter's vague intuition. "I support Donald Trump because I feel like he is a doer," a senior at the University of South Carolina told Cosmopolitan. "Personally, I feel like Bernie Sanders is too idealistic," a Yale student explained to a reporter in Florida. At a Ted Cruz rally in Wisconsin in April, a Cruz fan declared, "I feel like I can trust that he will keep his promises."  
These people don't think, believe or reckon. They "feel like." Listen for this phrase and you'll hear it everywhere, inside and outside politics. This reflex to hedge every statement as a feeling or a hunch is most common among millennials. But I hear it almost as often among Generation Xers and my own colleagues in academia. As in so many things, the young are early carriers of a broad cultural contagion.
This is a lovely specimen of a Kids Today peeve. Some NYT editor added a picture that also suggests the Policing Women's Language trope: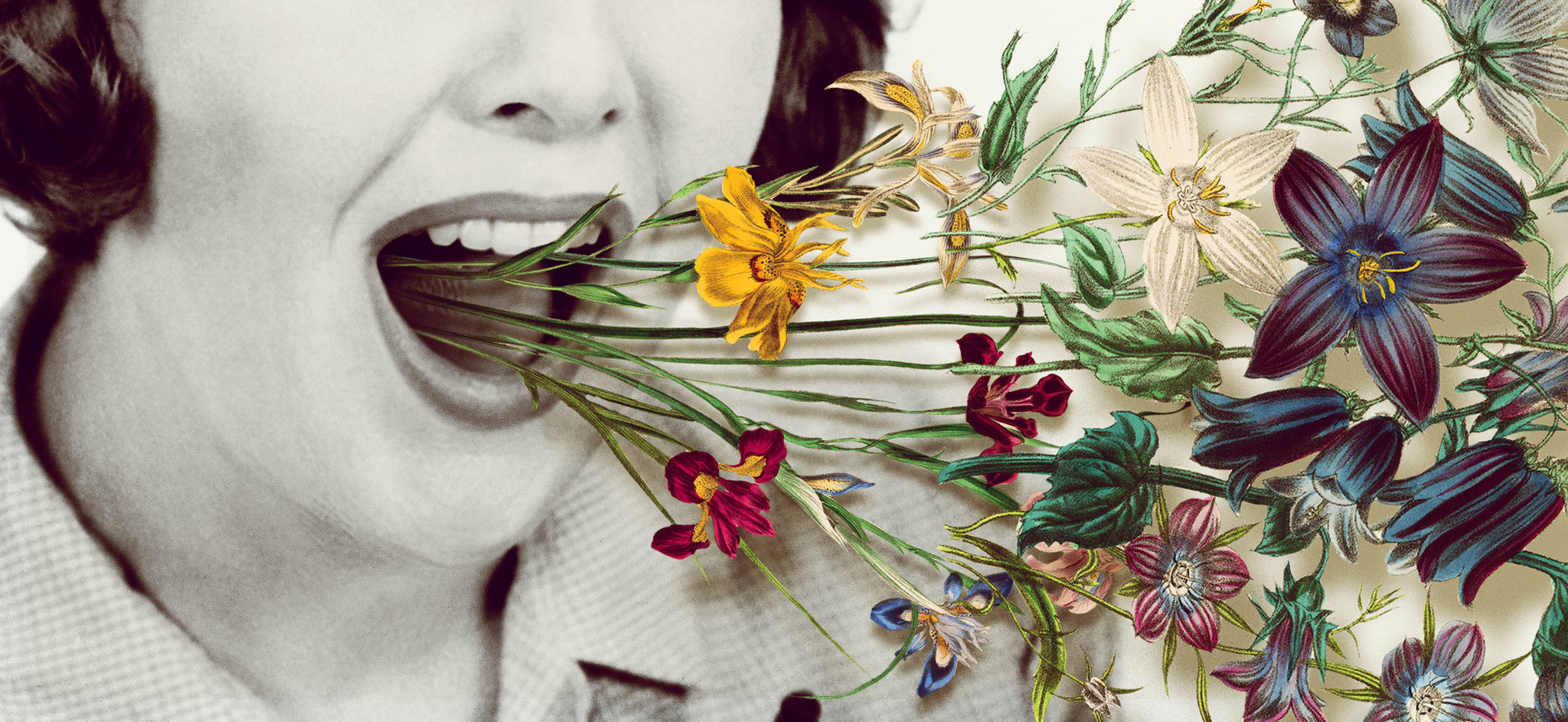 but Molly Worthen explicitly rejects this interpretation:
The data suggests that young women use the phrase slightly more often than men, but in my own classes, male students begin almost every statement with "I feel like." The gender gap is vanishing because the cultural roots of this linguistic shift were never primarily a consequence of gender.
I explored this issue a few years ago, in response to a query from Katie Baker, who wrote about it in "Ladies, What's Up With the 'I Feel Like' Verbal Tic?", Jezebel 8/23/2013. I discussed our interaction in the post"I feel like", 8/24/2013:
The idiom " I feel like" is indeed increasing in frequency, and its use is indeed gendered.
[…]
[But] summing it up, there's no evidence in these counts for any overall difference in "hedging" between men and women.
This supports my hypothesis that women use "I feel like" more than men simply because that phrase has been increasing sharply in frequency over the past few decades, and women are leading that trend, as they often do.
If you're interested in the data as well as the feelings, read the whole thing.
(That post was referenced in an article by Rich Smith, "I Feel Like We Say 'I Feel Like' All the Time", The Stranger 7/15/2015, which also cites some interesting research by Marisa Brook on the history of complementizer like  — see "Comparative Complementizers in Canadian English: Insights from Early Fiction", University of Pennsylvania Working Papers in Linguistics 2014)
In the comments on that 2013 post, J.W. Brewer noted that the entry on feel in Merriam-Webster's Dictionary of English Usage (1994) cites Copperud 1964 quoting
… one Alice Hamilton, MD., from an article in the Atlantic (September 1954), as being amused by "the increasing rejection of believe and think in favor of feel."
The 1954 Atlantic article in question is "Words Lost, Strayed, or Stolen", and it starts with this peever's credo:
Words have always been of great interest to me, and their misuse give me a sense of more than discomfort: of actual indignation, as if a friend were being mistreated. I cannot claim to be a writer, but then a music critic is not a musician, nor an art critic a painter. I am a reader, so I feel I have a right to criticize authors, journalists, editorial writers, who, to my mind, are doing violence to the English language by surrendering precious words to base uses or by substituting cheap words for valuable ones.
Ironically, one of the citations in Webster's Third for feel in the "think, believe" sense comes from Dr. Hamilton's third sentence: "I am a reader, so I feel I have a right to criticize authors".
Dr. Hamilton seems to feel a weaker emotion than indignation with respect to the spread of feel as a propositional attitude verb:
More amusing is the increasing rejection of "believe" and "think" in favor of "feel." Notice how often statesmen, journalists, commentators, tell you what the "feeling" is in the State Department, the Foreign Office, the Pentagon. Both American and English public men seem now to depend on their "feelings" about the most controversial questions. Does it show that we accept the dictum of the newer psychology that all our decisions are based on emotion, not on thought?
After giving a long list of examples going back to Shakespeare of feel = "think, believe", the MWDEU entry concludes that "This use is entirely standard", but also notes that "this sense of feel tends to be colored by the notion of emotion or intuition; it doesn't seem to mean 'think' in the sense of using powers of reasoning".
In contrast, Ms. Worthen quotes me at the end of yesterday's NYT piece:
The more common "I feel like" becomes, the less importance we may attach to its literal meaning. "I feel like the emotions have long since been mostly bleached out of 'feel that,' " said Mark Liberman, a linguist at the University of Pennsylvania. But when new verbal vices become old habits, their power to shape our thought does not diminish.  
We should not "feel like." We should argue rationally, feel deeply and take full responsibility for our interaction with the world.
I certainly agree with her last sentence.  But I'll argue rationally against the idea that "when new verbal vices become old habits, their power to shape our thought does not diminish".
For example, the modern English word silly originally (as seely) meant "happy, fortunate, spiritually blessed, pious, holy".  The meaning appears to have shifted in the 16th century, towards senses that the OED glosses as "powerless" and "simple", ending up with the modern meanings of "foolish; impractical; unserious".  Should someone around 1600 have objected, "We should not speak as if piety were foolishness"? Maybe so — but it wouldn't have done any good, and by now, in any case, there's no tinge of pious left in silly.
And contrary to the MWDEU entry, I don't think there's much emotion left in "feel that".  As Dr. Hamilton observed in 1954, the feel = "think, believe" usage is not limited to kids, then or now — she cited "statesmen, journalists, commentators", and I'll quote from some of the biomedical research reports archived in the early years of MEDLINE:
1974: In general, the experts feel that development should be the main issue with the belief that population decline will inevitably follow from that.
1975: Because of its simplicity, low operative risk, and encouraging late success rate, we feel that femorofemoral bypass grafting for late unilateral occlusion of a prosthetic bifurcation graft is the procedure of choice.
1976: Because of the frequent coexistence of various congenital anomalies, we feel that the prevalence of congenital otologic problems associated with a first branchial cleft syndrome may be greater than has previously been suspected.
In these examples, the authors are not emoting, or presenting intuitions unsupported by evidence. Rather, they're explicitly "using powers of reasoning" to justify a conclusion, whose connection to the cited reasons is (in my opinion) expressed more strongly by feel than it would have been by think.
Curiously, the frequency of "feel that" in MEDLINE has been declining rather than increasing over the years — perhaps due to the effectiveness of reactions like those of Dr. Hamilton and Ms. Worthen?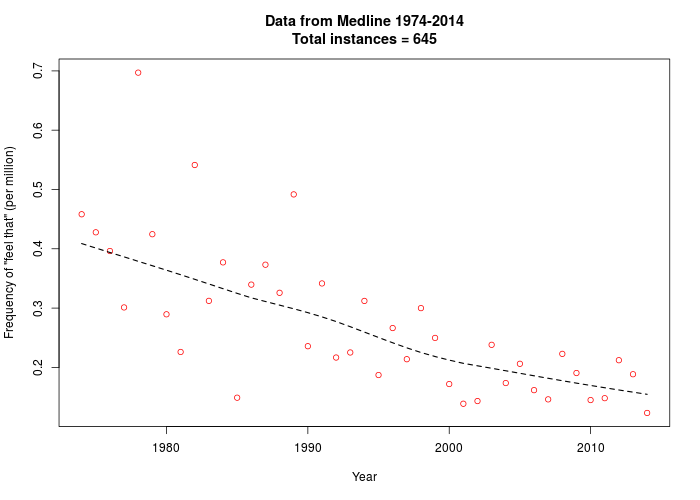 Update — see also "Epistemological metaphors and meanings", 5/2/2016; "Feeling in the Supreme Court", 5/3/2016; ."'Feel that' has been disappearing", 5/3/2016.
Update #2 — In the Guardian, Arwa Mahdawi offers a humorously-serious response to Worthen: "Talking while female: an expert guide to the things you definitely should not say", 5/3/2016.
---
Some earlier posts relevant to the Kids Today theme:
"Balm in Gilead", 4/16/2004
"Kids today", 3/11/2010
"The curious specificity of speechwriters", 2/27/2011
"Kids today yesterday", 11/6/2011
"How do 'today's students' write, really?", 7/23/2012
"Psycho kids today", 11/12/2012
"Regardless whether Prudes will sneer", 12/10/2012
"Innovation, rules, and regulation", 12/28/2012
"Another 'Kids Today' conversation", 8/31/2013
And some relevant to Policing Women's Language:
"This is, like, such total crap?", 5/15/2005
"Uptalk uptick", 12/15/2005
"Angry Rises", 2/11/2006
"The Affect: Sociolinguistic speculation at the NYO", 3/22/2006
"Further thoughts on 'the affect'", 3/22/2006
"Nationality, Gender and Pitch", 11/12/2007
"Mailbag: F0 in Japanese vs. English", 11/13/2007
"Uptalk anxiety", 9/7/2008
"Vocal fry: 'creeping in' or 'still here'?", 12/12/2011
"Sexy baby vocal virus'", 8/15/2013
"Biology, sex, culture, and pitch", 8/16/2013
"Just riffing", 6/29/2015
"Un justified", 7/8/2015
"Open Letter to Terry Gross", 7/10/2015
"Fresh Air on 'policing' young women's voices", 7/23/2015
"Cameron v. Wolf", 7/27/2015
"Jeopardy gossip", 11/25/2015
---