« previous post | next post »
JVB wrote to point out that there's apparently an extra negation in a quotation presented in a current New York Time book review (Janet Maslin, "'Maestra,' a Novel of Sex, Murder and Shopping', 4/12/2016, emphasis added):
"Maestra" is the work of L. S. Hilton, who is otherwise the British historian Lisa Hilton, but wanted to give voice to her inner babe. Ms. Hilton has talked up the independence and sexual freedom of her main character, Judith Rashleigh. But hold the phone: "Maestra" is terribly confused about what constitutes Judith's idea of a good time. Sometimes she savors her bravado and channels James Bond. More often, she is a sad, status-seeking, increasingly homicidal opportunist/prostitute. "I've never met the girl who wasn't prepared to hawk it when there wasn't a bona fide billionaire in the room," Judith confides.
So this looks like another addition to our long list of misnegation examples, "No post too obscure to escape notice". The usual factors are there: modality, multiple negation, and (at least implicitly) a scalar predicate.
But the unusual thing about this example is that the extra negation isn't there in the book to which the quotation is attributed.
At least, it's not on p. 110 of the Kindle version that's partly visible on the amazon.com site (even though the work won't be released until April 19):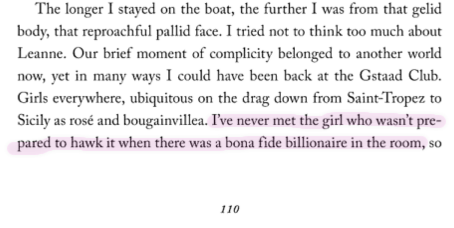 A screenshot to show that the extra negation is really there in the NYT review, and wasn't inserted  by JVB or to me: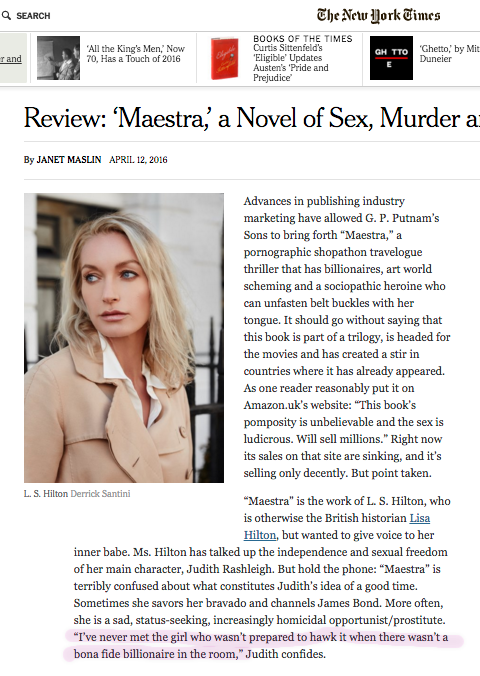 So either there's a third negation in the quoted sentence in Janet Maslin's review copy of Maestra; or it snuck in when she transferred the quotation to her review, and survived whatever proofreading and copy editing ensued. This might have been a simple slip of the fingers, or it might reflect a deeper slip in perception and memory.
Another possible misnegation, sent in last week by AR, may also have originated in an error of linguistic production or perception, in this case a word-substitution error. Hillel Aron, "Michael Weinstein Might Have Diagnosed What's Wrong With L.A. — But Can He Fix It?", LA Weekly 4/4/2016, originally read:
"I am consistently angered and confused and disgusted by his prevention campaigns, which seem to encourage a stigma against homophobia," says Cleve Jones, a prominent AIDS activist, who came up with the idea for the AIDS Memorial Quilt. 
The online article now reads "… stigma against homosexuality …", and includes this set of corrections at the end:
A previous version of this story stated that L.A.'s rent-stabilization ordinance passed in 1973; it actually passed in 1978. It also quoted Cleve Jones as saying AHF's prevention campaigns "encourage a stigma against homophobia." Jones misspoke; he meant to say that they encourage a stigma against homosexuality. And it stated that AHF and Los Angeles County had settled all of their lawsuits; in fact, only one suit has been settled.
I'm skeptical of the "Jones misspoke" assertion. Maybe Aron recorded the interview, but in my experience, journalists still construct "quotations" from their poor-quality real-time notes to a surprising degree. And surely if Jones actually said "stigma against homophobia", and Aron recognized the problem, he should have checked and corrected the wording. So in absence of further evidence, I'm going to blame the journalist, and assume that Hillel Aron misheard or mistyped.
And I'm going to retain the view that both of the examples discussed above count in some sense as misnegations. Even if these were really simple slips of the fingers, such errors are promoted and protected by the factors that make misnegations so common in the cases where people are genuinely and quasi-permanently confused about the direction in which their phrases end up pointing.
---