« previous post | next post »
From Charlie Clingen:
To stick a landing gone viral since last Friday. But where does it come from and which is right:   "SpaceX finally stuck a sea landing Friday, when the company's first-stage booster glided" (from an online news item) or "SpaceX finally sticked a sea landing Friday…"?
I believe that the expression "stick a landing" comes from gymnastics, where it refers to landing after a flip, vault or dismount without taking additional steps to avoid falling over. The idea is that your feet stick in place once they touch the floor.
Thus MW gives as sense 10 of the verb stick "to execute (a landing) flawlessly in gymnastics".
I don't know how old the expression is among gymnasts, but the metaphorical extension to other areas seems to have started in the 1990s, as this Google Books Ngrams plot suggests: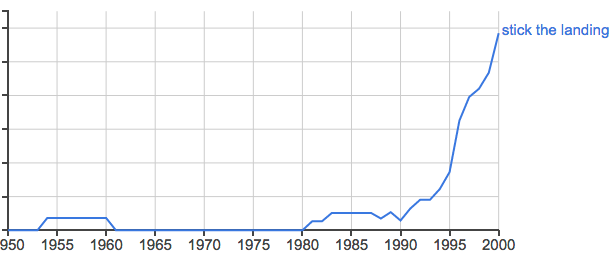 The earliest (rather cautious) such extension that I found in the NYT is in a theater review from 1998:
This perfectly merry escapade of a play would appear to have been given every opportunity to succeed under the direction of Mr. Irwin, a thinking man's clown who, in shows like "Fool Moon," has made pratfalls look as graceful as dismounts from the high bar.
But even a good gymnast falters now and then, and despite the exquisite apparatus Feydeau provides him, Mr. Irwin fails here to stick the landing.
The context of reviews seems to be especially common for such usages — a small sample from the current Google News index:
Superman #50 Sticks The Landing
FX stuck the landing with the final episode of its outstanding miniseries "The People v. O.J. Simpson: American Crime Story" Tuesday night.
In addition to nailing his performance as an upper crusty New York media celebrity, Bowles also stuck the landing when it came to his styling
Assuming Batman #51 doesn't turn out to be a disaster of epic proportions, it's safe to say that Snyder and Capullo stuck the landing on their years-long Batman run.
It just traded one set of flaws for a different one, and I still don't think any of the series so far have really "stuck the landing" on a season finale.
When HBO stuck the landing on the red wedding, and Twitter and Facebook exploded in communal grief, I almost literally rolled off my chair with glee.
As for the stuck v. sticked question, stuck certainly seems right to me, since it been the regular preterite form of stick for a long time. This shouldn't need any evidence, but for lagniappe, here's William Shakespeare, "A Lover's Complaint":
But, woe is me! too early I attended
A youthful suit—it was to gain my grace—
Of one by nature's outwards so commended,
That maidens' eyes stuck over all his face:
It's true that metaphorical verbifications sometimes regularize, as in "flied out to left field" instead of "flew out to left field". But the stick in "stuck a landing" is a verb from birth, I think.
---