« previous post | next post »
Posted on imgur: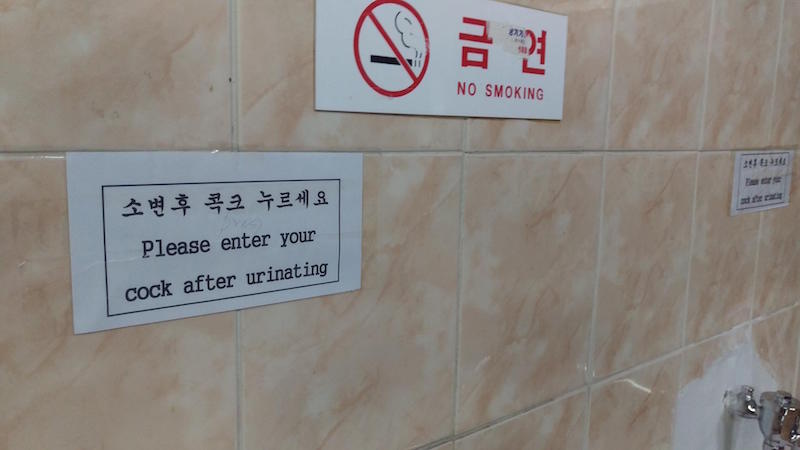 소변 후 콕크 누르세요
Yale: Sopyen hwu khokkhu nwulusey yo
McCune-Reischauer: Sobyŏn hu k'okk'ŭ nurŭse yo
urination-after cock press-honorific polite
The verb nwulu- means "press; press down on", so the Korean means "press down on the [water / pet-]cock after urinating", i.e., "please flush after urinating".
Here's what a k'okk'ŭ 콕크 looks like.
The notice is not directed at the super absent-minded types who forget to zip up after they've finished piddling, but at the mindless dudes who neglect to flush.
Notice that the reminder is posted above each urinal.
At first I had intended to write a short note about the etymology of the English word "cock" from which Korean k'okk'ŭ 콕크 is apparently borrowed, but the situation is so messy (so many different meanings and unclear origins) that I abandoned the thought and decided to leave it to Language Log readers to discuss if they wish.
WARNING:  Do not attempt to send an e-mail with the subject line "cock".  It is liable to get swallowed up by a prudish client.  That happened to me several times today, even though I was not referring to the male member, but to a faucet or valve.
[h.t. Tim Leonard; thanks to Ross King and Haewon Cho]
---