« previous post | next post »
A correspondent from Singapore saw the following photograph in his Facebook feed: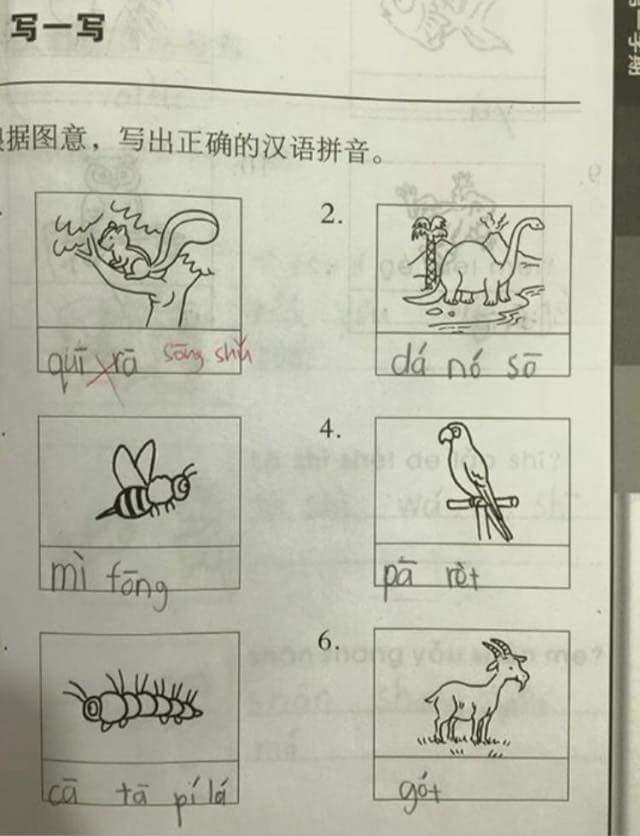 This is a Singapore language test which calls for the student to write in Hanyu Pinyin the name of the animal depicted in the space beneath it.
The correct answers should be:
sōngshǔ
kǒnglóng
mìfēng
yīngwǔ
máochóng
shānyáng
My correspondent comments:
This is the type of thing that many of my strictly anglophone, yet 'Chinese', relatives in Singapore would do or at least joke about having to do when sitting (and failing) Chinese tests at school.
The first item is particularly hilarious, so I shall add a few notes:
1. My old friend Yin Binyong used to pronounce the English word thus:  "eeskweerill".
2. An old German friend remarks, "Who says Germans can't say 'squirrel'? Try 'EICHHÖRNCHEN'!  What's wrong with Eichhörnchen? Try listening to the Bavarian pronunciation thereof: Oachkatzlschwoaf (here spelled phonetically) and spoken in SIX short syllables."
3. On the Taiwan Mandarin pronunciation of the flying variety, see this LL comment.
On anglophone Singaporeans, see this post:
"Fake foreigner " (10/3/11)
---