« previous post | next post »
The Bernie Sanders campaign sent out a tweet at 10 a.m., reading: "Greed, fraud, dishonesty, arrogance. These are just some of the adjectives we use to describe Wall Street." That got the attention of Jezebel blogger Joanna Rothkopf, who posted it under the headline, "These Are All Nouns, Bernie." Shortly thereafter, the tweet was deleted, but I was able to grab a screenshot in time.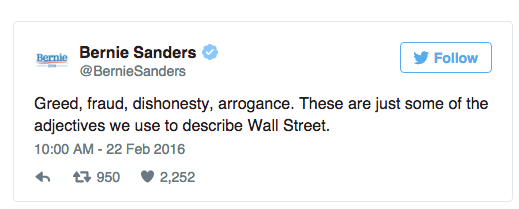 This reminds me of a column that appeared in the New York Times Magazine ten years ago, "Is Freedom Just Another Word for Many Things to Buy?" (Feb. 26, 2006) by the social psychologists Barry Schwartz, Hazel Rose Marks, and Alana Conner Snibbe. They wrote:
In a recent study with Nicole Stephens at Stanford University, we asked college students to pick "three adjectives that best capture what the word 'choice' means to you." A higher percentage of those who had parents with a college education said "freedom," "action" and "control," while more of those whose parents had only a high-school education responded with "fear," "doubt" and "difficulty."
I posted about this on Language Log at the time, wondering whether the confusion over adjectives and nouns was the fault of the college students, the psychologists, or — as I suspected — the editors of the column. Regardless, I noted that it's a common mix-up:
Nouns that don't denote substantive things sometimes don't seem "noun-y" enough to qualify for that part of speech. Hence Jon Stewart can tell a graduating class that the word "terror" is "not even a noun," while Timothy Noah can write on Slate that words like "humbug" and "poppycock" are adjectives. So it wouldn't be surprising if an editor looking to tighten up the writers' prose made a quick redaction that ended up treating such nebulous terms as "freedom" and "fear" as adjectives rather than nouns.
The Sanders social media team shouldn't feel too bad about having a similar problem identifying "greed," "fraud," "dishonesty," and "arrogance" as nouns. And the speedy deletion of the tweet just might be enough for the campaign to avoid losing the English teacher vote.
(Hat tip, Adam Cooper.)
---