« previous post | next post »
This is a photograph of a sign above a urinal at the Tokyo University of Foreign Studies taken by Joseph Williams who was there for a Japanese test.  Besides the Japanglish, it's interesting that spaces are added between the words.  And there are no kanji.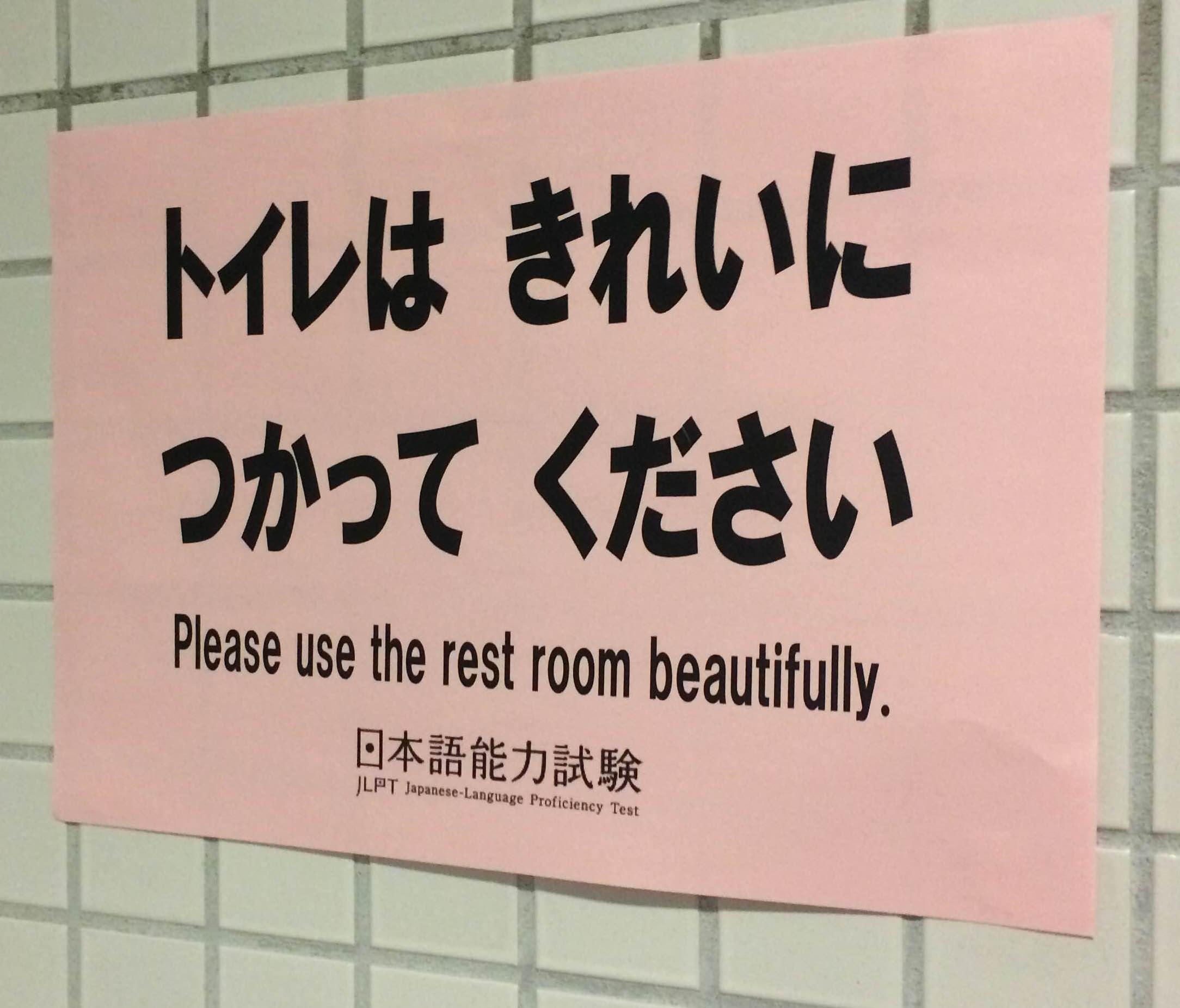 Toire wa kirei ni tsukatte kudasai
トイレは  きれいに  つかって  ください
The correct translation will emerge in the course of the following discussion.
First of all, although the Japanese may look strange because it is all in kana (no kanji) and has spaces between words, there is nothing unusual about the wording.  While this may not be the most exemplary Japanese, one can perfectly well state the request as it appears.
A more traditional and elegant way of saying the same thing would be:
Toire wa kirei ni tsukaimashou
トイレは綺麗に使いましょう
"Kirei ni tsukau 綺麗に使う" is standard wording to express "to use something cleanly".  The sentence might well have been translated as "Please keep the restroom clean."
The sign is targeted at language learners (Japanese-Language Proficiency Test [JLPT]), which explains the spaces. Picture books and even textbooks used in Japanese elementary schools have spaces for early readers.  I do not know when word separation like this began, but it was probably fairly early into public education in Japan, since it may be seen in prewar and wartime textbooks:
I don't think that there is any rule against putting spaces between words, and providing them makes it easier to understand, especially because there are no kanji in this sentence.
The only mistake in the translation is the result of choosing "beautiful" instead of "clean" from the two main meanings of kirei きれい.
You see signs like this all the time (Google Images).
So this is just a case of misunderstanding that, while cleanliness is next to beauty, it's not the same thing as beauty.
To sum up, the spaces between words and the lack of kanji on this sign are clearly for non-Japanese speakers who come to take the lower levels of the Japanese-Language Proficiency Test.  All levels of the JLPT are administered on the same day.  The kanji requirement for the lowest level (Level 5 or N5) is quite light:  tsukau 使う (probably) and kirei 綺麗 (definitely) are not included.  It's interesting that, if the same sentence had been posted with kanji and no spaces, it is assumed that students in the lower levels of Japanese would not have been able to understand it.  Written all in kana and with word spacing makes the sentence understandable to students who are testing for all five levels of the exam.  Writing in rōmaji and with spaces would make it understandable to an even greater range of Japanese language learners.
[Thanks to Nathan Hopson, Cecilia Segawa Seigle, Hiroko Sherry, and Miki Morita]
---