« previous post | next post »
Zach Hershey sent in photographs of a map on the wall of an Ethiopian restaurant on Chestnut Street in Philadelphia. Here's one: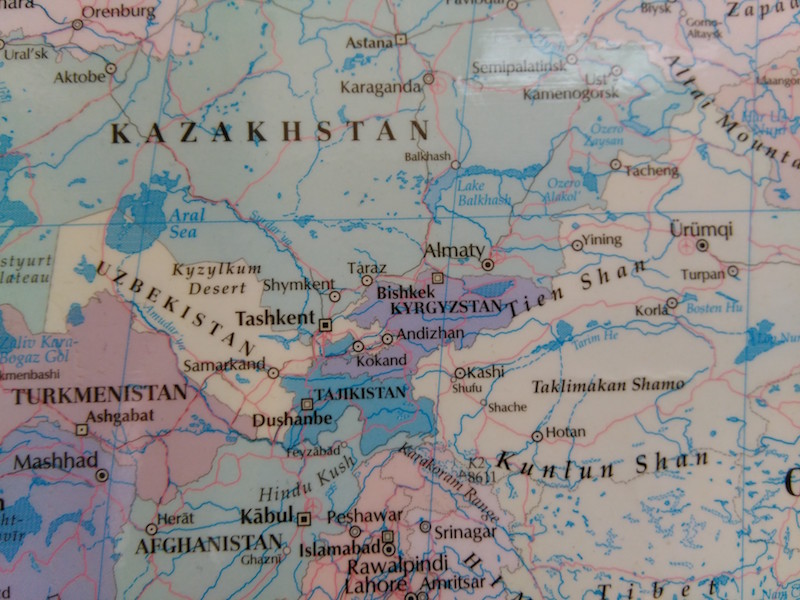 I cringe when I see maps like this, and I've been seeing more and more of them over the last twenty or thirty years, even from reputable organizations like National Geographic.
In the photograph above, you can see "Kyzylkum Desert" and the "Taklimakan Shamo" (from Mandarin "shāmò 沙漠" ("desert"), as well as the "Karakoram Range" and "Kunlun Shan" (from Mandarin "shān" ("mountain"). Also visible are the Sinitically truncated "Kashi" for "Kashgar" and the mixed Mandarin Uyghur "Tarim He" (hé 河 ["river"]). In contrast to thoroughly Mandarin "Kashi", they have mostly Uyghur "Ürümqi" instead of Mandarin Wūlǔmùqí 乌鲁木齐. If they were trying to spell Tiānshān 天山 ("Heavenly Mountains; Tenğri tağ") in a Mandarin fashion, then it should have been "Tian Shan", not "Tien Shan". In parentheses under "Tibet" (at least they didn't write Mandarinized "Tufan" or "Tubo", which I've seen on other maps), they have "Xizang Zizhiqu", i.e., "Xīzàng zìzhìqū 西臧自治区" ["Xizang / Tibet Autonomous Region"]).
There are all sorts of other oddities in the way place names are spelled on this map, only a small portion of which is reproduced here, and not just for areas under the control of the PRC.
And here's information about the map. Note that it comes from an Australian company. Who is the intended audience?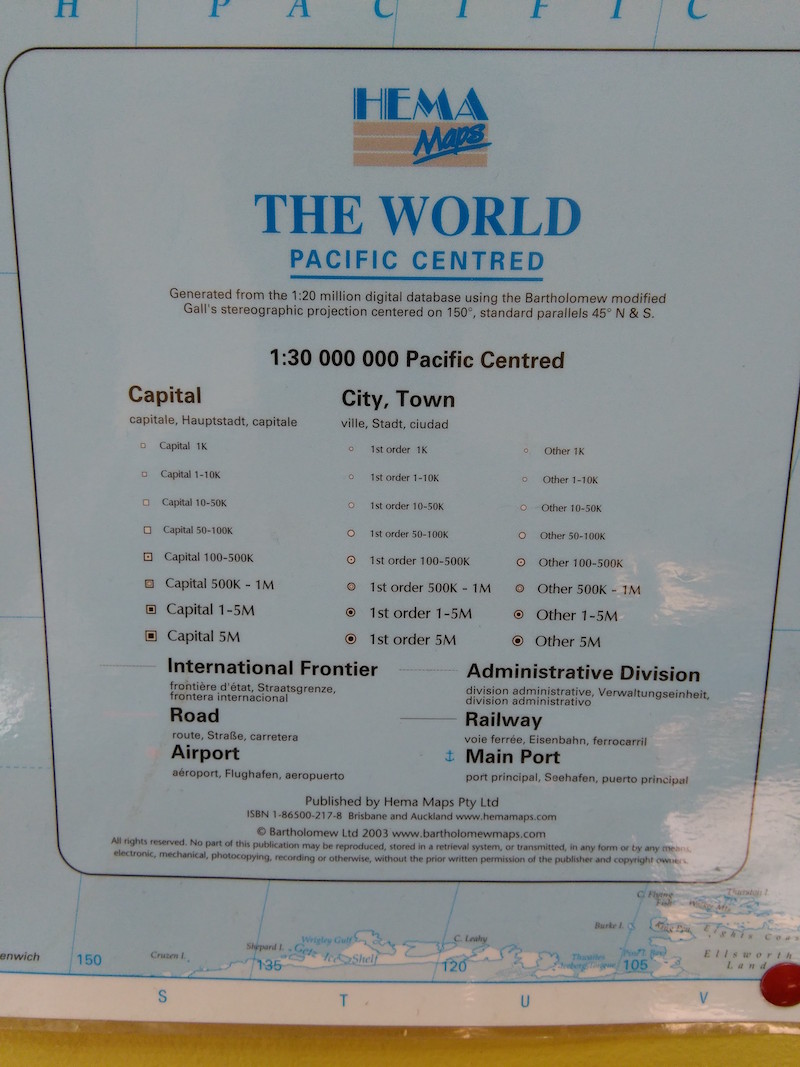 (Click to embiggen)
Eagle-eyed Language Log readers can undoubtedly spot other anomalies in the place names on the map.  It will take a lot of work to clean up the pseudo-Chinese usages from world maps prepared for people who speak other languages.
This map is neither fish nor fowl, bùsānbùsì 不三不四 (lit., "not three not four", i.e., "neither one thing nor another").
---