« previous post | next post »
From Betchen Barber: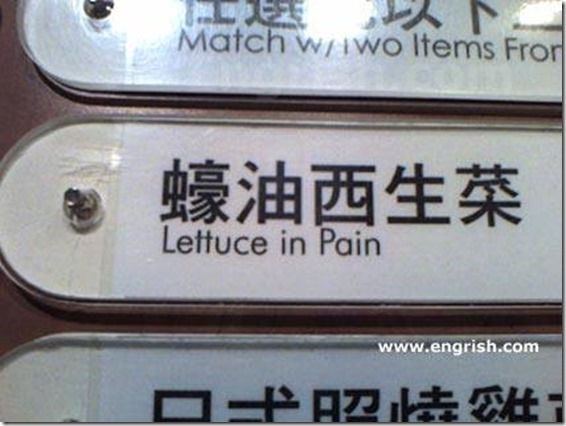 háoyóu xīshēngcài 蠔油西生 菜 ("lettuce with oyster sauce")
Even without the gross mistranslation, this dish sounds bizarre enough.
Hopefully the lettuce will be feeling better if we apply dressing to the wound.
Seriously, though, how do we get from "lettuce with oyster sauce" to "lettuce in pain"?
This translation fail is not new; people have been laughing at it since at least 2006.  So far as I am aware, however, no one has ever explained how it arose.
Perhaps someone whose English was not very good was trying to translate háoyóu 蠔油 asked another person whose English was also not very good, and the latter said that háoyóu 蠔油 is a pain (to translate).  That's not a very satisfactory solution, but it's the best I can think of right now at 38,000 feet over the Pacific cramped in the back of a Boeing 777-300 and feeling quite a lot of pain.
---