« previous post | next post »
Zach Hershey sent in this photograph of a sign in Central Park NYC: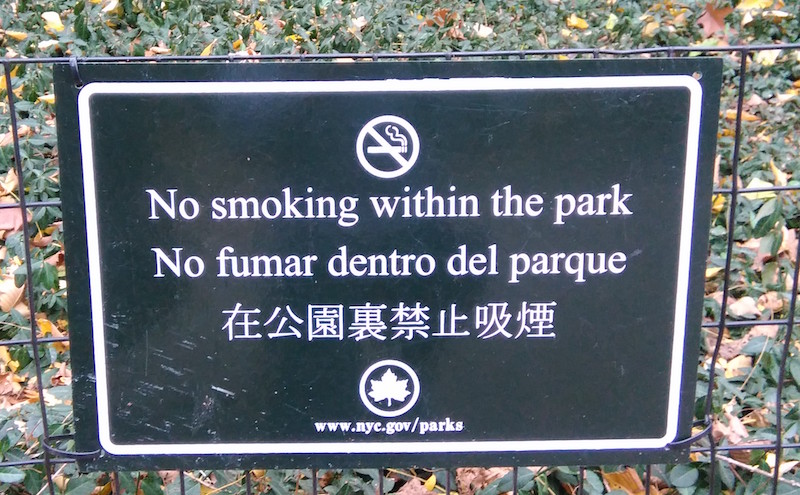 Zach remarks:
While I was in New York this weekend to see the Chinese Art Exhibition at the Met, I took a walk through Central Park and made a curious observation. Of the many regulatory signs that I saw in the park, the only one that I found that was also written in Chinese was the attached "No Smoking within the Park" sign. I saw numerous other signs written only in English such as "Do not Walk on the Grass," but this one stuck out to me.
The Chinese on the sign says:
Zài gōngyuán lǐ jìnzhǐ xīyān 在公園裏禁止吸煙
("it is forbidden to smoke inside the park")
Note that the writing is in traditional characters. In simplified characters the sign would look like this:
在公园里禁止吸烟
I asked several graduate students from China what they thought of the language on this sign. One of them replied thus: "I think the language is soft and friendly comparing to those signs in China."
I agree with him. As to what makes this sign seem less peremptory than comparable signs in China, I think that it is the inclusion of the location where you're not supposed to smoke at the beginning of the notice. Although the language of this sign, which is a direct and accurate translation from the English, is grammatically correct, I doubt that you would ever find such wording on a sign in China.
[Thanks to Fangyi Cheng]
---