« previous post | next post »
Andrew Herron sent in this photograph taken on Hospital Road, Hong Kong Island: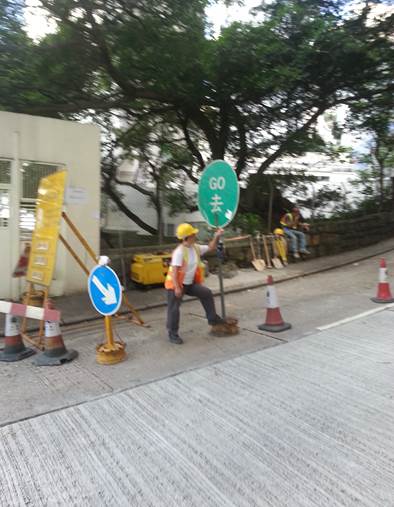 I know that area well, since I lived there during the year 2002-2003 when I was teaching at Hong Kong University.  Such scenes are often encountered as one walks or drives up and down the steep, narrow streets.  In Hong Kong, construction is a constant.
Practically everyone in Hong Kong knows the English words "stop" and "go" as well as their pairing with red and green lights.  So one might hazard that the primary, original language of the sign was the English word "GO".  The problem here is that the translation into Chinese qù 去 seems to be incorrect.  While "go" is one of the meanings of qù 去 (others include "leave; depart"), it is not idiomatic in this context — for Mandarin speakers.  Mandarin speakers would expect that "go" would be translated by the word xíng 行 ("walk; travel; go" and many other meanings).
As testimony to this usage, I cite the following jingle:
hóngdēng tíng, lǜdēng xíng 红灯停, 绿灯行
("red light stop, green light go")
In Mandarin, if you use the word qù 去 as a command, it is almost like telling someone to "get out; scram".  Cf. Mandarin "qù nǐ de ba 去你的吧", which is tantamount to saying "go to hell!".  A rude Cantonese equivalent would be laan1 hoi1 laa1 躝開啦!
For Mandarin, then, "stop" and "go" are tíng 停 and xíng 行.
This reminds me of a Chinese visitor who stayed with me many years ago.  Near my home there was a railroad crossing that was marked by a sign that depicted railway tracks and the word "Xing".  He asked me why the sign was telling him to go across when he should stop and be careful.
So far, so good.  But what to do with the sign pictured at the top of this post, which — to a Mandarin speaker — has English "go" seemingly mistranslated as Chinese qù 去?  Well, this is Hong Kong, and in Hong Kong "stop" and "go" are respectively ting4 停 and heoi3 去.
Here's proof: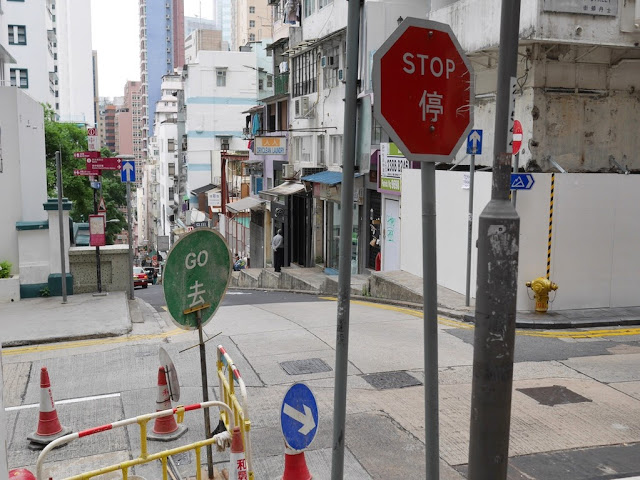 [Thanks to Abraham Chan and Fangyi Cheng]
---