« previous post | next post »
Dmitriy Genzel sent in this photograph of an item on a Chinese menu: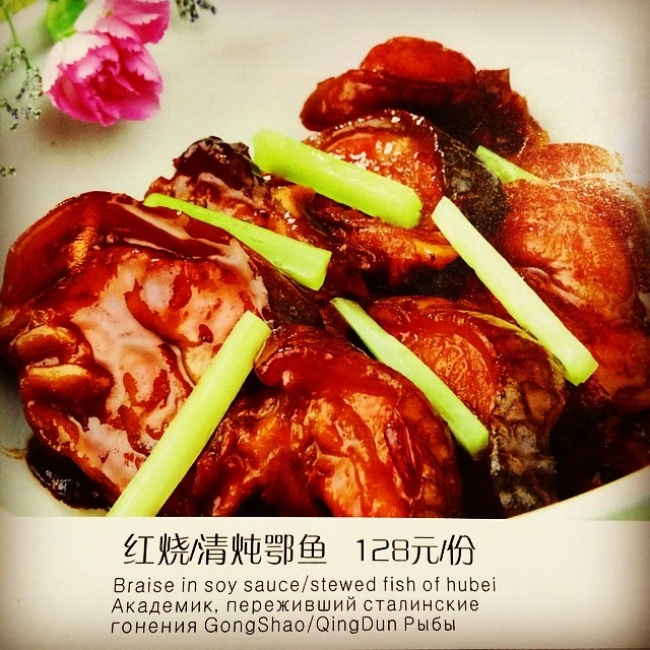 (From here.)
The name of the dish in Chinese reads:
hóngshāo / qīngdùn èyú 红烧/清炖鄂鱼
Before tackling the bewildering Russian, we need to translate the Chinese, but we can't do that until first clearing up two points:
This dish comes either hóngshāo 红烧 ("braised") or qīngdùn 清炖 ("stewed") — the slash indicates this option.
2. Èyú 鄂鱼 is a common error (173,000 ghits) for the perfectly homophonous èyú 鳄鱼 (6,110,000 ghits).  Èyú 鳄鱼 is easy to understand; it means "crocodile*", and that's what is intended for this dish.  Èyú 鄂鱼 is difficult to make sense of, since è 鄂 is a short, alternative name for the province of Hubei, which is reflected in the English translation of the dish on the menu.  This error must have thrown the Russian translator completely off track, and that is why we have the totally bizarre "Aкадемик, переживший сталинские гонения GongShao/QingDun рыбы" ("Academician who survived Stalin's purges GongShao/QingDun Fish").
We needn't worry about the "GongShao/QingDun" inserted in the Russian, for that is merely the Romanization of hóngshāo 红烧 ("braised") / qīngdùn 清炖 ("stewed"), but with a bit of quirkiness to make life interesting:  inappropriate use of intersyllabic capital letters and the influence of Cyrillic transcriptional "г" (i.e., "g") for "h".
As to where the "Aкадемик, переживший сталинские гонения… рыбы" came from, your guess is as good as mine, but I suspect that somebody was in a playful mood when they dreamed it up.
*Èyú 鳄鱼 is rendered as "crocodile; alligator; cayman" in English.  I will leave it to the zoologists on the list to thrash out which of these creatures is the one in question.
---