« previous post | next post »
Nathan Hopson sent in this photograph of a trash can / rubbish bin in Nagoya, Japan: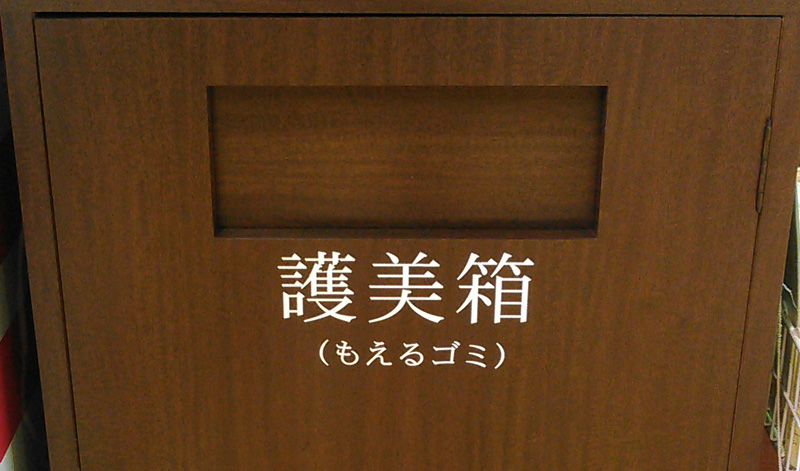 We've discussed the orthographical form of Japanese "gomi" ("trash; rubbish; garbage") in the comments here: "Do not dumb here" (12/8/14). The words in the top line are pronounced gomi bako ごみばこ ("rubbish box").  So far, so good.
In our previous discussion on gomi, we talked about the common orthographical preference for katakana ゴミ over hiragana ごみ. The photo above shows another possible choice for writing gomi bako ごみばこ ("rubbish box"), all in kanji:  護美箱, pronounced the same but with the underlying meaning of "beauty-protecting box."  Obviously, the beauty here is environmental rather than personal.
Nathan remarks:
This is not common (and feels a bit forced and hackneyed to me, at least), but I have seen it on more than one occasion.
The second line reads:
moeru gomi もえるゴミ
("combustible rubbish; burnable trash")
with the first word in hiragana and the second word in katakana.
Just from looking at this example, we see that it is possible to write Japanese words in a variety of ways:
gomi:  ごみ, ゴミ, 護美
moeru:  もえる, 燃える, モエる
bako: バコ, ばこ, 箱 — cf. bokkusu ボックス
Once again, this would seem to demonstrate the priority of sound over graphic form.
---