« previous post | next post »
The following photograph shows a chalkboard sign inside of a Kobe cafe that is entirely written in rōmaji (Roman letters), with superscript 2s representing reduplication: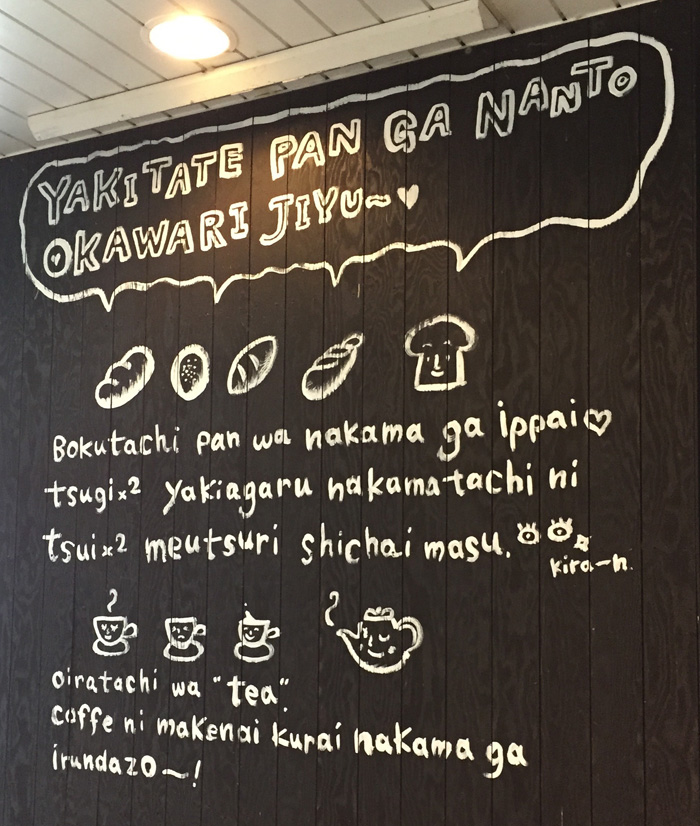 From a learned, senior scholar of Japanese literature:
This is a very informal, vernacular sign.
The speakers are "bread" and "tea."
So I find it difficult.  You have to change them into young people's everyday speech, which I am not good at.
I don't understand the "kira-n" at the end of the 5th line.
From a Japanese teacher 20 years younger than the scholar cited above:
焼きたてパンが何とお代わり自由。僕達パンは仲間がいっぱい。次々焼きあがる仲間達に次々目移りしちゃいます。 キラーリ
Wow, all you can eat bread just out of oven!  We, bread, have many friends.  You can't make up your mind (lit., your eyes keep moving on to new ones continuously) because we come out of the oven one after the other.   Twinkle.
…
From a recent Japanese Ph.D. who is 25 years younger than the teacher just cited:
焼きたてパンがなんとおかわり自由~♡
Nanto (I cannot translate this word; something to express feeling of surprise?  Something close to "What!?") our bread is all-you-can-eat.
僕たちパンは仲間がいっぱい♡
We, the bread, have many comrades.
次々焼き上がる仲間たちに
ついつい目移りしちゃいます (キラーン)
(Two lines for a sentence; direct translation) [You] are unintentionally attracted by the comrades that are baked by succession. (Kira-n is an onomatopoeia for beaming eyes.)
オイラたちは"tea"
We are "tea."
Coffee(?)に負けないくらい仲間が
いるんだぞー!
(Two lines for a sentence; direct translation) We have comrades [whose number] cannot be surpassed [by those of] coffee.
From a young American Ph.D. in Japanese language and culture:
There are multiple ways this could be written in Japanese and translated, but here's mine:
焼き立てパンがなんとおかわり自由〜♡
Help yourself to seconds of fresh-baked bread!
僕たちパンは仲間がいっぱい♡
We Breads have lots of buddies
次×2 焼き上がる仲間たちに
つい×2 目移りしちゃいます ӦӦ✧ キラーン
[You] won't be able to choose between all of us
as we keep popping out of the oven
オイラたちは「TEA」
We're Tea
COFFEEに負けないくらい仲間がいるんだぞ〜!
We've got as many buddies as Coffee!
Lost in this notation and translation:
おかわり自由
→ It's not exactly "all-you-can-eat," but it's not just seconds either… Foucault would be so proud.
なんと
→ Functions something like, "Guess what!" or "You'll never believe it!" in English.
仲間(なかま)
→ Whether you translate it as comrades, chums, buddies, friends, companions, mates, etc., it's a word that means mostly "We're all in this together."
次×2  and つい×2
→ In the ×2, the 2s are raised slightly, indicating the mathematical notation for squared. This is common.
→ The mora/syllable repetition has both rhythmic and affective effects. Especially ついつい, which means "unintentionally," or even "against one's better judgment," is typical advertising language. Give in to the Dark Side….
ӦӦ✧ キラーン
→ It's the eyes (ӦӦ) and their sparkling indecision (✧キラーン) that comes from having too many great choices.
Questions:
I wonder why they decided to write the sign all in rōmaji, without a single kanji or kana.
I wonder how common rōmaji writing is in Japan today, both publicly and privately.
[h.t. Calvin Ho; thanks to Cecilia Segawa Seigle, Hiroko Sherry, Miki Morita, and Nathan Hopson]
---