« previous post | next post »
Kongish, Singlish, Chinglish, Engrish, Konglish — none of them can beat Indian English: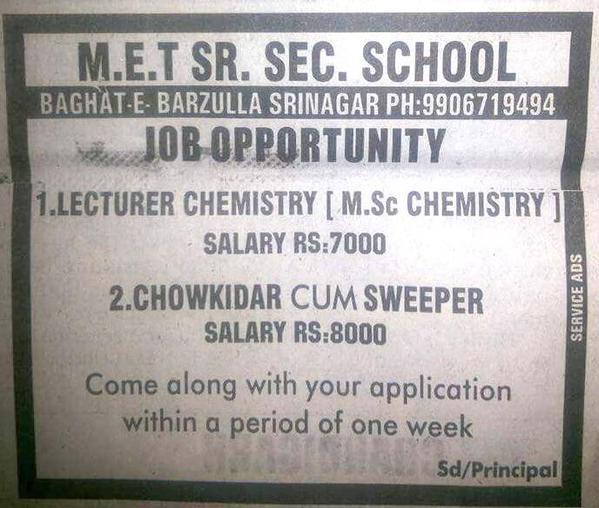 In case you're wondering what "chowkidar" means, it's a Hindi word for "watchman, caretaker, gatekeeper; one who inhabits a 'chowki'  ('police station' or 'guard house')", as Wiktionary informs us.  It is also sometimes spelled as "chokedar" or "chokidar".
What I find most interesting about this help wanted ad is that the posted salary for the position of "chowkidar cum sweeper" is a thousand rupees greater than that for a "lecturer chemistry" who must have a M.Sc in chemistry.
[h.t. Geoff Wade]
[Update:  Here's some more Indian English that I'm not certain I fully understand]
"India once again ticks of China over South China Sea issue" (8/8/15)
Does "ticks of" mean the same thing as "ticks off"?
Maybe, but the use of "tickled" in the very first sentence of the article makes me wonder:
India has once again tickled China's soft underbelly, the South China Sea, by taking a position at an international meet earlier this week that territorial disputes in South China Sea should be settled under the UN Convention.
Then, in the next sentence, we have reference to a "red rag", which I suspect means the same thing as "red flag", but I'm not sure:
The latest red rag from India to China has come about at the 5th East Asia Summit foreign ministers' Meeting in Kuala Lumpur wherein V K Singh, the junior foreign minister, reiterated the now well-known Indian position on the South China Sea dispute. Singh told the conference that territorial disputes must be settled through peaceful means "as was done by India and Bangladesh recently using the mechanisms provided under UNCLOS (United Nations Convention on Law of the Sea)".
The author is probably referring to the red cape or cloth used in bullfighting.
---