« previous post | next post »
Jim Millward sent in this photograph of a sign at "one of those Korean-run lunch buffet deli places (this in Bethesda MD)":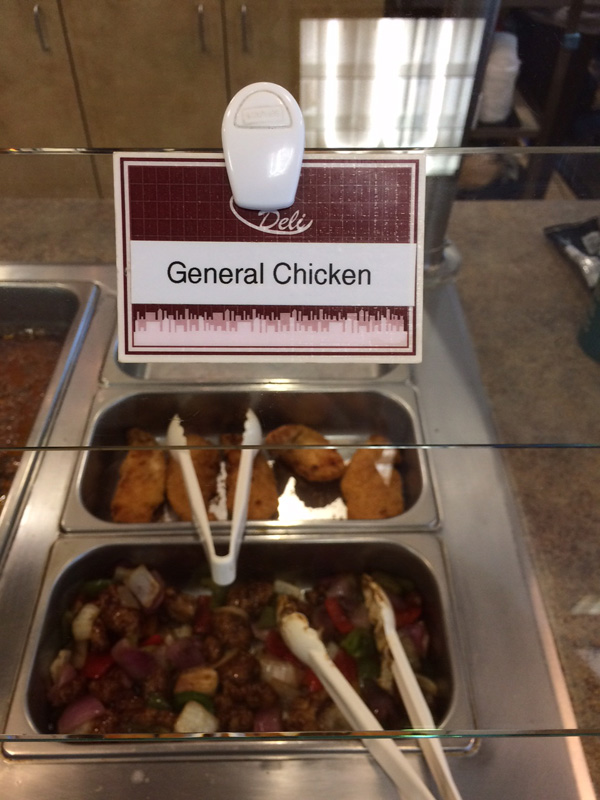 We've had a lot of posts about chicken on Language Log, most notably and pertinently this one: "General Tso's chikin" (6/11/13).
I don't know about the general nature of the signage in that Korean buffet deli that Jim visited, but I'd guess that two of the reasons why this particular sign came out the way it did ("General Chicken") are that:
the plethora of English names (Governor Tso's chicken, General Gau's chicken, General Tao's chicken, General Tsao's chicken, General Tong's chicken, General Tang's chicken, General Cho's chicken, General Chau's chicken, General Joe's Chicken, T.S.O. Chicken, General Ching's chicken, House Chicken, General's Chicken [from Wikipedia]) simply floored the owners
being Koreans, none of the available transcriptions of the general's surname (

Zuǒ

左) seemed / sounded right to them, so they decided to forego it altogether
Getting the surname right doesn't really matter anyway, since it's not a traditional Chinese dish and it has nothing to do with the late Qing dynasty general.
No matter what you call it, though, if you like chicken the mere thought of this American Chinese dish will make your mouth water, as mine is right now.
---