« previous post | next post »
In Shanghai, Tom Mazanec recently came across a listing for a kind of tea called Tiě Guāngyīn 铁光阴 (second from the bottom in the photo), which he thought might be a knockoff of the famous Tiě Guānyīn 铁观音. The picture was taken at a restaurant near Fudan University called Xiǎo Dōngběi 小东北 (the name of the restaurant [Xiǎo Dōngběi sīfang cài 小东北私房菜, at the top of the menu] is rather endearingly translated as "The small northeastern dishes").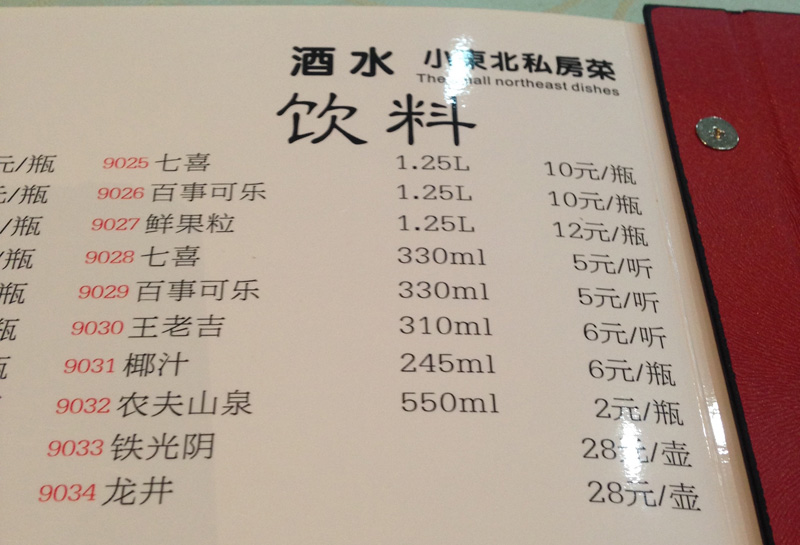 As explained in Wikipedia:
The tea is named after the Chinese Goddess of Mercy Guanyin, who is known in Japan as Kannon and in Korea as Guam-eum. Guanyin is a female embodiment of Avalokiteśvara Bodhisattva. Other spellings and names include "Ti Kuan Yin," "Tit Kwun Yum," "Ti Kwan Yin," "Iron Buddha," "Iron Goddess Oolong," and "Tea of the Iron Bodhisattva." It is also known in the abbreviated form as "TGY."
None of her names has a -g at the end of the first syllable.
Guānyīn 观音 is commonly understood to mean "hearing the sounds (i.e., cries) of those who are suffering", whereas guāngyīn 光阴 means "time" (not a specific time, but the idea of the passage of time), so there's no semantic overlap between guānyīn 观音 and guāngyīn 光阴.  The confusion between the two must be purely phonological.  Except for the final -g of the first syllable of the second rendering, phonologically the two versions are identical, right down to the tones.
So here's what happened.  Many speakers of Mandarin do not distinguish between -n and -ng.  We've had it happen right here on Language Log recently; see the beginning of this comment.
What happened in this case is that the person who wrote the menu was thinking guānyīn 观音 but pronouncing guāngyīn.  Consequently, to match the sound in their head, they wrote guāngyīn 光阴 instead of guānyīn 观音.  This phenomenon of writing words with the wrong characters because of topolectal pronunciation differences has existed for as long as the script has existed.  It is a verification of the primacy of speech over writing.
Some of my students from Taiwan and the mainland, including those who have graduated from the best schools, routinely mix up -n and -ng.  It's a very common error among Mandarin speakers of diverse backgrounds.  I even know excellent teachers of Mandarin who occasionally mix up these two endings.  Usually I don't want to embarrass them by pointing out the confusion, but in very special circumstances when I do mention it, they can't tell the difference.
---