« previous post | next post »
Michael Rank has an interesting article on Scribd entitled "Chinese telegram, 1978" (5/22/2015).
It's about a 1978 telegram that he bought on eBay.  Here's a photograph: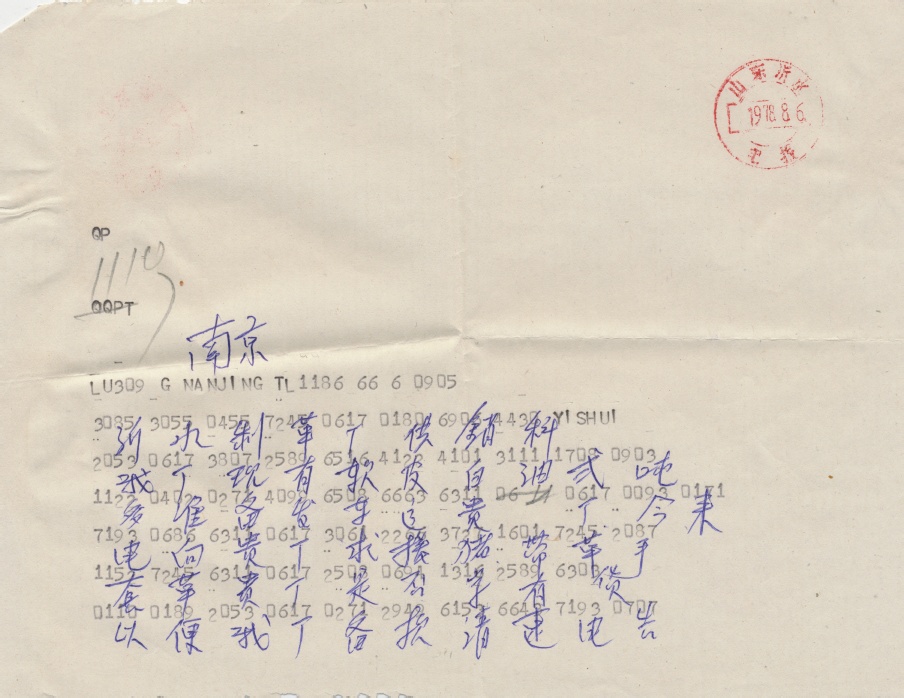 A preliminary note before providing the transcription and translation of the text:  Chinese telegrams are sent and received purely as four digit codes.  The sender has to convert a character text to numbers and the recipient has to convert the numbers back to characters in order to be able to read the message.  I will describe the process in greater detail below.
The characters in blue on the telegram were written by the person who decoded the numbers.
Note that they consistently wrote chǎng 厂 / 廠 as what looks like a "T".
Here's what the telegram says (it's a typical business message; personal messages tended to be much shorter):
Yíshuǐ zhì gé chǎng gōngxiāo kē
wǒ chǎng xiàn yǒu ruǎnpí báiyóu èr dūn
duō zhǔnbèi fāchē yùn guì chǎng jīn lái
diàn xiàng guì chǎng qiúyuán zhū dài gé shǒu-
tào gé guì chǎng shìfǒu cún yǒu huò
yǐbiàn wǒ chǎng bèi kuǎn qǐng sù diàngào
沂水制革厂供销科
我厂现有软皮白油弍吨
多准备发车运贵厂今来
电向贵厂求援猪带革手
套革贵厂是否存有货
以便我厂备款请速电告
Notes:  字 (third charater from the right in the next to last line) is an error for 存 (字 is CTC 1316 while 存 is 1317). And ruǎnpí báiyóu 软皮白油 is a kind of softening oil for leather.
Michal L. Wright translates the telegram as follows (with some very minor changes):
Yishui Leather Factory Sales and Marketing Division
Our factory currently has over two tonnes of leather softening white oil just about ready to be sent to your factory by truck.
Today we are sending (this) telegram to your factory seeking help (regarding) pig(skin) belt leather and glove leather.
Does your factory have the goods? In order that my factory may prepare funds, please send a telegram right away to inform us.
The Chinese telegraph code consists of 10,000 four digit numbers from 0000 to 9999.  Some telegraph operators could memorize hundreds and, in exceptional cases, a thousand or so of the numbers, but all the others had to be looked up, and that took a lot of time.  It is relatively easy to look up the numbers at the receiving end, but at the sending end it requires analysis of the shape of the characters because they are arranged according to radical and residual strokes, by the four-corner system (N.B.:  this is a totally different four digit identifier than that of the telegraph code; I learned it, but exceedingly few non-professionals ever did), or some other shape-based system.
I should mention that, in the century and more since the Chinese telegraphic code came into use (the first iterations were created by a Danish astronomer and a French customs officer in the early 1870s), there have been many different refinements and revisions, with a variety of arrangements and orderings.
When I first went to mainland China in 1981, every post office had a telegraphy section.  I was utterly fascinated by how the operators worked, and I would spend hours observing them.  I was astonished by how often they had to look up characters in their dog-eared manuals, and how frequently they had difficulty because they were unable to analyze the shape of the character correctly.  Sometimes it would take several minutes or more to find a refractory character, and they often had to huddle by asking someone else for help.  Since many of the smaller post offices only had a single operator on duty at a time, this meant that they would be stymied until someone who could look up the number of the character joined them.
After several years of watching telegraph operators in China, I never ceased to marvel at how monumentally inefficient a system it was.  My old colleagues in Chinese language and script reform told me several times that, when Premier Zhou Enlai travelled, his biggest expense was telegraphy.  I don't know if that is true or if it was an exaggeration, but I heard it from men like Zhou Youguang and Yin Binyong who were reliable sources of information about such matters pertaining to Chinese writing.
About twenty-five years ago, I was approached by international banking officials and law enforcement agencies who were forced to rely on the telegraph code to identify the characters of Chinese personal names.  Individuals scattered across the globe from different topolectal backgrounds would romanize their names in the wildest possible assortment of completely nonstandard, ad hoc ways, but those in banking and law enforcement who were charged with an exact identification of the individuals with whom they were dealing told me they needed to know which characters were used to write the names, regardless of the romanizations.  They asked me if there were any other alternatives to this method of using the telegraph code, because it was obviously giving them a heap of trouble.  I advised them to hire people who were proficient in pinyin and arrange the telegraph code according to the sounds of the characters in pinyin because that would be the fastest and easiest way for them to look up the numbers.  I don't know if they followed my advice or not.
Wm. C. Hannas, in Asia's Orthographic Dilemma, p. 313 recounts:
I once knew a man who because of his unusual profession had learned enough Standard Telegraphic Code to speak simple Chinese sentences in numbers.  If you asked him, "Nǐ hǎo ma?" (how are you?), he would reply, "2053 1771 1170" or "0008 1170," depending on how he felt.
Similarly, I knew a distinguished Buddhist scholar, Edward Conze, whose language specialty was Pali, who would regularly refer to Chinese characters by their Mathews' Chinese-English Dictionary number.  Conze probably had mastered several hundred characters in this fashion, and he always had a twinkle in his eye when he rattled off the numbers.  I also knew a couple of Sogdian Buddhist specialists who employed the same method for referring to Chinese characters.  I suspect that, among serious Buddhist scholars who didn't know Chinese, this was a common method for referring to specific characters when Mathews' dictionary was pretty much the universal standard for Anglophone sinology.  Now that pinyin is widespread and it is easy to use it to look up characters in various electronic devices, I don't think anyone is memorizing Mathews' numbers any longer.
"The future of Chinese language learning is now" (4/5/14)
Chinese characters aren't as scary as they used to be before pinyin and computers, but they're still "damn hard", in the words of a well-known sage of Chinese language and script studies.
---