« previous post | next post »
Tom Hancock sent in this photograph of a poster seen yesterday outside a Shaanxi restaurant just inside Beijing's third ring road: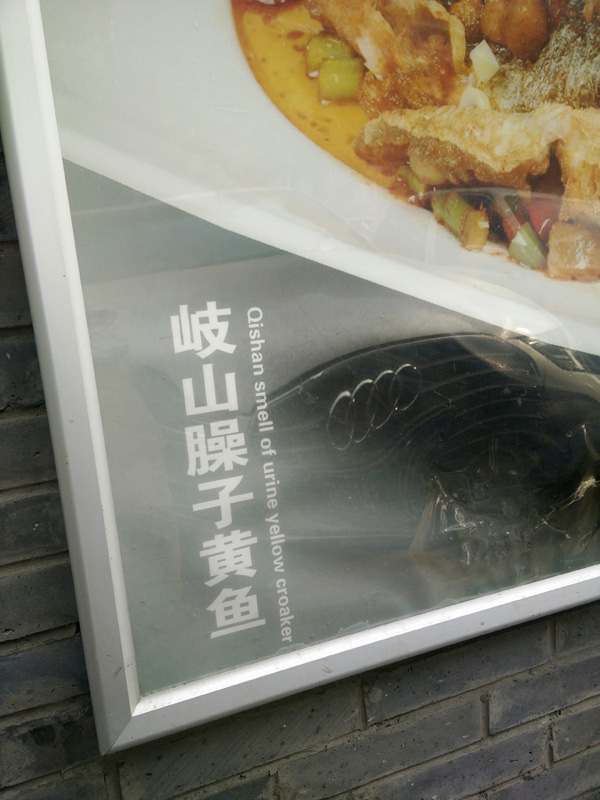 Here's the name of the dish they are advertising:
Qíshān sàozi huángyú 岐山臊子黄鱼
I won't attempt to translate it at one fell swoop.  It will be more prudent to work at it two characters at a time:  the first two first, the last two second, and the thorny middle two third.
Considering that this highly suspicious dish begins with the name "Qishan", the restaurant owner might find himself in hot water.  "Qishan", written with the same two characters, just happens also to be the given name of Wang Qishan, the dreaded Secretary of the Central Commission for Discipline Inspection, i.e., the hatchet man who is leading Xi Jinping's purge of the Chinese Communist Party (also referred to as an "anti-corruption campaign").  In my estimation, dour Wang Qishan is the second most powerful man in China, so it would not be a smart move to provoke his ire, especially since he has a well-deserved reputation for throwing people he doesn't like in prison at the drop of a hat.
Wang Qishan was born in Qingdao, Shandong, but his ancestral hometown is considered Tianzhen, Shanxi Province.  Qíshān 岐山 is a county in neighboring Shaanxi Province, so perhaps Wang Qishan has some connection with that place.  Since this is a Shaanxi restaurant, the Qíshān 岐山 at the beginning of the name of the dish must be referring to a style of fish particular to Qíshān 岐山 County in Shaanxi Province.  However, considering how ultra famous and feared Wáng Qíshān 王岐山 is nowadays, nearly every literate person who sees the name of this dish is probably also going to be thinking (if only subliminally) of the Secretary of the Central Commission for Discipline Inspection.
The last two characters are relatively easy:  huángyú 黄鱼.  This is Larimichthys crocea, in English called the croceine croaker, large yellow croaker, or just yellow croaker.
But what is this mysterious sàozi 臊子?
Google Translate doesn't know what to do with it, and just says "sào", while Bing Translator reduces that to "sao".  Baidu Fanyi gives "the smell of urine".
The problem arises because 臊 has two readings, first tone and fourth tone.  Read sāo it refers to the smell of urine or a fox.  This is an old meaning that has its roots in ancient texts two thousand and more years ago, indicating a rank, foul smell.  By extension, not long afterward it acquired the sense of "scandalous" (having an odorous reputation, as it were).  Read sào, 臊 can signify "minced /diced meat", so I thought that Qíshān sàozi huángyú 岐山臊子黄鱼 must be minced yellow croaker à la Qishan.
Wanting to confirm that surmise, I searched the internet for recipes and images of sàozi huángyú 臊子黄鱼.  Much to my surprise, what I saw were whole fish with thick sauce spread all over.
Back to the drawing board.
I then checked Hànyǔ dà cídiǎn 漢語大詞典 (Unabridged Dictionary of Sinitic), vol. 6, pp. 1384b-1385b and Hànyǔ fāngyán dà cídiǎn 漢語方言大詞典 (Unabridged Topolect Dictionary of Sinitic), vol. 5, pp. 7355a-7358a to see if there were any other meanings for sāo / sào 臊 than "smell of urine / fox; scandalous; minced / diced" that might be appropriate for a fish dish.  It turns out that, in dozens of topolects scattered across the length and breadth of China there are scores of the most disparate expressions based on sāo / sào 臊.  To list just a few of the meanings without giving the colorful Chinese expressions, we have "humiliate, insult; jest; give birth to, bear; satirize, ridicule; be out of luck; putrid / fetid meat; pungent food (such as that which should be avoided by Buddhists); gaudy; despicable; contemptible; filthy; dirty; treacherous; cheat; be sarcastic / ironic; bald(y); shy, bashful; make an ass / fool of oneself; part of the transcription of the Sanskrit word for parrot…", and I'm just getting started.  There are scores more of these topolectal terms that convey an astonishing range of connotations.
Most of these meanings are particular to the speech of a limited area.  Although many of them can be traced back to the early meaning of "rank / foul smell", I suspect that sāo / sào 臊 has also come to be a bit of a catch-all character to which one can attach morphemes with that sound (many of which have a negative or pejorative meaning) for which there are no known characters.
To return to the task at hand, none of these meanings seemed to fit yellow croaker à la Qishan.  So I had no choice but to ask some friends from China and to poke around a bit more on the internet.  It turns out that sàozi 臊子 is a type of sauce made from minced pork cooked with vinegar, red pepper, and many other seasonings.  It is described in detail and pictured on this Chinese wiki page.
Usually Shaanxi sàozi 臊子 is served on noodles, but here it is used as the flavoring for the fish.  So a better translation would be "yellow croaker with minced pork sauce à la Qishan".  Just be sure not to make any jokes about the Secretary of the Central Commission for Discipline Inspection.
[Thanks to Xiuyuan Mi and Jing Wen]
---