« previous post | next post »
The following article by Danny Mok appeared in today's South China Morning Post:
"Police? Jing Cha? Altered helmet may spell 'trouble' for city policeman" (5/19/15)
The article commenced with this photograph: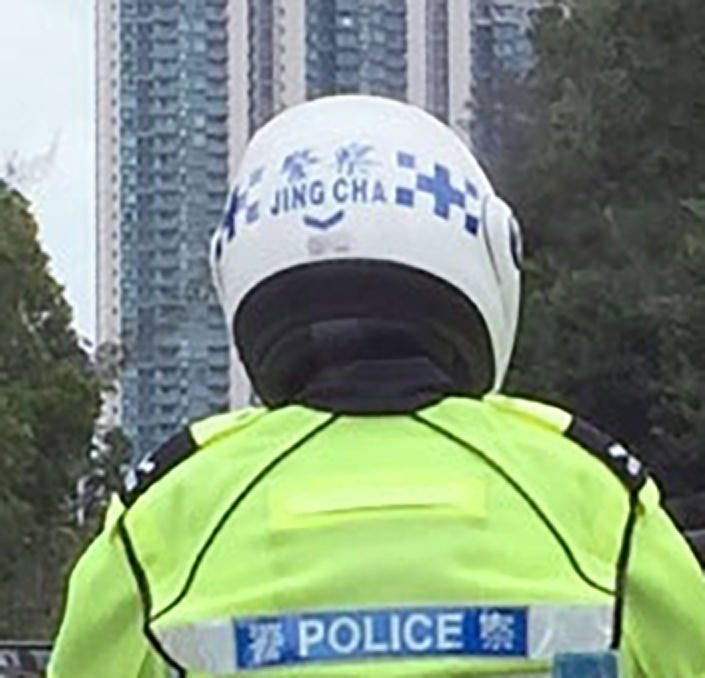 Since the SCMP may be behind a paywall for most Language Log readers, here is the entirety of the relatively short article:
Police? Jing Cha? A traffic officer caused a stir online by wearing a helmet with the English word "police" replaced by its phonetic translation in Putonghua.
The uniformed officer was pictured riding a police motorcycle wearing a helmet altered to prominently feature the words "Jing Cha", the pronunciation of the Putonghua word for "police", by a motorist behind him.
The picture was taken by the motorist near Lantau North police station on Shun Tung Road yesterday morning, and then widely circulated and discussed online.
A police spokesman last night confirmed the authenticity of the picture.
"The police will find out what happened.
"If it is confirmed that someone violated the regulations, there will be an appropriate follow-up," the spokesman said.
Ip Kwok-him, the chairman of the Legislative Council's security panel, said it was not appropriate for police officers to change their uniforms.
Panel member James To kun-sun said he believed the officer made the change to his helmet "for fun".
"The case was not that serious, but the force should make it clear to their staff that they are not supposed to do whatever they want to their uniforms," To said.
"Hong Kong as an international city, we have to make sure people know you are the police."
The officer's creativity fuelled an internet discussion on whether the city should adopt Putonghua phonetics in addition to its official languages, Cantonese and English.
A couple of language notes:
1. JING CHA is not a "phonetic translation in Putonghua"; it is a Putonghua (Modern Standard Mandarin [MSM]) transcription of the two characters.
2. By putting a space between the two syllables (JING CHA), the policeman treats the characters as separate words ("warn" + "examine"), whereas they are actually part of a disyllabic word:
MSM jǐngchá 警察 ("police"), the Cantonese pronunciation of which would be ging2caat3
The position of Cantonese vis-à-vis Mandarin is a highly sensitive topic in Hong Kong, so something such as the addition of MSM Romanization for two characters on a policeman's helmet that to outsiders might seem innocuous for Hong Kong residents can readily lead to an uproar.  For Hong Kong citizens, the implications of such an action are not trivial.
[h/t Bob Bauer]
---