« previous post | next post »
Today's "Dilbert" (5/18/15):

Alice's statement, "I hate Mondays more than Garfield," relies on the shared social knowledge that Garfield, the feline title character of Jim Davis's long-running comic strip, hates Mondays. (See here for visual proof.) Wally must surely share in this knowledge, given that he mentions Garfield's lasagna-appropriating ways in his response. And yet he is intentionally misinterpreting Alice, with the hope that being uncooperative (in the Gricean sense) will mean that she's disinclined to speak to him further.
Wally's willful misinterpretation construes "I hate Mondays more than Garfield" to mean "I hate Mondays more than (I hate) Garfield" rather than "I hate Mondays more than Garfield (hates Mondays)." Thus it's similar to an ambiguous (or meta-ambiguous) sentence we discussed a few years back: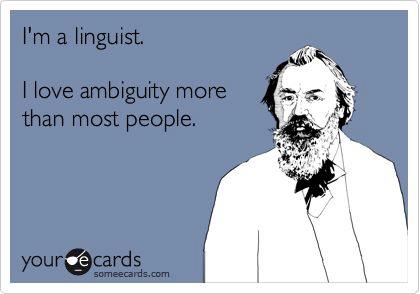 "I love ambiguity more than most people" is of course ambiguous, since it could mean "I love ambiguity more than most people (love ambiguity)" or "I love ambiguity more than (I love) most people." And in the case of some linguists, both of those propositions may have positive truth values.

(For more on the ambiguity of "comparative ellipsis," see Jean Mark Gawron, "Comparatives, Superlatives, and Resolution," Linguistics and Philosophy 18:333-380, 1995.)
(Hat tip, Marc Sobel.)
---