« previous post | next post »
Guy Freeman sent in this photograph of a beer advertisement in Hong Kong: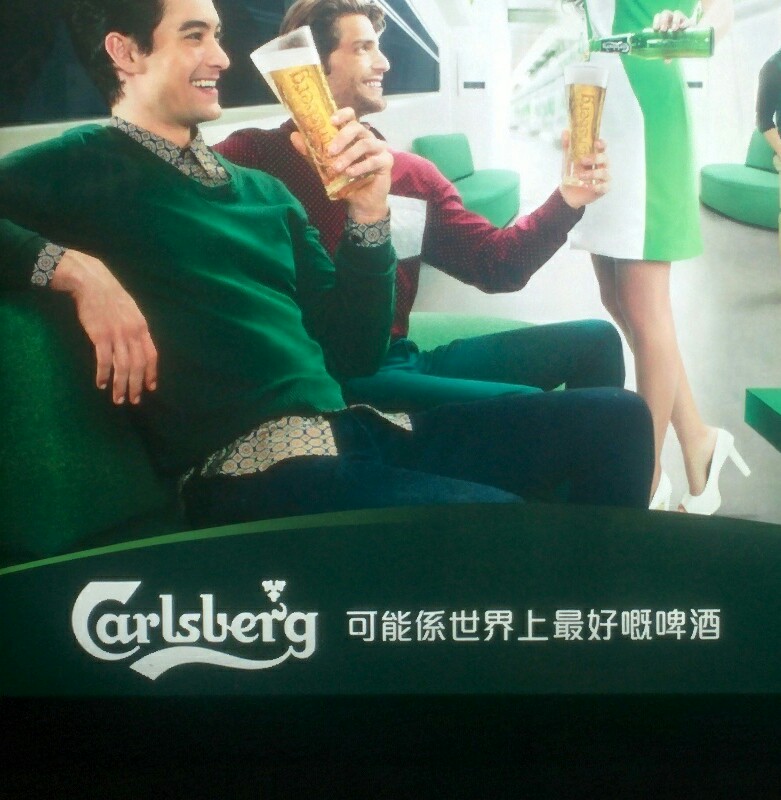 I took one look at the ad and thought to myself, "Hmmmm. This is phony Cantonese. It's basically just Mandarin with a couple of token Cantonese markers."
This is how I read it in my head:
kěnéng HAI6 shìjiè shàng zuì hǎo GE3 píjiǔ
可能係世界上最好嘅啤酒
"Perhaps the world's best beer."
I registered the HAI6 係 and GE3 嘅 as Cantonese, but felt that they were just cheap replacements for Mandarin shì 是 and de 的. Suspecting that there surely must be a more authentic Cantonese way of saying this, I asked Bob Bauer what it might be, and this is what he sent back:
hai2 ni1 go3 sai3 gaai3 zeoi3 hou2 jam2 ge3 be1 zau2 zau6 hai6 Carlsberg!
喺呢個世界最好飲嘅啤酒就係 Carlsberg!
In this world the best beer to drink is Carlsberg!
Ah, that is much more satisfying! Real Cantonese! If I were a Cantonese speaker, I'd be much more likely to buy Carlsberg if they wrote a real Cantonese sentence like the second one rather than a fundamentally Mandarin sentence with a couple of Cantonese markers like the first sentence.
---