« previous post | next post »
Several readers have recommended Wednesday's Non Sequitur: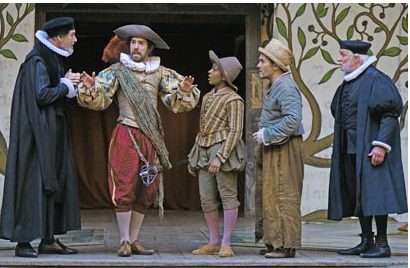 Also on Wednesday, I saw the wonderful Shakespeare's Globe  production of Love's Labour's Lost.  Paul Ready was especially hilarious as Don Adriano de Armado, to single out one great performance among many.  Christopher Godwin's portrayal of Holofernes the pedant was another.
I had forgotten the passage where Holofernes complains about Armado's pronunciations. The complaint is not about Armado's Spanish accent, but about his unetymological pronunciations — omitting the 'b' in doubt and debt, and the 'l' in half and calf; leaving out the reflex of 'gh' in neighbor and neigh; inserting (or removing?) [h] in abominable:
He draweth out the thred of his verbositie, finer then the staple of his argument. I abhor such phanaticall phantasims, such insociable and poynt deuise companions, such rackers of ortagriphie, as to speake dout fine, when he should say doubt; det, when he shold pronounce debt; d e b t, not det: he clepeth a Calf, Caufe: halfe, haufe: neighbour vocatur nebour; neigh abreuiated ne: this is abhominable, which he would call abhominable: it insinuateth me of infamie: ne inteligis domine , to make franticke, lunaticke?
The text fails to make it clear whether the alleged flaw is adding or lacking an [h] in abominable, since both Holofernes' own pronunciation and his presentation of Armado's pronunciation are spelled "abhominable" in the text — the version above is from the 1623 First Folio, but the 1598 Quarto is the same in that respect. The issue, according to the OED, is a sort of Renaissance eggcorn:
Forms with medial -h- in post-classical Latin, Middle French, and English arose by a folk etymology < classical Latin ab homine away from man, inhuman, a derivation which has also influenced the semantic development of the word in English and French. Forms with -h- were common in English until the 17th cent., when they began to be criticized by orthographers.
It strikes me that it would be funnier to have Holofernes' correction in this case be an incorrection — but now I can't remember for sure how Godwin performed it.
In any case, this passage is the earliest example of linguistic peeving that I can think of. Can anyone give me an example before 1598?
I dimly recall that there might be something of the sort  in Plautus, but I think it involves making fun of a rustic accent, rather than complaining about forms that reflect an on-going change in the language.  I can't find the passage, anyhow.
[As the many helpful examples in the comments make clear, this is far from the earliest example of linguistic peeving. But so far, it does seem to be the earliest example in which (as is so often the case) all or nearly all of the corrections are incorrect.]
[For some interesting discussion of spellings (and characters, events, and themes) in Love's Labour Lost, see this essay by Eric Sams.]
[Update — the version of the passage above, which I got by cut-and-paste from (I think) this version of the 1623 First Folio, has abhominable in both places, as indicated in this fascimile: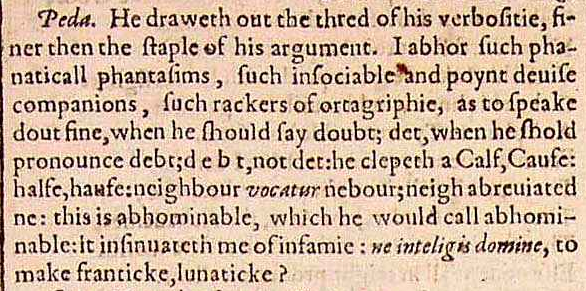 But the 1598 Quarto clearly has abhominable … abbominable: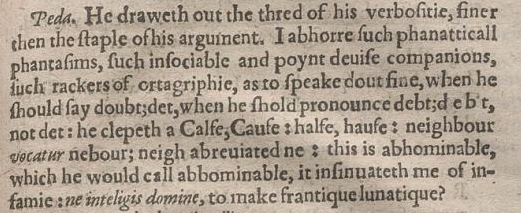 ]
---