« previous post | next post »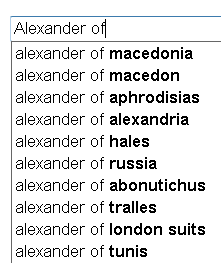 As the Google search suggestions on the right indicate, we generally view Alexander the Great as a Macedonian, and therefore, as the Wikipedia article about him says, a "Greek king".
But according to one of the many contrarian nuggets in Jim O'Donnell's The Ruin of the Roman Empire, this is the wrong way to look at it.

His take:
Alexander the Great, a right-minded man even if he did drink too much (according to the common view), sought to conquer all of Persia and succeeded, but he died too soon, and his conquests were lost. Few people spend much time imagining a middle-aged and successful Alexander, a man lucky enough to live as long as Augustus did, let's say. If we knew that man, we would know him not as a Greek or Macedonian, but as a Persian emperor. That is what he set out to become, and that is how he appeared in much of the territory he crossed. At his death, his armies were turning rapidly Persian in composition and form, and they would have become much more so with the passage of only a little time.
Just as the language of the (Eastern) Roman Empire was Greek for a millennium or so, perhaps if Alexander had lived, there might have been a "Greek" empire whose language was Persian.
Jim continues:
His conquest would have proved what only the Ottomans ever demonstrated–that linking the Aegean basin with Asia Minor and Mesopotamia was possible and, if achieved, could have been a source of great power for the one who accomplished the bravura deed. For Alexander to be Macedonian, from the farthest reaches of territory within Persian ken, was no disqualification: conquering rulers in many societies come from the margins, at least as often as from the center.
Alexander's Persian empire collapsed after his death and fell into pieces. The Seleucid kings who prevailed in the Asian provinces of Alexander's empire, notional partners to the successor kings who took the name Ptolemy in Egypt and the similar Antigonids in the Aegean basin, proved unable to maintain even the traditional Persian pretensions and range, from Syria to Afghanistan, and were for centuries a limited and dwindling force on the world stage. The Seleucids prevailed for scarcely a century before beginning to give way to the Parthians, based in the Iranian uplands, who went on to dominate central Asia until the third century CE. Landlocked, turned in on itself, never seriously expansive in the west, this Parthia was a great success story in its own right, but the central fact of its existence was its geographic focus, far from the Mediterranean. And that is why the Roman empire could exist. It had no serious Persia to deal with.
---