« previous post | next post »
Sveinn Einarsson spotted this photograph of a scene at one of the refugee camps on the Chinese side of the China-Burma border on Tencent News: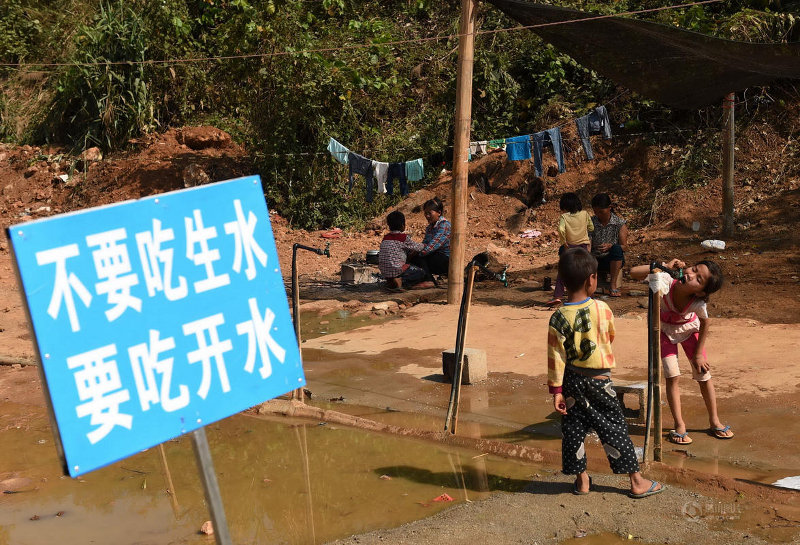 Although the sign looks professionally made by some kind of an official Chinese organization (perhaps the PLA), Sveinn wondered whether it "possess[es] an obvious linguistic mistake", namely, that chīshuǐ 吃水 should be hēshuǐ 喝水 ("drink water").
First, let's transcribe and translate what the sign says, and then I'll discuss the difference between chīshuǐ 吃水 and hēshuǐ 喝水 ("drink water").
bùyào chī shēngshuǐ  不要吃生水 ("don't drink unboiled water")
yào chī kāishuǐ 要吃开水 ("you should drink boiled water")
When we start learning Modern Standard Mandarin (MSM), it's true that we are taught that hē 喝 means "drink" and chī 吃 (also written as 喫) means "eat".  The difference is clear, just as with "eat" and "drink" in English.  Topolectally and historically, however, chī 吃 can also sometimes mean "drink", though in contemporary, mainstream usage it normally means "eat".
drink water
hēshuǐ 喝水  17,400,000 ghits
yǐnshuǐ 饮水 17,200,000
chīshuǐ 吃水   1,150,000
drink tea
hēchá 喝茶 10,800,000
yǐnchá 饮茶  1,610,000
chīchá 吃茶     555,000
So we have these three main Sinitic terms for "drink":  hē 喝, yǐn 饮, and chī 吃.  Is there any way to differentiate among them?
Without undertaking a special study, but just relying on my memory of things that I've read during the past five decades, hē 喝 is a post-medieval northernism which borrows an old character meaning "shout" (pronounced hè in MSM), chī 吃 is a fundamentally medieval usage that survives in some conservative and colloquial contexts, and yǐn 饮 is a classicism that remains popular particularly in southern speech forms, for example, Cantonese jam2 caa4 飲茶 ("to drink tea; to go out for dim sum"), which has been borrowed into English.  See:
For kāishuǐ 开水 ("boiled water"), see:
A final note: the girl in the picture is drinking unboiled water directly from a spigot.  Either she's not paying attention to the sign or she can't read it.  I suspect that a lot of other people follow her example, since the row of spigots are perfectly positioned for them to do that.
---