« previous post | next post »
Following up on our recent Vocal Fry discussion ("Freedom Fries"; "You want fries with that?"), Brett Reynolds wrote to suggest that "Sarah Koenig's vocal fry seems to be something new". As evidence, he suggested a contrast between a piece she did in 2000 ("Deal Of A Lifetime", This American Life #162, 6/23/2000) and one from 2014 ("The Alibi: Prologue", This American Life #537, 10/3/2014). Here are the opening passages from those two segments, along with another one from 2000 ("The Mask Behind The Mask", This American Life #151, 1/28/2000), her first for This American Life:
TAL #151
1/28/2000
Your browser does not support the audio element.
TAL #162
6/23/2000
Your browser does not support the audio element.
TAL #537
10/3/2014
Your browser does not support the audio element.
A quick listen suggests that Brett is right, at least about these particular passages.
We'd need a lot more evidence before concluding that this is really a difference between Sarah Koenig 2014 and Sarah Koenig 2000, rather than a difference between her presentation style in a couple of particular episodes. And if there really is a systematic difference across time, we'd need to look for evidence to help us decide whether it's due to the normal processes of aging, or to her participation a general stylistic trend, or to the specific influence of Ira Glass.
Still, this is the first faint glimmer of evidence that I've ever seen to suggest that there might be some sort of stylistic change in progress. And it suggests that we could learn more, by tracking recordings of radio personalities over time.
But in this post, I want to do something different, namely to explore a way to quantify the vocal characteristics that we hear as creak or fry. And it happens that just yesterday, David Talkin connected me to the alpha release of a great new open-source pitch and epoch tracker. David was the author of the previous gold-standard method, but the new program is really much more reliable than anything I've ever seen before. (And also much faster!) As soon as David is ready to go public, I'll post a more complete review, along with a pointer to the source code.
So I applied this new software (evocatively named "reaper") to the three clips linked above — 41.79 seconds, 4776 f0 estimates from 2000, and 60.6 seconds, 7248 f0 estimates from 2014 — and made a histogram comparing the results.
In the plot below, the distribution of f0 values from 2000 is in blue, while the distribution from 2014 is in red. The overlap of the two distributions is purple.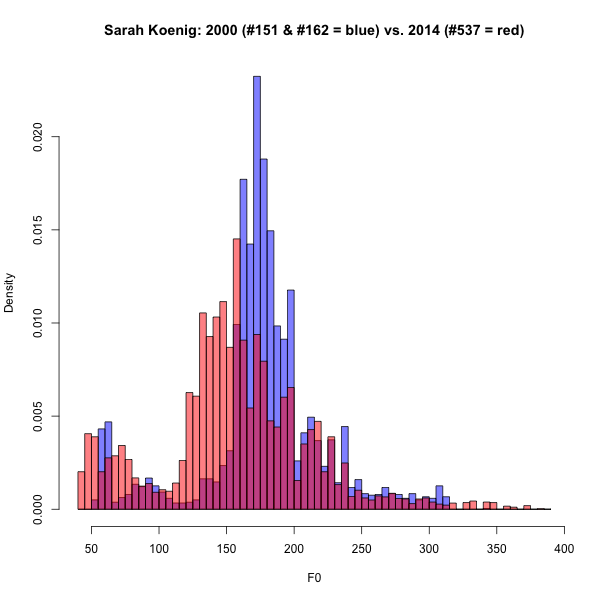 As you can see, the overall range of values is similar in the two samples, but in 2014, Ms. Koenig is using the lower part of her range (100-150 Hz) more extensively; and is also dropping into a period-doubling register (40-80 Hz) to a much greater extent.
The same data plotted in terms of pitch-period intervals (what the tracker is really estimating) — here longer periods correspond to lower frequencies: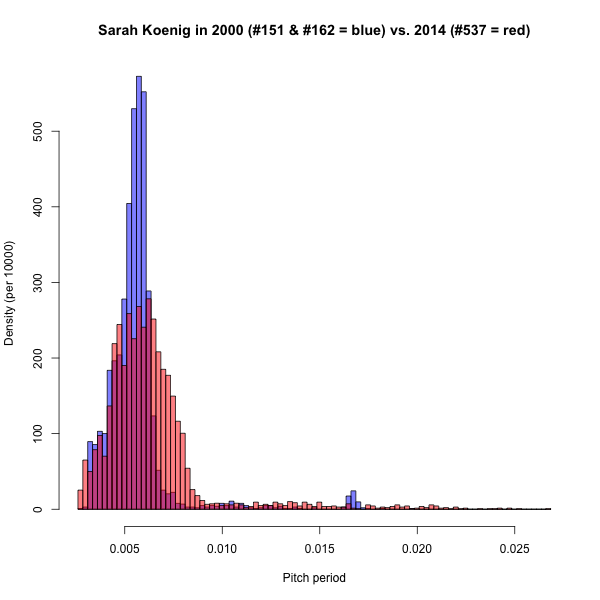 It seems clear that the differences in question can be quantified — so now all we need is more data!
[The concentration of values around 60 Hz in the 2000 recordings is suspicious, and might reflect some AC hum — though I didn't hear any. When I get a chance, I'll check it out further…]
---