« previous post | next post »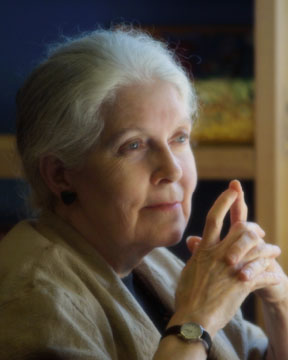 Suzette Haden Elgin, a linguist and feminist science fiction writer, died on January 27 at the age of 78. From io9:
Suzette Haden Elgin, who died last week, was a pioneer of using linguistics in science fiction, creating a whole constructed language in her novel Native Tongue. She was a giant of feminist SF. And she helped bring SF poetry to prominence, while also teaching us to defend ourselves with wit rather than bile.
Elgin had a PhD in linguistics, so it's no surprise that her Native Tongue book trilogy is all about language. The book takes place in a dystopian future, where women have been stripped of all rights when the 19th Amendment to the U.S. Constitution was repealed in 1996. A group of women, who work as part of a corps of linguists who help to communicate with alien races, develop a new secret language for women to use as part of their resistance to their oppression. This language is called Láadan, and Elgin has a whole vocabulary and syntax on her website.
From Timmi Duchamp on Ambling Along the Aqueduct:
In 1978, she founded the Science Fiction Poetry Association; the Elgin Award is named in her honor. She had a PhD from UCSD in linguistics, and in fact began writing science fiction to pay for graduate school. Her science fiction, especially the Native Tongue trilogy (for which she invented a new, feminist language, Láadan) exercised a powerful influence on feminist science fiction. Her 1969 story (and first sale) "For the Sake of Grace" was the inspiration for Joanna Russ's The Two of Them. She also wrote a series of books on "The Gentle Art of Verbal Defense" and other works of popular linguistics.
Her member page on the Science Fiction and Fantasy Writers of America website contains many links to her work, including issues of newsletters that she published: The Linguistics & Science Fiction Newsletter, The Verbal Self-Defense Newsletter, and The Religious Language Newsletter.
Elgin was an occasional commenter on Language Log posts. She corresponded with Mark Liberman about a few posts in 2007, and Mark included her trenchant observations here, here, and here. I also like a comment she left on a post of Mark's from 2008, "Language and personality":
When I wrote The Language Imperative, I interviewed more than one hundred multilinguals, and one of the questions I asked them was "When you're using a different language, do you feel as if you're a different person?" The responses I got fell into two distinct groups, summarizable as follows:
"Of course! What a ridiculous question!"
"Of course not! What a ridiculous question!"
---