« previous post | next post »
From Gregory "Sir Mashalot" Todd, proof that all Country songs released in 2014 were underlyingly the same:
I somehow missed this when it came out in November, but better late than never…
Meanwhile, this just in: Terry F. Pettijohn II, Jamie N. Glass, Carly A. Bordino, & Jason T. Eastman, "Facial Feature Assessment of Popular U.S. Country Music Singers Across Social and Economic Conditions", Current Psychology December 2014:
The facial features of the artists of the top Country Billboard song for each year from 1946 to 2010 were investigated across changes in U.S. socioeconomic conditions. When conditions were relatively poor, country music artists with more mature facial features of smaller eyes and larger chins were popular, and when conditions were more prosperous, country music artists with more baby-faced features of larger eyes and smaller chins were popular.
The crucial table: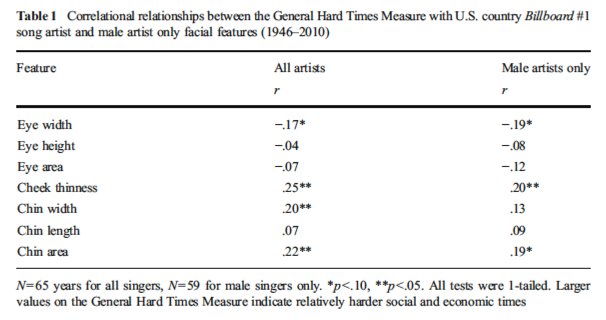 Values of r like -0.17 and 0.25 (3 to 6 percent of variance accounted for) may seem small to some, but they're not atypical for social psychology research, as you can see in the meta-analysis by F.D. Richard, C.F. Bond, and J.J. Stokes-Zoota, "One hundred years of social psychology quantitatively described", Review of General Psychology, 2003 (previously discussed here).
The work on economics/faces correlations follows up on something more specifically linguistic: Terry F. Pettijohn II & Donald F. Sacco Jr., "The language of lyrics: an analysis of popular Billboard songs across conditions of social and economic threat", Journal of Language and Social Psychology, 2009:
The lyrical content of Billboard No. 1 songs for each year from 1955 to 2003 was investigated across changes in U.S. social and economic conditions. Consistent with the environmental security hypothesis, popular song lyrics were predicted to have more meaningful themes and content when social and economic conditions were threatening. Trends for more meaningful, comforting, and romantic lyric ratings were observed in more threatening social and economic times. Using Linguistic Inquiry and Word Count software, songs with more words per sentence, a focus on the future, and greater mention of social processes and intergroup themes were popular during threatening social and economic conditions. Limitations and possible implications are discussed.
 Plus there's this:
---