« previous post | next post »
The following diary entry by an elementary school student is making the rounds in the Chinese media and in the blogosphere: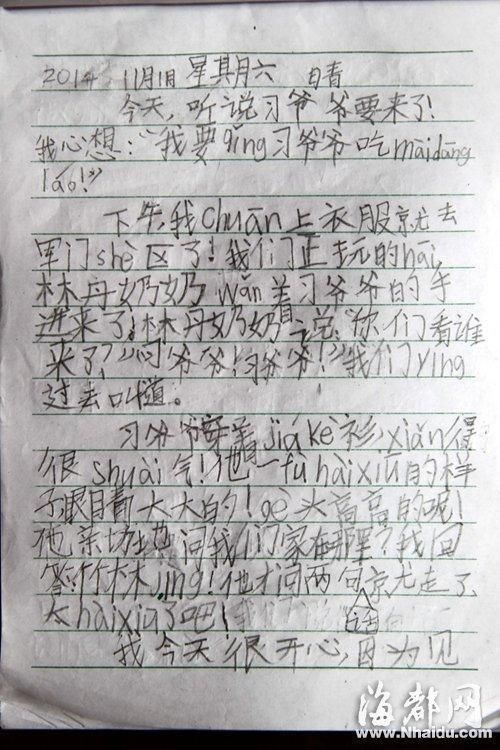 Jacob Rutherford, who called this "trending post" to my attention, remarked:
[It's] about a young girl from Fuzhou whose school received a visit from Xi Jinping. Besides the adorable message, it is more interesting evidence of how Chinese children learn pinyin before characters and how pinyin (here written and on adults' computers/phones typed) is used as a substitute when dreaded character amnesia descends upon us.
It is also interesting which characters the girl did not know or was not confident enough to attempt to write. My 4 year-old daughter absolutely loves to shout " xiū xiū xiū 羞羞羞" ("shame, shame, shame") at even the slightest example of impropriety; jiake, maidanglao, and hai are loan words; and the other missing characters 请 穿 显 帅 [VHM:  see below for identifications and explanations] are not all that complex or rare. If pinyin is now a "base" of sorts for younger generations of Chinese people, it does raise the question of how much longer and in what situations will future generations want to use characters.
The last time I wrote about a similar use of Pinyin amidst characters by a Chinese youngster, there were some doubting Thomases: "Character amnesia and the emergence of digraphia" (9/25/13).
Whether or not that instance was authentic, there can be little doubt that the current example is genuine, and that it attests to the natural reliance of students upon Pinyin when they cannot recall various characters. Furthermore, nobody makes a big deal over it, and nobody laments that the poor little girl can't write all of the characters that she replaced with Pinyin. Quite the contrary, everybody seems to be rejoicing over the cleverness and cuteness of her essay. At most, some of the reports simply state casually that, when the little girl encountered characters that she couldn't write, she used Pinyin instead.
In the present instance of a child's intermixing of Pinyin and characters, we know exactly who she is and under what circumstances the writing occurred. Since her diary entry about the visit of the Chinese leader, Xi Jinping, to her school on November 1, 2014 has become an event of national interest involving the president of the country, it could hardly have been fabricated. From the little girl's diary entry, we also know the name of one other adult besides Xi Jinping who was present, while news reports tell us the name of the school, the names of the little girl's classmates, and so forth. The diary entry also tells us the names of local places where the action took place.
The writing certainly looks like that of a child. For example, she finds it hard to form yéyé 爷爷 ("grandpa") in a well-proportioned fashion, and jiù 就 ("then"), which she writes a couple of times, comes out looking more like jīng 京 ("capital") and yóu 尤 ("especially") than a single character.
According to the news reports that I have seen (here and here), the little girl's name is Zōu Ruìníng 邹 睿宁 and she will be 8 years old in a few months. The original reports are from the Hǎixiá dūshì bào 海峽都市報 (Strait City News) and Dōngnán wǎng 東南網 (Southeast Network) of Fujian province.
Below is a transcription and translation of the diary entry written by Zōu Ruìníng. An empty line has been added between paragraphs to make the divisions stand out more. Words written in Pinyin in the original are transcribed and translated in red. Note that the text breaks off in mid-sentence, which is where I end it, although some of the published versions complete it in a rather odd way: dàole "Xí dàdà" ne! 到了"习大大"呢!
PINYIN
2014 XX 11 Yuè 1 rì Xīngqíliù qíng
   Jīntiān, tīng shuō Xí yéyé yào láile!
Wǒ xīn xiǎng:  "Wǒ yào qǐng Xí yéyé chī Màidāng-
láo!"
   Xiàwǔ, wǒ chuān shàng yīfu jiù qù
Jūnmén shèqū le! Wǒmen zhèng wán de hāi,
Lín Dān nǎinai wǎnzhe Xí yéyé de shǒu
jìnláile. Lín Dān nǎinai shuō: "Nǐmen kàn shuí
láile?"  "Xí yéyé! Xí yéyé!" wǒmen yíng
guòqù jiào dào.
   Xí yéyé chuānzhe jiákè shān, xiǎndé
hěn shuàiqì!  Tā yī fù hàixiū de yàng-
zǐ, yǎnjīng dàdà de!  Gètóu gāogāo de ne!
Tā qīnqiè de wèn wǒmen jiā zài nǎlǐ?  Wǒ huí
dá:  Zhúlín jìng. Tā cái wèn liǎng jù jiù zǒule,
Tài hàixiū le ba!
   Wǒ jīntiān hěn kāixīn, yīnwèi jiàn
ORIGINAL DIARY ENTRY
2014XX 11月1日  星期六  晴
   今天,听说习爷爷要来了!
   我心想:  "我要qǐng习爷爷吃Màidāng-
láo!"
   下午, 我chuān上衣服就去
军门shè区了!  我们正玩的hāi,
林丹奶奶wǎn着习爷爷的手
进来了!  林丹奶奶说:  "你们看谁
来了?"  "习爷爷!  习爷爷!" 我们yíng迎
过去叫道。
   习爷爷穿着jiákè衫xiǎn得
很shuài气!  他一fùhàixiū的 样
子, 眼睛大大的!  Gè头高高的呢!
他亲切地问我们家在哪里?  我回
答:  竹林jìng!  他才问两句就走了,
太hàixiū了吧!
   我今天很开心,因为见
TRANSLATION
November 1, 2014   Saturday   Clear
   Today we heard that Grandpa Xi was coming!
I thought to myself, "I want to invite Grandpa Xi to eat at McDon-
alds!"
   In the afternoon, I put on my clothes and went
to the Military Gate Community!  Just when we were playing merrily,
Grandma Lin Dan, leading Grandpa Xi by the hand,
walked in. Grandma Lin Dan said, "All of you look who
has come?"  "Grandpa Xi!  Grandpa Xi!" we
called out as we went over to welcome him.
   Grandpa Xi was wearing a jacket that looked
very handsome!  He had a shy appear-
ance, and big eyes!  And he was very tall in size!
He kindly asked us where we lived. I re-
plied, "In the Bamboo Grove area. Whereupon he asked a couple of questions and left.
He's too shy!
   Today I was very happy because I got to meet
Notes:
XX. Right at the very beginning, it seems that the girl was unable to write such a simple word as nián 年 ("year"), which is obligatory in children's diaries in this position.
Màidāngláo 麦当劳 (<"McDonald's")
chuān 穿 ("put on; wear") It's interesting that she gets this one right later on in the entry, though not without some smudging.
shèqū 社区 ("community")
hāi 嗨 (<"high") This does not imply that the children were playing around "high" on drugs. It merely means that they were having a great time, really enjoying themselves. There is an amazing and very popular song titled simply "High ge / High歌" ("High song"). If you listen to and watch through the whole video, you'll get a sense of the natural craze for English among young people in China.
wǎn 挽 ("pull; draw; lead by the hand")
yíng 迎 ("welcome; meet; greet; move towards")
jiákè 夹克 (< "jacket"), here joined with the Chinese word for "shirt" (shān 衫)
xiǎn 显 ("appear"), deceptively hard to write, she misses it twice (see below); it is much harder to write in the traditional form, 顯
shuài 帅 ("smart [looking]; handsome")
hàixiū 害羞 ("shy; bashful")
gè 个 ("self; individual"), here part of the word gètóu 个头 ("stature; body size")
jìng 境 ("territory; area; border")
hàixiū 害羞 ("shy; bashful")
The sentence that is getting the most traffic is this one:
Tài hàixiū le ba!
太hàixiū了吧!
[He's] too shy!
As I said above, nobody is making a fuss over the fact that Zōu Ruìníng couldn't write the key word of this sentence in characters. It is quoted all over the place, but in characters, yet I haven't seen anyone commenting on the fact that the most important word was written in Pinyin. They just naturally transcribe the Pinyin in characters without making any remark about the Pinyin, derogatory or otherwise. The use of Pinyin simply was not noteworthy. It's a natural phenomenon in elementary school education, just as the use of English is widespread in youth culture.
Here are some relevant posts for additional background:
[Thanks to Fangyi Cheng and Rebecca Fu]
---